"We Can Do It" – Meena Seshu on the power of collectivisation for access to healthcare
Kiran Kulkarni
8 April 2019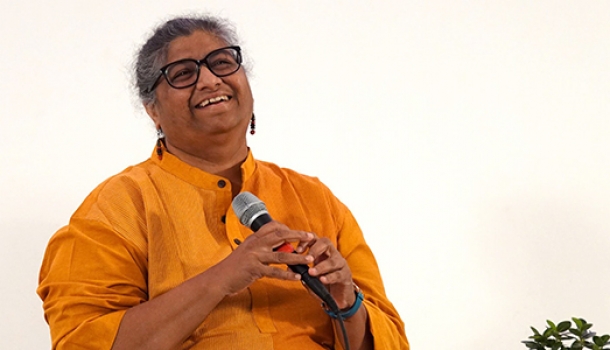 Meena Saraswati Seshu is the General Secretary of the Sampada Grameen Mahila Sanstha (SANGRAM), a health and human rights NGO based in the rural districts of western Maharashtra and north Karnataka in India. SANGRAM addresses social inequality and promotes justice among marginalized communities discriminated against because of sexual preference, sex work, HIV status, gender, caste and religious minority. She is also one of the advocates featured in the film From Durban To Tomorrow, which is directed by Dylan Mohan Gray.
Meena believes in the collectivization of communities as a major tool towards increasing awareness and spreading the word about health-related issues. She says that communities organise themselves if the government doesn't respond to their needs. She has experienced this while working for the rights of sex workers, where they themselves saw the need for condoms and asked their clients to use it. They took a step for themselves, irrespective of the government not paying attention to it. Collectivization would bring a sense of solidarity among people and they would unanimously take steps for their own betterment.
Her hope is that WE CAN DO IT. If we can't depend on the state to revise the health budget and examine their health-related schemes, communities must come together, spread awareness and take productive steps. As people increasingly die of treatable or preventable diseases, she trusts and hopes that we will stand together and fight to make the system better, not just for ourselves, but also for the needy.
When asked about how she sees the 2019 elections in terms of healthcare, development and health-related schemes, she strongly believes that health is definitely not one of the agendas that the government has considered over the past years. The health budget is always low and there are many loopholes in the system. There is a vast gap between the provider and receiver - there is a lack of budget, awareness, outreach, medical professionals, hospitals and accessibility. Therefore, it's very very important that we push the people we vote for to talk about health for all. Meena says that healthcare facilities must be accessed and made affordable for all.
When asked about what ordinary citizens can do in order to work towards healthcare for all, she  said that fighting for a Patient's Rights Charter is of utmost importance.
"We as people, have been patients, are patients and will continue to be patients at some point of time in our lives, and if one can claim this right, as a patient, in any situation across class and caste, we can all push the government to accept that our status is equal to the healthcare provider. And this is something we all can do - if we start a petition, wherever we are located, if we can push for this one thing, it's a good start."

She got this idea from an exposure visit to South Africa where there is a Patient's Rights Charter that was put up in all the public hospitals. While she mentions that South Africa's healthcare system is fantastic – she also says that it isn't executed very well. But at the very least, a Patient's Rights Charter makes patients aware of the healthcare that they are entitled to. She's taken photographs of all of them and is consulting a lawyer from the Indian Supreme Court to help produce a charter for us.
While working with these marginalized communities, Meena realised that life expectancy in these communities was low. She, coming from a middle-class background, speaks of some of her family members living till the age of 85-90 years. She realised that this disparity was based on denial of human rights to some communities. She said that if someone fell ill in the family, they would lose everything paying for healthcare. They end up selling their gold or their house, just because they want their family member to survive. Out-of-pocket expenses for healthcare is one of the major reasons for making people poorer. This needs to change. She always thinks about why a certain population is able to live, and why certain populations struggle hard to keep their young and old generations to survive. This happens because somewhere we don't consider health to be a human right.
The need of the hour, for her, was for ordinary citizens to treat the patients with dignity. The language in which we converse to them is very important in order to seek their response. For example, calling someone a drug addict can simply sound rude or judgemental, while on the other hand, terming them as drug-users could actually be polite in terms of approaching them. If they are treated well, emotionally, they will definitely respond positively towards their treatment and betterment, which further makes the outreach program better and effective.