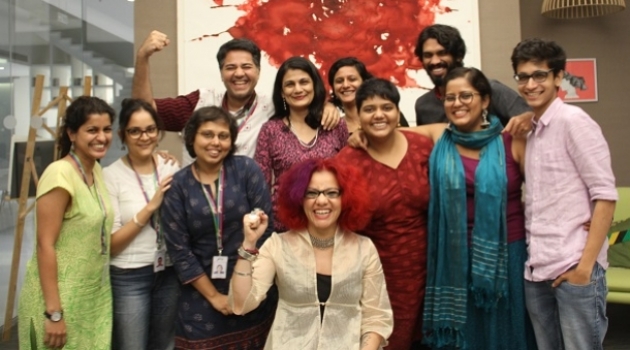 About Us
The Godrej India Culture Lab is a fluid experimental space based out of the Godrej Headquarters in Vikhroli, Mumbai that explores what it means to be modern and Indian. Established in January 2011, our cultural investigations have come in many forms, shapes and sizes and have served as catalysts to break open powerful ideas that are contained within rigidly defined silos. 
We believe in the idea of culture with a small 'c': in its everydayness, beyond the narrow definition that confines it to the domains of the visual, performing or fine arts. Our dialogical engagement with academia, the creative industries, the corporate world and not-for-profit sectors situates us at the confluence of creativity and change.  Through our multi-layered events, discussions, performances and research initiatives, we cross-pollinate eclectic ideas and people to incite conversations around modernity. These conversations are free and open to all, and are also available online as part of one of the largest archives of changing contemporary India.
Some of the themes we have explored through this lens of cross-pollination include reimagining the use of urban spaces, the negotiation of gender and sexuality, the varied impacts of the digital age and how desi innovation is inherently jugaadu. Our events are also size agnostic – they range from intimate salons with authors like Vikram Seth, to feminist film festivals in larger auditoriums, to even larger scale art pop-ups such as Vikhroli Skin and Museum of Memories in reused factory spaces. 
We are not alone in our mission of creating an alternative intellectual hub for India. As an intrinsically collaborative space, we provide platforms where ideas can simmer to produce magical outcomes and meaningful partnerships. Our fellow cultural provocateurs have included The Ladies Finger, Lakme Fashion Week, the Dharavi Biennale, the INK Conference, the India Art Fair, the National Gallery of Modern Art, Japan Foundation, the Yale Centre for Emotional Intelligence and the Stanford Centre for South Asia, to list just a few.
To us, success is a process of discovery and not some endpoint: we measure success by the connections we empower and by the quality of conversations we facilitate. In this, we also contribute to the larger design thinking process around innovation at the Godrej group. Through the Lab, we are creating a certain kind of atmosphere that encourages new ideas and opportunities. Agendas for innovation need not just be procedures and methodologies but also an underlying philosophy of creating a work environment conducive to a culture of thinking. The Lab's insights and inputs have shaped several Godrej group efforts, including the Godrej LOUD Campus Challenge, the Godrej Leadership Forum, Godrej's Diversity and Inclusion initiative, the GPL Design Studio, and BBlunt. 
We are spinning together the eclectic yarn of culture into a colourful quilt. So why don't you come to our verdant, virile, vibrant, vivacious, Viva Vikhroli and discover the Lab for yourself?
About the Godrej Group
One of India's most respected industrial houses worldwide, the Godrej group was established in 1897 and has over the decades grown into a diversified conglomerate with interests across FMCG, real estate, agriculture, office and consumer durables and home appliances. Our founder, Ardeshir Godrej, lawyer-turned-locksmith, was a persistent inventor and a strong visionary who could see the spark in the future. His inventions, manufactured by his brother Pirojsha Godrej, were the foundation of today's consolidated Godrej group. One of India's most trusted brands, Godrej now enjoys the patronage and trust of 500 million Indians every single day. Godrej is thought of as such an integral part of India – like the bhangara or the kurta – that people are surprised to know that more than a quarter of our business is done overseas, through our presence in more than 60 countries. Our group's promise is ideas that make life brighter and today, we are at a point in Godrej's history when our amazing past is meeting up with its spectacular future head on. Please visit www.godrej.com to know more about us.