10 Press Pieces from 2018
Team Culture Lab
21 December 2018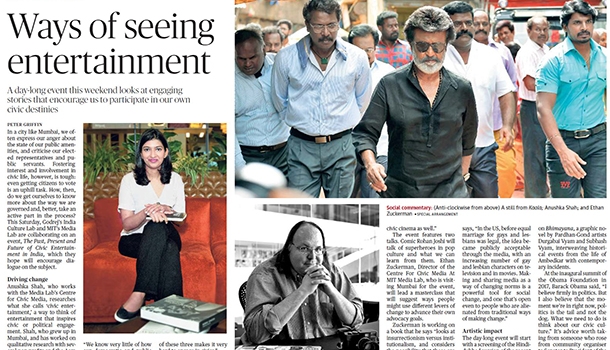 2018 has been a special year as we have received a lot of love from media, be it newspapers, magazines, websites or broadcast media. Here is a few curated pieces that we thought you might like.
The Week 
After the reading down of Section 377, Lab head Parmesh Shahani writes about corporate inclusion of the LGBTQ community and concrete steps towards its realisation. Read it here.
Economic Times  
In the wake of the LGBTQ community's legal victory, Parmesh and Lab friends Zainab Patel and Keshav Suri speak to ET about envisioning a more inclusive corporate India. Read the piece here. 
The Hindu
Our 'Manifesto for Trans Inclusion in the Indian Workplace' was launched this year. We presented a detailed business case for trans inclusion along with an inclusion strategy for companies to adopt. The trans community and corporate stakeholders involved in diversity and inclusion came together to discuss struggles and solutions. Read about the evening here. 
The Quint
Our Pride event in January, 'LGBTQ Now' explored digital safe spaces and queer networking in the city. Read about it here. 
Scroll.in 
At 'Queer Aesthetics Now!', we explored gender and fashion at the Lab. Scroll.in wrote about the designers that are changing the way we look at clothes. Read their piece here.   
The Swaddle 
The Swaddle spoke to our Mental Health NOW panelists about mental health care, self care, wellness and societal stigma. Read about it here. 
Hindustan Times
'Freedom to be Flawed: Awkward Conversations around Disability' addressed love and relationships, and it also questioned narratives of 'empathy', 'sympathy and 'bravery' when it comes to disability. Read about the conversation here. 
Mid-day 
This year we launched the first batch of our Culture Lab Leadership Programme for humanities students across the city. We had 7 students at the Lab curating an event with us and discovering Mumbai's cultural scene. Mid-day spoke to some of our amazing Fellows about their experience, read the piece here.  
The Hindu
In August, we collaborated with the MIT Media Lab for 'Civic Entertainment'. To know more about how media can inspire civic engagement and change, read the article here. 
The Afternoon Despatch & Courier
'Kya Bolta Bantai' explored empowerment and marginality in the city and how the phenomenon of gully rap is fuelled by both. Read about the evening here.