Tips to make an event accessible
Team Culture Lab
9 May 2018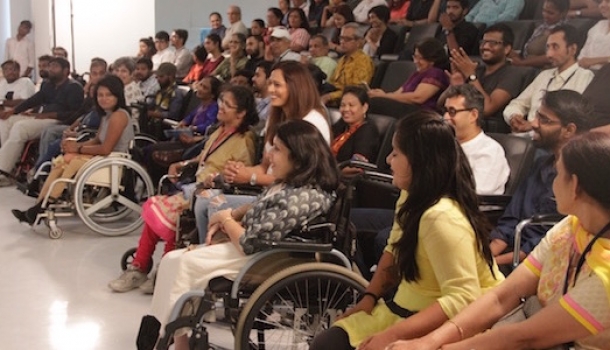 The Godrej India Culture Lab has always considered itself as a safe space for marginalized groups across gender and sexuality, caste and class. Our events have from the beginning been free and open to all with a clear vision of the Culture Lab being a space for all to come and receive knowledge.
In May 2018, we hosted Freedom to be Flawed – Awkward Conversations around Disability, an event that focused on access and inclusion for people with disabilities. It was our first event putting the spotlight on disability. It's then that we realized that there was so much more we could do to make our events more inclusive. We've had people on wheelchairs and people with other disabilities coming for our events before. In fact some of them have come up to us and thanked us for the experience they have had at a Culture Lab event. But it was not enough. So, here are few things we learnt:
1. Ramps, Ramps, Ramps
It's one of the easiest contraptions to make, but so easy to get them wrong. We got ramps made for our stage which has two steps to reach it. When we fitted the ramp on, we realized that it was not even at the top. Try to make sure the ramps are not too steep, but definitely make them even at the ground level as well as level it with the stage.
2. Straws for beverages
We serve chai and coffee before the events begin. From this event onwards we now keep straws next to these beverages so people who cannot use their hands can also enjoy a warm beverage before the event.
3. Extra volunteers
We had over 30 volunteers for our event. We received around 450 RSVPs for the event, and we suspected that about half of this crowd would be people with disabilities. While it won't be possible for us to have so many volunteers for each event, we will make it a point to have a few more than usual helping us out. You need volunteers to assist people on wheelchairs, you need volunteers to guide people with visual disabilities through the new terrain they have entered, and you need volunteers in general to be around in case anyone needs help. You also need volunteers during the question and answer session. 
4. Shorter tables during food and beverage service
The tables in our canteen are high. Thankfully not too high for wheelchair users to be able to eat at all, but high enough to not make it very comfortable. The point was to try and make the event as inclusive as possible. This was one thing we could not change.
5. Online accessibility
We have stared adding alt text to all our images. Twitter lets you do it, our website lets us do it for most. It takes 30 secs more on each picture upload but makes a world of a difference for people with visual disabilities using screen readers to access websites.
6. A question of mics
All of our speakers were people disabilities. We needed to make provisions for lapel mics so everyone was comfortable talking. It's a small hack, but keeping lapel mics around is always helpful.