The role of caste in the LGBTQ community
Team Culture Lab
5 February 2019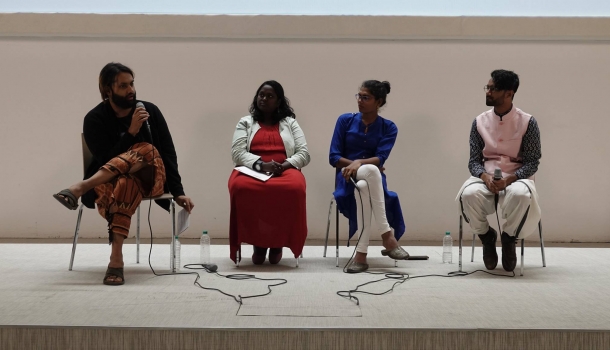 Caste impacts all aspects of life in India. People are often evaluated based on the caste they are born into, irrespective of the skills they may possess. The menace of caste majorly affects the LGBTQ community as well. The India Culture Lab organised a discussion around what it means to be Dalit and queer in India as part of the event Queeristan.
It featured a panel discussion followed by a rap session by anti-caste rapper Sumeet Samos, who performed some hard-hitting verses on Dalit oppression and caste discrimination. Here are the major takeaways from the session:
The caste challenge
It is not easy for anyone to grow in a hostile environment. Grace Banu, activist and India's first trans engineer, seconded it with, "People are privileged to access mainstream platforms like the judiciary, education and employment. We are equally skilled and qualified too but the caste system makes it difficult for us to access these avenues".
It turns out Grace did well for herself in fighting caste stereotypes but others aren't that lucky. While the LGBTQ community organises marches and rallies to put up a strong and united front, there's more to it than what meets the eye.
Kiruba Munusamy, advocate and founder of Legal Initiative For Equality, made an interesting point when she said: "There is a misconception around the LGBTQ community that they are casteless i.e. their community is without caste. That's not true."
Kiruba, who as a distinguished lawyer has fought cases of various trans people, was shocked to see the caste barriers within the community. "When a transgender person comes from a dominant caste in a village, they are celebrated compared to those from the lower caste," she said.
It was an eye-opener for people who thought that caste dynamics would have spared the minority community. The LGBTQ community is not only discriminated by the hetero-normative society but also by the society they come from.
The road ahead
With so many caste equations in play, the LGBTQ community is fighting a far bigger battle than what it actually seems. But it has, in no way, dented their morale.
Dhiren Borisa, activist, poet and urban sexual geographer, expressed some optimism. "I see queerness as aspirational, something that can open the possibility of change."
The road is long and the LGBTQ community has begun taking small but steady strides. The panellists not only discussed the issues they face but also how they can combat the same. While Grace Banu appealed for reservations for trans-people and wider media coverage to broadcast their fight, Kiruba Munusamy vouched for a uniform LGBTQ community minus the burden of caste identities. After all, a Trans or a queer person from a dominant caste cannot play the role of a victim while being oppressive towards another queer person of a low caste.