Rail Trail: Churchgate to Borivali using the Mumbai Culture Map
Neeti Choudhari
12 March 2020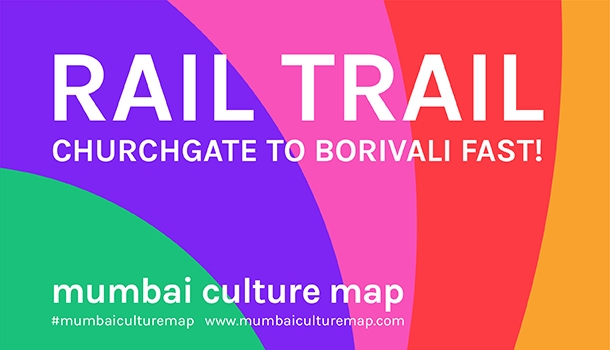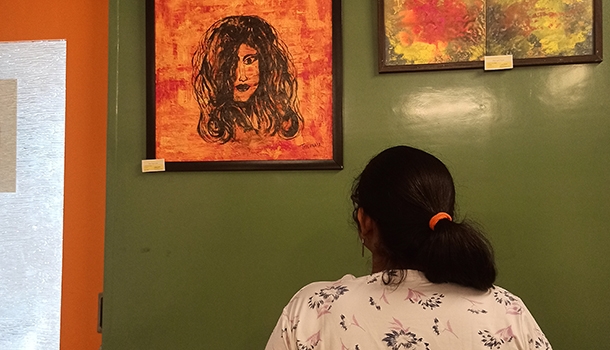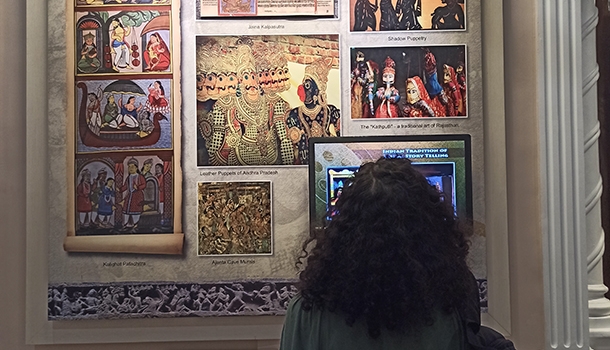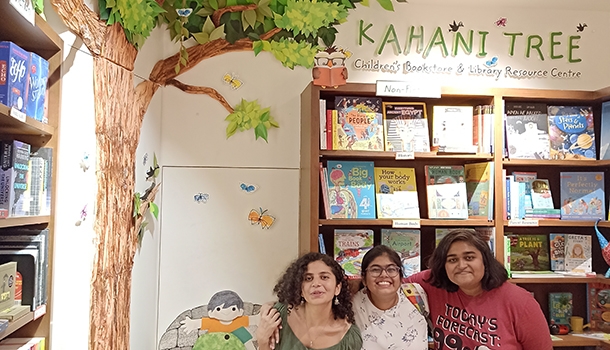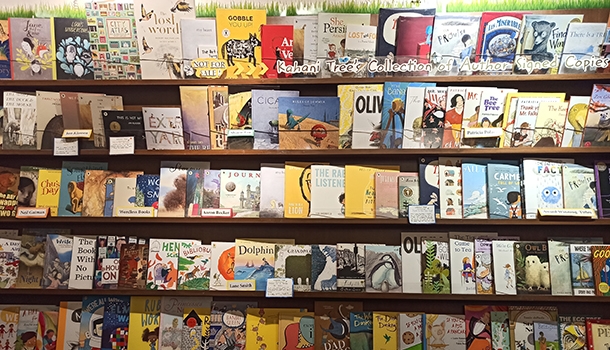 Platform kramank 4 par anewali local Borivali ke liye tez local hai, yeh gaadi...
In true blue Mumbaikar style, we set out on an adventure to explore the city's cultural spaces using the city's lifeline- the Mumbai local trains!  Maitreyee, Samprati, and I curated our very own rail trail using spaces that are on the Mumbai Culture Map by hitting up one space each from all the fast stations on the western line.
Our first stop was Si Bambai, a cultural space in the Fort area of Churchgate. As we climbed to the second floor of an old office building, the art hub greeted us with pink bougainvillea and potted plants. Despite being on a busy corner, Si Bambai welcomes you with a cozy and quiet vibe. The walls were adorned with beautiful paintings by Trishna Patnaik for her exhibition 'Two Way Street (From Abstract to Faces)'. After exploring the art hub, we met with Mr. Rajesh, Si Bambai's head, and he told us about the different events and performances organised by them. He warmly invited us for their upcoming shows. 
Taking our fill of art, we returned to Churchgate station to board a fast train to Borivali for our next destination - National Museum of Indian Cinema (NMIC) in Mumbai Central. Fifteen minutes away from the station, this newly established museum took our breath away. Maitreyee brought out her phone to capture its beauty. The museum which is a part of two buildings, Gulshan Mahal - the 19th century heritage building and New Museum Building, covers Indian cinema from its origins of photography and filmography. The person in charge of the tours, Mr. Sanjay Jadhav showed us the floor plan and suggested the chronological way of viewing the museum.
We explored the sections of regional cinema, Indian tradition of visual storytelling, Devdas across Indian screens and more. One major part of the museum celebrated cinema by commemorating Dadasaheb Phalke, father of Indian cinema, and his first Indian film - Raja Harishchandra. Another section celebrated the pioneers of silent films in India which included Satyajit Ray among other filmmakers. The museum had listed down specific movies starting from 1913 to 2013 and we moved through the list exclaiming when we spotted our favourites. Apart from the history of cinema, the museum hosted exhibits on the events shaping the country, which in turn helped shape Indian cinema. Surprisingly, the museum was free of cost for students with their IDs, and only Rs. 20 (photography included!) for any adult who wishes to visit it. The people we spoke to were very helpful and eagerly listened to us as we talked about the Mumbai Culture Map and the work Lab has been doing. After exploring the beautiful infrastructure along with the vast range of studies into cinema, we reluctantly left the place and promised to return again.
The fast local at Mumbai Central station caught our attention as we climbed down the stairs, and in a very Mumbai fashion, we ran to catch the train! Dadar station arrived and we took a bus to our cultural stop - Kahani Tree, a children's bookstore. We saw the space through the glass door before we entered, and we were awed by its cute ambience. We entered a whole new world. The walls of the bookstore were filled with illustrations of trees and birds!
The huge collection of children's literature included audio books and genres like mythology and non-fiction. We each grabbed a few books and spent some time reading them. The books were full of small actions and decisions made by little kids accompanied by adorable illustrations. There were books on depression, grieving, art and so much more. While growing up, the books I read would often lead to moral lessons but looking at such a vast collection of books on people, pets and feelings was truly marvellous. It made us wonder where this place was when we were kids! Sangeeta Bhansali, the founder, told us about Kahani Tree's various events like story hour, saturday events for kids, author meets and even the outreach programmes arranged by them. Having reached around the time for the story hour, they invited us to attend the story hour but it was time for us to go to our next cultural stop.
It was past lunch hour and we beat the heat and hunger with a chilled glass of lassi and the Mumbaikar's go-to snack- vada pav! We reached The Bombay Arts Society in Bandra and were surprised by its unusual structure. It looked like an enlarged sand castle! We checked out their exhibition 'Phalgun 2076' where several artists displayed their artwork. While checking out the display, we were amazed by the artists' ability to give a unique twist to ordinary things. They were open to listening to our interpretations and offered insights on their style. With minds abuzz about the wonderful things we had witnessed so far, we set out again for our next destination.
We then traveled to Andheri to visit the cafe cum library - Leaping Windows Comic Cafe. As we entered the cafe, we saw a bunch of books on sale for Rs. 50 only! Our bookworm hearts we so delighted by this! We recognized the illustrations of Doctor Who, Marvel comics, Tintin and more adorning every wall. To top that, they had a huge collection of comics, manga and graphic novels in their cozy basement reading room. One could just spend an entire day reading here! The cafe had a relaxed vibe and the food we ordered was sumptuous to say the least. We were so comfortable there that we lost track of time!
We rushed out of Leaping Windows knowing we were already a little late for the music performance at our last cultural spot - Prabodhankar Thackeray Natyamandir in Borivali. Tackling the rush hour in the train we reached the auditorium just in time for the performance. From the strong Powada songs to semi classical dances, we were delighted by the blend of music and performances the artists brought onto the stage.
We had taken with us Lab merchandise that said- 'culture is ordinary'. And this is what we felt throughout the day as we travelled to bookstores, museums, libraries and other diverse spaces from all corners of the western line. We learnt so much about the city, had fun exploring its culture and how these places are contributing to it. If you're tired of the idea that you must travel to South Mumbai to access exciting cultural spaces, the rail trail is just one of the many ways you can explore the many wonders the city has to offer. Log on to https://mumbaiculturemap.com/ to find more such spaces and make your own trails!