The Past is Before Us
Isha Pawar
5 April 2019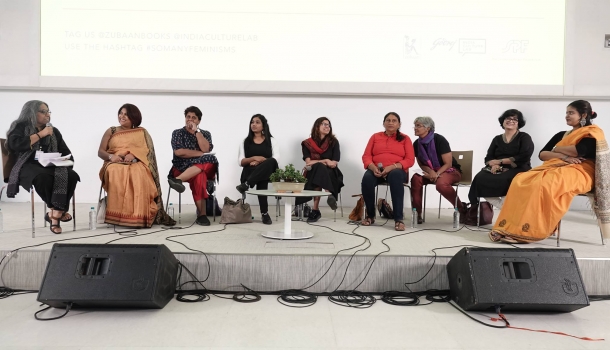 The past few months have been some of the most fulfilling in terms of being able to do productive work and work that actually put to test my creativity and made me happy. I feel proud to introduce myself as an intern at the Godrej India Culture Lab and as a part of the Leadership Programme. The Leadership Programme is a one-of-its-kind initiative that aims at training college students from the humanities background in understanding the city's culture industry. As a part of this programme, I have been lucky to be able to be an insider and see how the Lab team puts together their events.  It is a lot of hard work that takes months of deliberation and preparation. By the end of my internship, my batchmates and I will be organizing an event of our own!
After joining in as an intern, I have attended some events organized by the Lab such as the 'Queeristan' and 'So Many Feminisms!'. I specially felt drawn to the So Many Feminisms! event because I am pursuing my Masters in Women's Studies from the Research Centre for Women's Studies, (RCWS) at SNDT Women's University. My areas of interest are Dalit feminism, postmodern feminism and queer feminism. It was surreal to witness the various strands of feminism coming together on a single platform and exchanging solidarities.
The first panel discussion for the event was The Past is Before Us. Before delving into the details of the event, it is important to know what feminism really stands for. Feminism is not a unitary concept which has one meaning. Sure, in common parlance, it's the theory of political, economic and social equality of the sexes but in reality it is a deeply political movement with varying ideologies. Feminism is interdisciplinary in nature and spans multiple fields of study - but it also means different things to different people. The many variants of feminism are associated with a variety of philosophical and political outlooks. In simpler words, I'd say the ends to feminism are same but the means are certainly different. Thereby, the motive of the first panel discussion was to bring feminists working in different areas, under one roof and to have a conversation on the plurality within the concept of feminism.
This was the inaugural session for the So Many Feminisms! event held in collaboration with Zubaan Books on February 16, 2019. Urvashi Butalia opened the two-day event with an address. She stated that the event was held to celebrate the various kinds of feminisms in India, especially those that may be overlapping or even completely oppositional to one another. She emphasised on the importance of appreciating the various kinds of feminisms which need to show solidarity during times of crises. She urged the audience to revisit the contributions of great women such as Muktabai Salve, Savitribai Phule, Richa Singh and Fatima Riyaz.
Urvashi began the session by asking Hasina Khan (a feminist activist and the founder of the Bebaak Collective) about feminism's discomfort with religion. Hasina Khan asserted that there has always existed a dichotomy between women's rights permitted by religion vs. women's rights. She feels that women's rights and religion need to be looked at in isolation with one another because all religions are patriarchal and majoritarian. Religion becomes problematic when it comes between gender rights, sexuality, love, desire and personal decisions. When these problems arise we tend to discuss the meaning of feminism. Feminist discourse tries to provide a critique of religion. The women's movement has been vocal about the patriarchal nature of religion and the identity politics that plays out because of religion. When it comes to Muslim women's rights, rights cannot be exercised with reference to religious texts. This is due to her belief that religion is a very private and subjective concept and one that cannot be seen through the lens of the constitutional rights. Religious institutes have been notorious for playing out identity politics with the aid of gender issues. Islamic feminism, she feels, is a larger part of this conspiracy, where gender rights are looked at by studying the Quran, which again leads to falling into the vicious trap of patriarchy. She concludes by laying emphasis on the uncomfortable relation between religion and feminism.
The next question was directed to A. Revathi, trans activist, theatre artist and author. She was asked whether transwomen connect with the women's movement today. Revathi responds by saying that she looks at herself beyond the boundaries of race, caste, colour and class. However, the women's movement has found some difficulty in accepting transpeople into their fold. She was once told by someone in the movement that she may be a woman, but other transwomen are not like her. This makes one think, must one be a cis woman to engage in feminism? She narrated that transwomen too have to assert their womanhood by applying lots of makeup and other such things. In order to be 'marriageable', young women must often go through certain rites of passage such as applying make-up and so on. Transwomen also assert their womanhood in the same manner, in order to assess themselves.
She finally concluded by saying that she is unsure whether the inclusion of transpeople in the movement is real or is politically motivated.
Filmmaker Alankrita Shrivastava said that popular culture is shaped by patriarchal views. Thus, there are very few women behind the camera. She points out the lack of female gaze in cinema, where women can be portrayed as unique individuals. Manjula, a human rights and anti-caste activist took forward the discussion to spell out her opinions on the male gaze. She began her work as an activist in 1992, in rural areas where she witnessed the impending gaze of high caste men on Dalit women. These men felt that Dalit women were impure, which perpetuated rape culture. Dalit women for decades have been exploited sexually by enforcing upon them the devdasi tradition. Dalit women do not possess the right to define and identify themselves the way they would like to. Their issues, she feels, have somewhere been sidelined in the feminist movement.
Divya Kandukuri, a journalist and founder of The Blue Dawn mental healthcare group was asked about the intersectionalities in feminism. She stated that, as a society, we need to go beyond issues such as the glass ceiling and need to focus on more basic issues such as giving equal rights to our domestic help who we often tend to refer as kamwalibai or maid, whose work goes unrecognized. Thus it is essential that we begin to build solidarities right from our households. Feminists that represent India internationally are usually cis women, able bodied; Brahmin or savarna women and one cannot expect them to represent the voices of the women at the margins. Thereby she points out the absence of intersectionalities in the feminist discourse. However, intersectionalities can be built by passing on the mic at events like So Many Feminisms! where bahujan women can speak for themselves. Feminists from different backgrounds must come together, support and amplify each other's voices. Wealth that is not only measured in terms of money but includes knowledge resources, social capital and so on needs to be redistributed.
Rituparna Chatterjee, a correspondent for Reporters without Borders who runs the @IndiaMeToo Twitter handle, was then asked to provide her take on the #MeToo Movement. She candidly says that the #MeToo Movement has only been able to reach the elite workforce, where the onus rests only on men and the government. She feels that sexual harassment at the workplace is seen through a very urban lens and therefore the informal sector is completely neglected.
The last question for the panel discussion was directed to Manisha, where she was asked to elaborate on the solidarities and differences in the women's movement as a Dalit feminist. She states that even within the Dalit movement, women have not been a part of decision making. Especially the Mahadalit women who belong to the Valmiki, manual scavenging community. There hasn't been a Dalit movement which has been spearheaded by Mahadalit women in the country. She feels that resistance to oppression begins from the ones that are most downtrodden, so it is vital to hear the voices of these communities in their own words. There is a great divide even amongst the Dalit community and its women. She feels there is no space for Dalit women within the Dalit Movement as well as the women's movement.
Finally I would like to share some of my observations, on the current interpretations of proclaiming oneself as a feminist in modern times. There are broadly two factions of people, the first being the ones who essentially feel feminists are anti-men, sexists, and tyrants who are hell bent on ruining the cultural fabric of the society. While the other feels that calling oneself a feminist in the current times proves to provide social leverage to their status and is a very hip and in thing to be. To both these factions I'd say that they have missed the bus in understanding the real meaning and repercussions of being a feminist. Firstly feminism is NOT a dirty word, because demanding what is rightfully yours doesn't seem one bit regressive. A feminist examines their privilege at every stage - be it their caste, be it everyday power dynamics that we unknowingly perpetuate, be it our capital, whether economic or simply the knowledge and education that we have.
Feminism means constantly questioning the systems you take for granted, and it is difficult to defy the social structures one has been so deeply rooted in. It takes a lifetime to strive to be one. Yet feminism is such a strong powerful and compelling theory, that it makes one struggle through their lifetime to move closer to being a feminist.