The Lab goes to Ahmedabad and Vadodara
Mukta and Nayanika
4 April 2019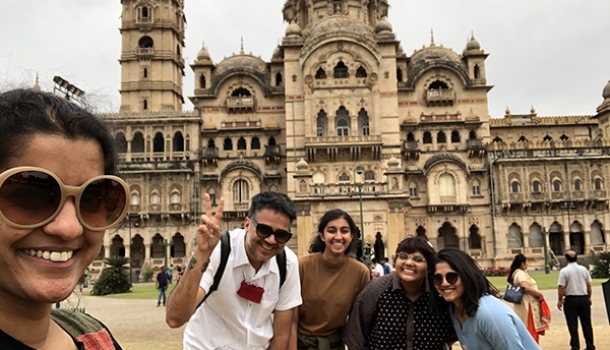 We landed in Ahmedabad at around 9am, enjoying the last vestiges of the Gujarat winter. Our first destination in Ahmedabad was the Adalaj stepwell. What was fascinating was that the space was an extraordinary mix of functional architecture and beauty. We admired the delicate carvings in the cool shade of the stepwell. It echoes with our erudite observations on how -
"it's really getting colder as you go further down!"
"Yeah!"
"Touch the walls!"
"Wooow."
"No, it's called a vav." (This was Parmesh).


In true Ahmedabad fashion, we loaded our bags with khakra and fafda and set out to our next destination - the stunning Centre for Environmental Planning and Technology (CEPT University). We had lunch with Arthur Duff, the Director of Library Services who also guided us through the building.
He introduced us to the two structures in the university - the old building which was the brainchild of 2018 Pritzker Architecture Prize Laureate, Prof. B.V. Doshi and the new building (the CEPT library) which was designed by renowned conservation architect, Rahul Mehrotra. The two buildings facing each other had beautiful synergy even though they were built years apart. High ceilings, wide windows and large spaces, all made it to be an environment made for students to thrive. 
Post our visit to CEPT, we stopped by IIM for a tour of their vast campus. The Louis Kahn structure built in 1974 remains to be one of the most contemporary, modern spaces in Ahmedabad. The building had an extensive library and the learning spaces were specifically designed to fit the requirements of their large student population. It was such a delight to walk around such an open space surrounded by all sorts of greens. Where would we ever find such a massive expanse in Bombay? 
We ended the day with a sumptuous thali meal at Agashiye (we only just realised we have no pictures of food because we ate it as soon as it reached our table). It was easily the best sheera and the smoothest Guava ice cream we'd ever had.
Excited for what was in store for us on day two, we started our morning with a guided tour at the Kasturbhai Lalbhai museum. Our guide, Bhasha (pictured in the photo below) took us through what was an extremely well-conserved showcase of over a thousand years of Indian art. The museum complex had two buildings which were restored by again, the brilliant Rahul Mehrotra. The main building is a colonial house built in 1905 which displayed the eclectic artistry of India. Paintings from a range of traditions, sculptures and utilities were all a part of their gallery. 
The second building, the Claude Batley house built in the 1930s houses temporary exhibitions of artworks created by young artists. We were truly lucky to have been there to see their ongoing exhibit – ALCHEMY by Arvind Indigo Museum. We walked through 16 rooms covered with artworks – sculptures, paintings, textiles and ceramics all in different forms and shapes interpreting the colour indigo. It was an absolute treat to have been there.
We then made a pit stop at Swati Snacks for an authentic Gujarati lunch. We indulged in some panki chatni, satpadi roti - gatta nu shak, patra and methi bajri roti. It was a complete meal that we ended with some delicious Vadilal ice cream. Since we were fortified, it was time for some fun retail therapy. We went textile shopping at Sanskruti and Gamthiwala and splurged on some lovely handblocked, embroidered goodness.
The next day would be an early morning at the Mill Owners' association building which was designed by the Swiss- French architect Le Corbusier. We were enamoured by the unusually shaped interiors that made sure to occupy every inch of the space without wasting a corner - sustainable architecture! The structure ensured there was natural ventilation throughout the building. Our guide, Abhinava Shukla made sure we experienced the building without the interruption of our phones that resulted in each of us creating memories of the space on paper. He took us through the legacy of the mill owners that nurtured the ideas of these spaces and created resources for them to exist as they are now.
Our next stop was at the Sabarmati Ashram, where we were taken through Gandhiji's life, letters and inhabited the spaces he lived in. It was interesting looking at Gandhiji from a human perspective, his legacy always seems larger than life. We also enjoyed going through the large collection of charkhas. Inspired by this, we headed to Imam Manzil. It was a delight to see the weaver weaving fresh cloth right next to the store.

A few minutes away was the Kalamkhush paperie. Looking at the colourful store, we wasted no time and went on a little spree, buying paper, books, envelopes, bags so on and so forth. The highlight was to see the process of making the handmade paper, from making the paper pulp to making the actual sheets. What was really surprising is that the whole space was surrounded by 25 peacocks! What more could we ask for?



We drove down to Vadodara on the last day of our visit, to spend an afternoon at the Lukshmi Vilas Palace. As we entered the space, we were transported into another time. The extravagant building is four times the size of Buckingham Palace. There were beautiful water fountains in the Italinate courtyard. The Durbar hall is enormous with elaborate chandeliers, mosaic flooring and stained glass windows. The Palace also houses a remarkable collection of old armory and sculptures in bronze, marble & terracotta. Adjacent to the palace was its museum which holds a fantastic collection of Raja Ravi Varma paintings. The collection includes portraits of the royal family in addition to the paintings based on Hindu mythology for which Raja Ravi Varma was famous. It's truly a different experience to look at these paintings in person. The details and the finesse with which these were made are absolutely magnificient.  
Our Lab retreat saw us exploring fascinating work being done in academia, breath-taking architecture and the beautiful legacies of the city's cultural patrons. We are so grateful to everyone who showed us around the city and the wonderful institutions that hosted our team. We've come back with heavy hearts (and thanks to the textiles, even heavier luggage).