The city of scaffolds
Kashish Parpiani
16 January 2013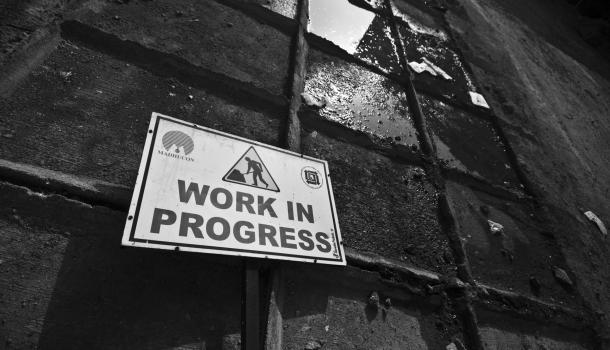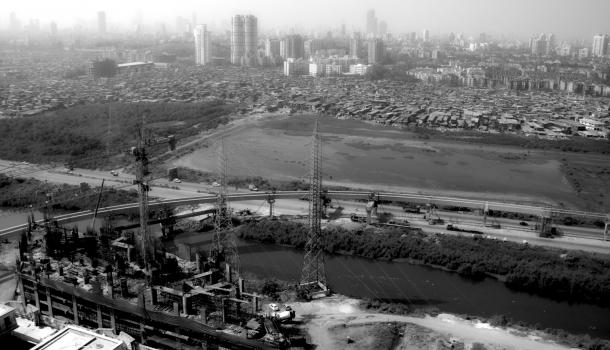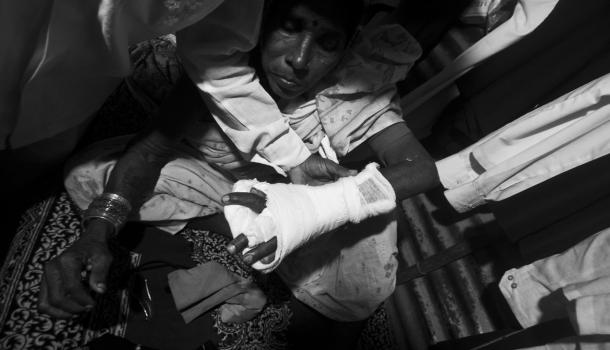 The city of Mumbai unfurls a new page each day in its constant pursuit to achieve developmental excellence. As an ardent resident, I believe it's a city for the fickle. It almost feels like this city is trying to amuse it's melancholic habitants everyday with something new. A city that always holds up the 'work in progress' board, as seen in Image 1. As a documentary photographer & freelance photojournalist, I've tried to capture this persuasive city in action for over three years now.
Monumental with its rich historic relevance, it's also a destination that's giving birth new monuments everyday anointed with technology and pinnacles of modernity. One such jewel in its crown is its serpentine life line- the Mumbai local. However, in recent times the local's dwindling capability to support our densely populated metropolis has jump-stared city's damage control mode. Mumbai has a new crown jewel in the making. The perfect blend of technology and serpentine locomotion, Mumbai will soon be home to India's first monorail. In my photographic endeavors, the monorail has been a major focus for it gets more intriguing every time I look at it through my viewfinder. A tight edit of 4 pictures out of the possible hundreds that I've shot over the years sum up Mumbai behind the scaffolds for me.
As pandit Nehru affirmed a commitment to modernization for post-independence India, he referred to one of India's first iconic modern marvel, the Bakhra-Nangal dam as a 'Temple of Modernity'. Today, as these glistening temples of different forms areinaugurated all around, the metropolis lies fragmented into multiple overlays. Image 2 speaks of these strata; the 'Shining India' overlay catches one's eye first. With humongous concrete slabs and high-rises glistening with steel-pride, what's lost in the middle is ironically the real Mumbai. What's left of it is a peel-thin stratum that lies eclipsed.
Image 3: In this antithetic world, Mumbai is no exception to contrast. It obviously has its shades of grey and darkness. During one of my photographic excursions at Wadala's monorail site, I unknowingly wandered into the Eastern Freeway's construction site. Here, I encountered an on-site construction guard's plight as he scurried for support. (19th September '12) Seven men (in an intoxicated state) who worked as drivers at the same site beat up an on-site construction guard's mother. They did so, when she asked them not to urinate in her veranda. Pramod's (guard) frustration was soaring each day as he struggled for solace. He had nowhere to go, cops & the construction site's head supervisor had shunned him. I later published his story as a photo-documentary podcast. (Watch 'work in progress' - http://vimeo.com/51689323) 'work in progress' addresses the need for a safer environment for workers toiling at our multi-crore revamping projects.
The cynics may argue that every change induced is nothing but a cosmetic one, the realists will rightfully cry for better city planning whenever they jolt into a pothole, meanwhile, the artists will always consider this city as their most treasured muse. Image 4 serves as a reminisce to British rock legend, Led Zeppelin's 'Stairway to Heaven'

"There's a lady who's sure all that glitters is gold
And she's buying a stairway to heaven…"

Politicians standing over podiums foretell Mumbai's destiny. Engrossed in its ambitious pursuit to become India's 'glittering' Shanghai, its habitants often forget that the 'stairway to heaven' is not bought with shiny arcades and structures, but made by the hundreds toiling behind the scaffolds.
 Kashish Parpiani is a young documentary photographer and a freelance photojournalist, based in Mumbai. A graduate in journalism, and currently an international relations & political science student at Mumbai University. As a freelancer, Kashish has contributed to publications like Mid-day, Sunday Guardian and Hindustan Times.