Six things we learnt from Manto
Team India Culture Lab
11 September 2018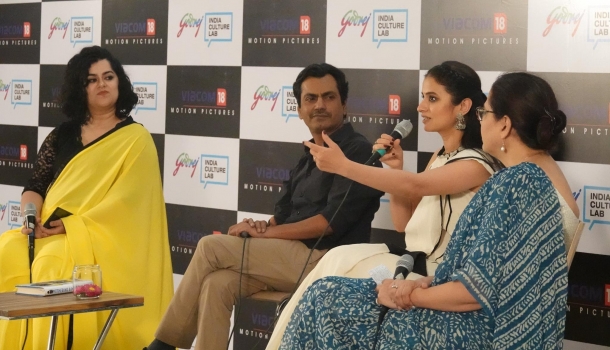 Manto and the progressive writer's movement
"The change in Manto's life came after he wrote Bu and he was criticised for his 'unhealthy obsession with sexual matters'. He was urged to write 'sehatmand adab' or forward thinking stories - about factory workers, labourers, farmers. The fact of the matter was that Manto was cosmopolitain and knew only about city life - he knew nothing of villages and farms, so he was being unreasonably persecuted."
- Rakhshanda Jalil
What if Manto wrote his stories today?
"In today's public discourse, words like gaddar, terrorist, and anti national are thrown around for anyone that has a divergent opinion. What would the Progressive Writers Movement be called today? Traitors. People throw such strong words like they are genda phool today. Their revolutionary thoughts would have met with a lot of hate today."
- Rakhshanda Jalil
What does freedom of speech mean to you?
"I wish we could take our freedom of speech for granted, but we can't and therefore we need to talk about people who stood for it and fought for it."
- Rasika Dugal
"We are constantly confusing freedom of speech with freedom to offend. Internet trolls say whatever they like, but writers today cannot write as freely as writers used to. I find that there is a lot of allusion and metaphor when it comes to sensitive topics because they are being far more careful than they should be. The problem is that those that should write and speak freely cannot and those that shouldn't think they have all the right to."
- Rakhshanda Jalil
"The minute you start factoring censorship and 'log kya kahenge' while filming, it takes something away from the acting, it takes away an improvisational impulse."
- Nawazuddin Siddiqui
"Prejudice doesn't come from conversations we're having, it often comes from conversations we're not countering. For me, freedom of speech and expression would be to call out things as they are. For example, the hashtag #TalkToAMuslim was seen as politically incorrect on Twitter, and yet we don't seem to have moved past our petty religious prejudices - one can see this on TV."
- Nazia Erum
Self-censorship on social media
"I'm not famous enough. Honestly I don't have to think much about what I write."
- Rasika Dugal
"I can't write my thoughts at all. I can only share my real thoughts with my friends behind closed doors."
- Nawazuddin Siddiqui
Learnings about Manto on the sets of Manto
"I'm surprised that Manto was both creative as well as a family man. Creativity would strike him anywhere - in a crowd, in public, and he would write great works in absolutely any place. I am absolutely amazed by this ability he had."
- Nawazuddin Siddiqui
"There isn't a lot written about Safiya, but there is a lot to learn from her. There is a lot of strength in silence, there is a lot of courage in being a caregiver, there is power in being vulnerable. I don't look at those roles as weaknesses."
- Rasika Dugal
On acting in the current media environment 
"In my National School of Drama days in Delhi, we would never hold back from a role. Now that we have to start thinking about what we do and say, it makes the role more calculated."  
- Nawazuddin Siddiqui