Queeristan: Pride, Pan-India
Team Culture Lab
4 February 2019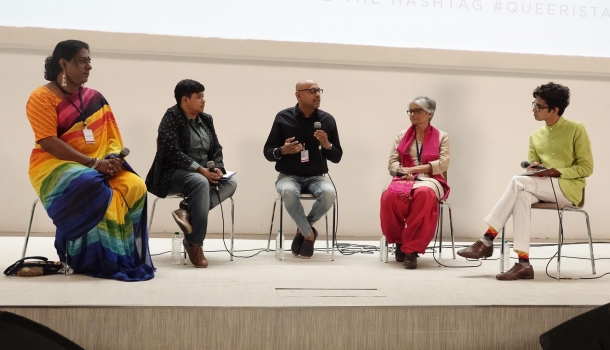 A power-packed panel discussion at Godrej India Culture Lab's Queeristan event on Republic Day discussed lesser known issues and concerns of the LGBTQI+ community.
At the Lab, we celebrated Pride month with Queeristan, which featured two amazing events that explored intersections that shape Indian queerness. Queeristan-So Many Queer Indias was held on January 26, 2019, and revolved around collectives and individuals who work for LGBTQ rights, but don't feature in dominant media narratives.
One of the highlights of the event was an interesting panel discussion around the experiences of these individuals or collectives and lesser-known issues of the LGBTQI+ community. The panelists included Rachana Mudraboyina, founder of TransVision, a YouTube channel that aims to create awareness about the transgender community; Diti, a member of Xukia, an Assam-based queer collective; Yadavendra Singh, founder of the Awadh Queer Literature Festival; and Maya Sharma, author of Loving Women: Being Lesbian in Unprivileged India. Anish Gawande, director of the Dara Shikoh Fellowship, moderated the session.
The session touched upon a variety of topics, including each panelist's background -- the space that they come from and how it defined their journey into queerness. Maya spoke about feeling the lack of a fixed space to belong to: "As my sexual preference came to light, I had to move on from being married and leave my child. I first shifted to the women's movement and found my feet there, and then moved to the queer movement wholeheartedly. That is where I belong. Not to a city, but to various movements that shaped me."
Yadavendra discussed his difficult journey from Kanpur (where he was born and brought up) to Hyderabad (where he studied), where he became pen pals with men and began to meet them. He also spoke about South Asia's first LGBTIQ+ dedicated literature festival that he is organising and why it's important to have such platforms. "Literature festivals should not only be about books. We can't separate our movement from political engagement. We have a session with politicians and one with religious leaders as well. We have to engage with stakeholders like political parties and religious leaders to talk about the uncomfortable topics that affect the LGBTQ+ community," said Yadavendra.
Diti explained how Assam in the 1990s was a whole different world. "It was the heyday of the ULFA (United Liberation Front of Assam) and the other anti-state movements. The only thing we spoke about was conflict, state and violence. The only reference to gender was in terms of the violence and conflict," said Diti. After coming to Mumbai to study and returning to Assam, Diti set up Xukia after realizing that there were no queer narratives over there.
Rachana spoke about her role as an activist and how she organised the first intersectional Pride March . "Violence against trans people is a disturbing issue. There is also a lot of chatter about the Pride movement not being our culture. So we wanted to decolonise it and gave it a vernacular name: Queer Swabhimana Yatra. We also changed the rules and didn't allow MNCs to fund it." She went on to explain why they opted to make it intersectional, "We wanted to show that transgenders also participated in the 60-year-old intersectional Telangana struggle, but after the state was formed, our rights have not been acknowledged. So we invited other people's movements – the anti-caste movement, the women's movement, and minority movements – to join in and they came for it."