Queer Voices of Mumbai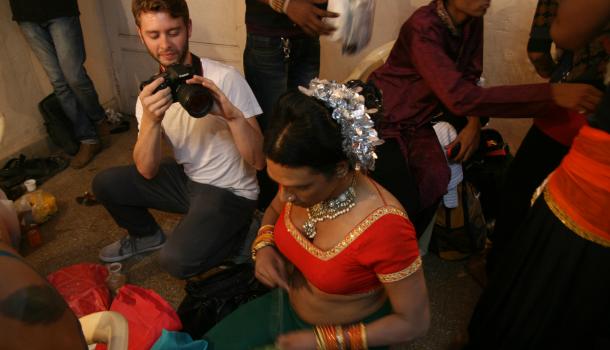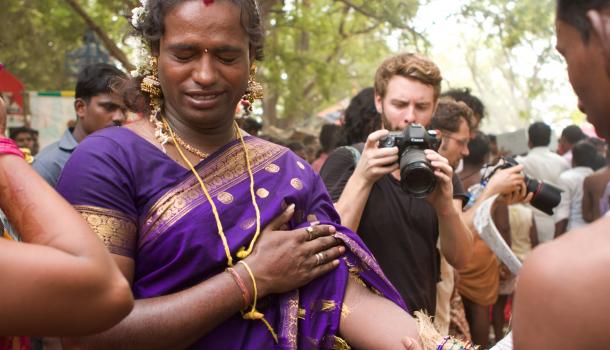 In 2012, I was one of four grantees to have been selected for the prestigious Fulbright-mtvU Fellowship. The Fulbright-mtvU program awards individuals with projects that explore the use of music as a base of mutual understanding between cultures. I proposed to develop a documentary about how music and dance within Mumbai's LGBTQ communities help to empower and strengthen their individual and collective voices. The project was given its stamp of approval by music idols Foster the People, B.o.B, J.Cole and Diplo, as well as the Presidentially-appointed J. William Fulbright Foreign Scholarship Board. And now, on July 19th,  2013, at the Godrej India Culture Lab, I have the wonderful opportunity of being able to present some of the fruits of my labor in the first public presentation of my documentary-in-progress following a year-long production stint:
In Indian media, the image of the dancing Hijra once signified her shameless public identity, vulgarity, and lack of training or skill. Although dance in India is discursively tied to colonization, nationalism, and globlization, Hijra dance is more often taken as improvised, unregimented, and unchanging street-dance. My presentation for the Godrej India Culture Lab undertakes the critical labor of unpacking these stereotypes through a discussion of how members of the lesbian, gay, bisexual, transgender, queer (LGBTQ) and Hijra communities in Mumbai are defying once-held beliefs and superstitions about queerness through the practice of newly emerging music and dance, as well as the presentation of more traditional art forms in new performance contexts.
LGBTQ and Hijra individuals perform music and dance in various styles, incorporating a mix of contemporary Bollywood, Western pop/rock, Indian classical and traditional folk music. In most cases, these communities use music to construct and negotiate identities within the context of formal concerts, social gatherings, political protests, and, in some cases, religious rituals, simultaneously contesting and reaffirming their marginalized status within mainstream Indian society. Following a year of documentation and research through the Fulbright-mtvU Fellowship, I use visual ethnography to demonstrate how the growing national attention in media, reinforced by political activism through India's HIV/AIDS NGO sectors and (now) in budding private sectors, have given way for LGBTQ communities to deploy "informal" social practices of music and dance into a more formally organized performance sphere.
Since the nullification of "Section-377" (the 200 year-old bill that effectively criminalized homosexual practices) in 2009, India has seen a rising level of media exposure given towards issues of gender and sexuality. Thanks to a gradually shifting paradigm in public awareness, more musicians and dancers from the LGBTQ and Hijra communities are entering the professional foray, bringing with them their sets of highly-trained skills and individual voices to the stage. My documentary shows how these musicians and dancers navigate through Mumbai's urban landscape of tradition and modernity in the staging and construction of their own unique, individual identities.
The documentary works a bit differently than most. Generally, documentary films are made in a series of four isolated stages: pre-production (research and scouting), production (filming), post-production (editing), and distribution (outreach or audience engagement). My project, in contrast, incorporates simultaneous production, post-production, and outreach. That's essentially fancy for: You get to see what is happening when it happens. Well, unfortunately, most of my work is already complete. However, the videos that document my process are still available for public viewing.
Throughout the 2012-13 period, the Fulbright-mtvU Fellowship program maintained a monthly blog of my work on the Fulbright-mtvU website (http://www.fulbright.mtvU.com/jroy). The blogs contain a video (generally 5-6 minutes) along with written synopses of my experiences filming individual or group performers and performances. All of the musicians and dancers featured openly and consciously identify as LGBTQ or Hijra. For them, their sexual and/or gender identities are deliberately incorporated in the larger fabric of their lives and artistic practices.
 One of my first videos features Prince Manvendra Singh Gohil, master classical harmonium player and esteemed LGBTQ rights activist and media figure. At his pink palace, Manvendra ji hosted a three day-long mela, sponsored by his HIV/AIDS non-profit organization, the Lakshya Trust. He invited thirty amateur and professional musicians and dancers, including myself on violin, to perform. The purpose of the concert was to give a platform for young, emerging LGBTQ artists in the traditional genres to perform alongside more established, grade-A traditional musicians. In this case, Manvendra ji utilizes trained, "pure" traditional practice in order to advance a modern, global effort to curb the occurence of HIV/AIDS. In doing so, he is also simultaneously raising awareness about the continuing threatened existence of Indian classical musical genres. This unlikely pairing of causes is part of a larger post-modernizing and/or "queering" movement within LGBTQ arts.  
Another video features the Dancing Queens, a not-for-profit dance company comprised largely of Hijras, transmen, kothis (local gay male identities), and gay men. In October, the Dancing Queens held auditions at the Humsafar Trust, in order to prepare for their performance planned during the 4th Annual Mumbai Queer Azaadi March celebrations. In front of a row of esteemed judges, including the transgender personality Laxmi Narayan Tripathi, each of the contestants danced their practiced repertoires to popular Bollywood tunes. Through this audition sequence, I demonstrate how both organizationally and aesthetically, the Dancing Queens tows the line between formal and informal economies of performance and activism. I further demonstrate how this performance group negotiates the expectations of professionalism and respectability expected of the transnational non-profit industrial complex as well as the globalizing LGBTQ pride movement.
My presentation for the Godrej India Culture Lab will string together these and other videos in order to demonstrate how, through the modernizing affect of performance, music and dance have become important spaces for survival for India's marginalized queer communities, and how the fundamental practice of these art forms provide the necessary tools for identity development helping to empower and strengthen these diverse communities.
This project's success would not have been possible without the Fulbright-mtvU Fellowship. I would like to express my sincerest gratitude to the Fulbright Program and mtvU for all of the support they have given me throughout the year. For more information about Fulbright-mtvU, visit the program website: http://www.Fulbright.mtvU.com
Jeff Roy is a documentary filmmaker, musician, and Fulbright-mtvU Fellow based in Los Angeles and Mumbai. Roy holds an MA in ethnomusicology from UCLA and is currently working towards a PhD in the same field. Roy is a professional Western and Indian classical violinist. Roy recently found his voice in film direction and production. His first film, Rites of Passage (also known as Mohammed to Maya), has been screened at over 50 international film festivals. He spoke at the Godrej India Culture Lab on 19 July 2013. To view images from the event or to watch the event video please click here : http://indiaculturelab.org/events/book-and-film-club/queer-voices-from-mumbai