Pride Month 2020!
Team Culture Lab
24 June 2020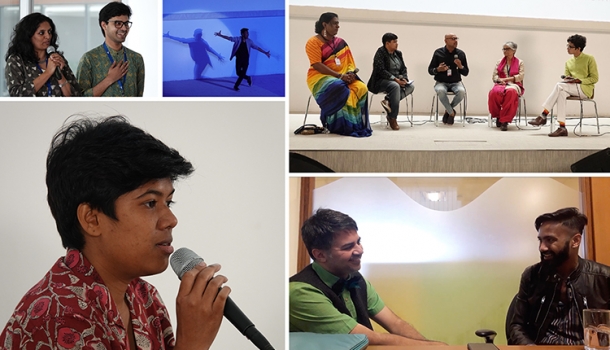 Pride Month isn't just a celebration - it is also a call for a global recognition of rights for the queer community. At the Lab, we have had incredible speakers talk about the Indian queer contemporary and the future of the movement. We looked back on our Pride Month events and wanted to highlight some of these important moments for you. 
In 2018, So Many Queer Indias brought together some of our favourite activists and writers from across the country to talk about what Indian queerness really means outside of dominant media narratives about it. Rachana Mudraboyina, Diti, Yadavendra Singh, Maya Sharma and Anish Gawande discuss how the articulations of the queer movement need to be understood in terms of region, language as well as notions of citizenship. Watch it here.


For some history on dance and queerness - Siddhesh Kamble's Waacking performance at So Many Queer Indias got all of us to learn more about its history as a Latin and African-American queer dance style. Watch Siddhesh bring 1970s disco and Sunidhi Chauhan together here!
Last January, we had Dhvani and Akshat from the VIDHI Centre for Legal Policy present their report 'Queering the Law'  at the Lab. They spoke about the need to reimagine legal frameworks for queer persons - right from laws against violence to the right to self-identify, cohabitate and adopt.  They stressed on the need to iterate on the reading down of Section 377 and the passing of the Transgender (Protection of) Rights Act, 2019. With case studies and examples, this was a glimpse of what a queer-positive legal system could look like. Watch the lecture here.
Following this, Dan Rebello, primary school teacher and co-creator of the Thane Queer Collective, spoke about trans and non-binary exclusions within the queer movement, and about organising protest against the controversial Trans Rights Act of 2019. Watch the video here. 
Finally, check out this conversation, in which Lab head Parmesh Shahani looks back on his book Gay Bombay: Globalisation, Love and (Be)Longing in Contemporary India with academic Dhiren Borisa. They discuss the ways in which popular queer narratives have functioned in agraharas, or spaces of caste privilege.  
At this moment, pinkwashing is rife - Parmesh spoke to People Matters about what companies can do for their LGBTQ employees in terms of queer positive policies and mental healthcare during the pandemic. Read it here.
If you want to support amazing queer content and initiatives, don't forget to check out the work our collaborators are doing.

The Queer Muslim Project has curated a Digital Pride Festival along with British Council. Check it out for dance, film, music (and an Instagram Live session on gay nightlife culture in India with our collaborator Kareem Khubchandani!).
Our friends from Pink List India have created State of the Qunion - a pathbreaking mapping project of Indian parliamentarians and their stance on LGBTQ issues. Click here and engage with the map - find your constituency and MP and check out their report card!

The Ya All team has been carrying out relentless COVID-19 relief efforts - they also helped begin a new Transgender Quarantine Centre in Imphal. Help them raise funds for the Manipuri LGBTI+ community here.

Activist Grace Banu is raising funds for the trans community in Tamil Nadu - this includes several individuals who are immunocompromised due to their age or HIV status, folk artists who have had their income wiped away by the lockdown, and those who depended on street work to earn a living. Please contribute to this effort here.  
Rachana Mudraboyina is raising funds for the Hyderabad trans community - this is for food, medicine and other essential supplies. You can help out here.

This Pride Month, we hope you can build solidarities with queer communities - allyship is an ongoing process in which we learn and contribute in meaningful ways - after June as well :)