Presenting... your award-winning Culture Lab
Team Culture Lab
3 February 2016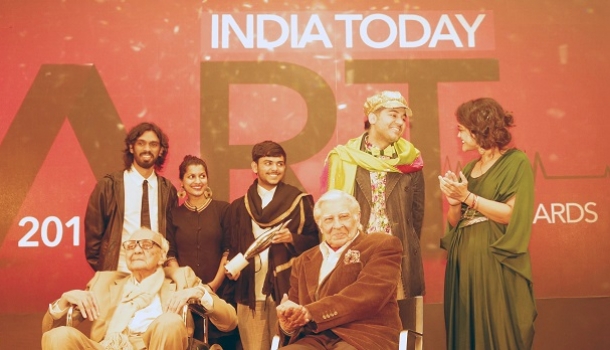 In a glittering ceremony hosted at The Leela Palace, New Delhi, on January 28, the India Today Art Awards were held for the first time to celebrate the best of Indian art.
In a room packed with some of the biggest names from India's art world, the Godrej India Culture Lab was awarded the award for 'Corporate Commitment to Art'. The entire Culture Lab team (Dianne Tauro, Kevin Lobo and Ojas Kolvankar) went on stage to receive the trophy from the hands of legendary modernist Indian painters, Krishen Khanna and SH Raza.
In his acceptance speech, Culture Lab head Parmesh said, "I want to thank Nisa Godrej for believing in this ambiguous idea five years ago. We have tried to have a wide range of conversations across different formats - conferences, performances, art pop-ups and we hope that by attending our events and viewing our videos online, people across India and the world have had the opportunity to broaden their minds. Receiving this award in its inaugural year is a tremendous honour for us and a great source of inspiration for us to keep on striving and working hard." 
Click here to watch the entire show!