How to make workplaces more inclusive for trans community
Team Culture Lab
20 December 2018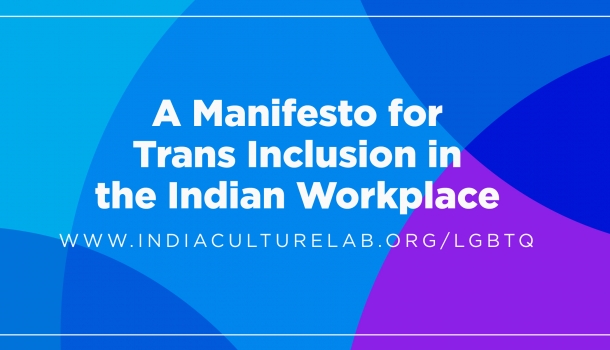 September 6, 2018, was a landmark day for the LGBTQ community. After years of prolonged efforts by activists, lawyers and NGOs, the Supreme Court delivered a landmark judgement decriminalising homosexuality. In December, this year, we launched A Manifesto for Trans Inclusion in the Workplace. 
LGBTQ inclusion is a cause really close to our heart. So, back in June 2018, we had started writing the white paper. It was envisioned as a guide for corporate workplaces to implement steps that could facilitate inclusion of the transgender community in the workforce. We chose to highlight the transgender community because they tend to be neglected in the conversation on LGBT issues, and face severe discrimination and lack of opportunity. 
When the September verdict was announced, we realised that there was an even greater need to launch the Manifesto and offer a blueprint on policies that will hopefully be implemented in other companies as well.
We released the paper in December 2018, and at the event, Nisaba Godrej, chairperson of Godrej Consumer Products, announced the launch of gender inclusive bathrooms as well as a gender affirmation policy to cover transition costs for employees. At the event, we also had several corporates who are pioneering inclusive policies in their organisations. It included Keshav Suri, Executive Director, Lalit Suri Hospitality Group, and Radhika Piramal, Vice Chairperson and Executive Director, VIP Industries Ltd.
 The Manifesto suggests 9 steps that include devising an anti-discrimination policy, active trans hiring efforts, sensitisation of employees, developing restroom infrastructure, offering health insurance, and establishing a support system for employees transitioning in the workplace.
We are really happy to note that many companies have downloaded the Manifesto and are using it in their own workplaces, and we hope that many more do so.
You can read the paper here.