Mumbai Pride 2018
Saniya Shaikh
13 February 2018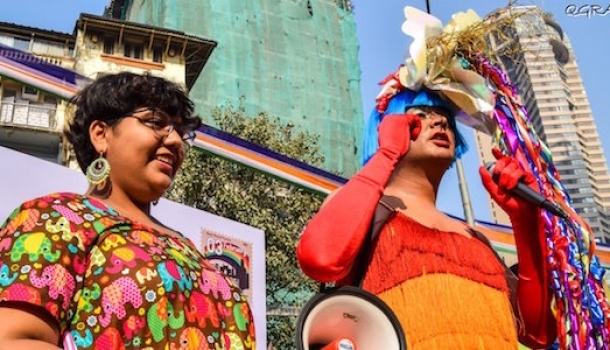 PHOTO CREDIT: QGraphy
Mumbai hosted its tenth annual LGBTQ Pride march this year. Over 15,000 people took over the streets of the city with rainbow flags, fiery slogans, and an overwhelming sense of celebration, staging the second Quit India Movement for the archaic Section 377.
This year's Pride was especially dear to our Culture Lab. It was the first time that we were a part of Queer Azaadi Mumbai (QAM), a collective of queer individuals and organizations working for the rights of the Indian LGBTQ community. We hosted three big events under our theme of LGBTQ Now! which looked at how young Indians are exploring and embracing queerness in their everyday lives.
Curating these events, not just as a part of the Lab but also a part of the larger queer community, was a heartwarming experience for me. I felt humbled to work with so many inspiring people who I have looked up to in my journey of embracing my queerness. Together all of us in QAM organized over 20 events and there was no weekend in January that didn't see some or the other Pride event happening!
All of it culminated on 3 February as the city painted itself in colours of Pride. When the first march was held back in 2008, around 500 people participated. The scale has only been increasing since then. What made Pride 2018 even more special were the signs of how inclusive and intersectional the LGBTQ movement is becoming. I was overjoyed to see the massive numbers in which women and non-binary folks marched this year.
PHOTO CREDIT: QGraphy
I spoke at the Pride stage about being a Muslim and being queer. A Jai Bheem flag waved along with the numerous rainbow flags throughout the march. While there is plenty of work yet to be done to be truly inclusive, Pride was a reflection of how we are moving in the right direction.