Mumbai as the protagonist in pop culture
Rohan Bhide and Aditya Talpade
17 June 2020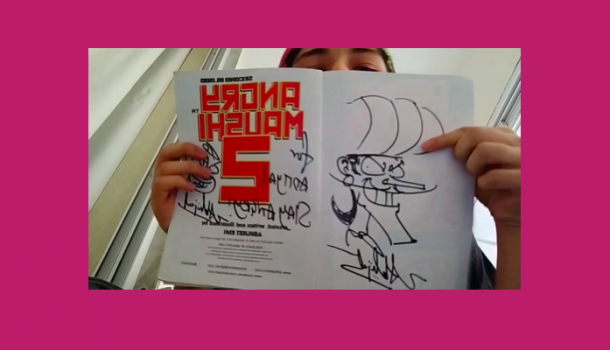 As the final presentation of the Leadership Programme, we were under a lot of pressure to end it with a bang. After a ton of work, a true bang came in the form of a cyclone generated power cut that wiped out our entire presentation just a couple of nights before the actual presentation. So what did we do in response?
We spoke about Mumbai's depiction in pop culture by channelling our inner Hank Green and explaining the topic in a vlog style format. To understand how Mumbai acts as a protagonist we took a page from our co-Fellows Laxmi and Isha's book and divided the portrayal based on subcultures we enjoyed, including but not limited to comics, music, games, films, and literature.
Fp2 took charge of explaining how comics can be seen under multiple spotlights. The ones which we talked about are cartoon and illustrations aimed at children and the stories aimed at a more mature audience featured Mumbai as a chaotic city, where everything was often at breaking point. 
Here are three comic suggestions:
Black Mumba by Ram V - a black and white comic showing Mumbai in a noir aesthetic.

Spiderman India - remarkably, the only Indian children's comic you will see not to shy away from casteist and classist prejudices in Mumbai.

Angry Maushi by Abhijeet Kini - a self-aware comedy which calls out the malpractices of Mumbai and everything in general through the eyes of a Marathi maushi with superhuman strength.
Picking up from where Fp2 left off, I explained how Mumbai, whenever it is portrayed in video games, is often inaccurate and is always a target of stereotyping. The most common reason is that a lot of popular games which show Mumbai or India are not actually made in India so these games tend to lack 'authentic' Mumbai culture. 
There are few great examples of games which represent Mumbai without falling inro the trap of stereotypes:
Streets Of Mumbai- The only game fully produced in India - .the developers 3D scaled and modelled every single building in Mumbai using G-MAP satellite tracing. And this was 2008. Needless to say, it's the most accurate representation of Mumbai, made by Mumbaikars (ironically this game never came out due to concerns regarding security and privacy because of how accurate the assets were in the game).

Street cricket champions2- released for the PlayStation series, this really hit home with relatable aesthetics, visuals and gameplay with the look and feel of your casual gully cricket.

Desi ADDA: Games of India - As the name suggests, this PlayStation game had an accurate representation of some games in India. From gilli danda to kabaddi to even street cricket. It was a sensation in India for the PlayStation 2 and PlayStation Portable.
Fp2 then eagerly explored the positive and negative portrayals of the big city, from rap to geet to folk music, and even took a minute for a marvellous dance break.
"Aye ail hai mushkil, jeena yahan, zara hatke zara bachke yeh hai Bambai meri jaan"
Pretty much all the music that showed Mumbai, always kind of implied that there was something to look out for, something to be feared. Granted most of these were rap songs, but it still instils a core sense of oppression and survival which is common within many of these songs.
Our top three recommendations for this category are:
'Aai Shapath Saheb (Me Navtho)' by Dopadelics - this does not directly show Mumbai but the song criticises the police system for criminalising people but not addressing inequality at large.

'The Warli Revolt' by the Swadesi Movement - we have all seen warli drawings, but have you seen them animated to an amazing protest song? 

Baghtoy Rikshawala- that one song which is played in almost every DJ ever, you'll hear this at festivals and dance parties.


We combined movies, films and TV, and here are our picks. Most of the films we saw seek to examine classism that is rampant across the city. Even the children's animated shows like Chor Police talk a lot about the haves and have-nots in Mumbai society. But many of them also show a sense of hope, that you can break this classism and move ahead. 
Our top three recommendations for films are:
Hotel Mumbai - We debated a lot between this, Attacks of 26/11, Nat Geo's Mumbai and Black Friday because they all showed Mumbai's reaction through intense struggle but finally settled for this because it best shows how bad the situation was, from a much more insider's perspective

Action Replayy - Action Replayy is a sci-fi comedy which shows a very young Bombay and shows how the culture, mannerisms and the style of people living in 70s Bombay was. 

Little Things - As the name suggests, this focuses more on the little things, taking a break from all the heavy Mumbai stuff we said before, this looks at Mumbai from a much lighter tone. 
We also explored food, sports, MMA and architecture, we finally arrived at a kind-of-sort-of conclusion about the city. Mumbai's popular imagination has found voice in books such as Maximum City and Bombay Meri Jaan. Mumbai also has many narratives of 'struggle' that popular culture often uses, but there are more hyperlocal, individualistic accounts of life in Mumbai that don't play into larger, existing narratives. Like Amrita Mahale's Milk Teeth, or Jane Borges' Bombay Balchao, or more recently, the city as a space of sexual freedom like in Lust Stories or Four More Shots, Please!. 
And don't forget about the hip hop community, which blew up in the past 5 years. From Gully Boy to Nallasopara's hip-hop culture - there isn't even a single narrative for this subculture. Can we expect one for the city?