Sonali Gupta on why we need to talk about mental health NOW
Sonali Gupta
26 March 2018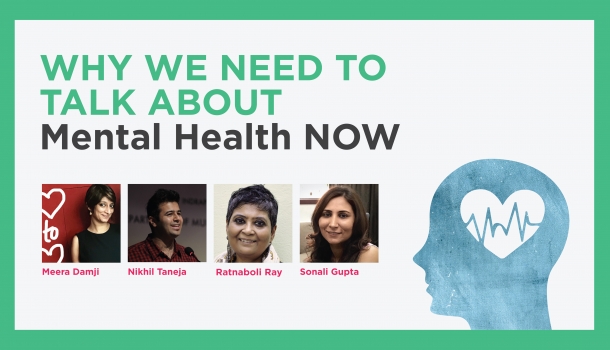 I remember hearing a quote at a workshop, "So many of our wars, so much bloodshed could have been avoided if we chose to communicate better about our issues." We need greater dialogue and conversations around mental health, so that we can build a culture of empathy and create safe spaces where people can be emotionally heard. 
In India, we have a very complicated relationship with mental health. It is only when we struggle with a debilitating mental health condition, or go through a loss which leaves us emotionally devastated that we acknowledge the importance of mental health in our day-to-day life. Isn't it sad that we need to wait till the time we are emotionally ready to crumble to pay attention to an aspect of our lives that is so important? 
People who reach out to me often wonder how they did not realise that they were slipping away for so many years. Maybe as a nation, not speaking about mental health has forced a lot of people to almost normalize their own sadness, anxieties and even abuse. What we don't speak about, can't name, is also difficult to work on, isn't it?
Sadly even when our loved ones struggle with a mood condition, anxiety or even seem emotionally unhappy, we shrug it off as saying 'this is a phase' or 'they are just overthinking'. 
We have access to mental health professionals, and a moderate amount of information about mental health in cities. Yet the narrative of mental health hygiene or the ordinariness of mental health is barely thought about in metros. Imagine, what it must be in villages and smaller towns where there are no mental health professionals and hospitals. Mental health issues are still perceived from a lens of superstition, black magic. 
The allocation of the budget for mental health care is 0.06% of the total, which is less than most countries all over the world. Lack of mental health care has been affecting our country's productivity, its efficiency and its relationships.
To me, this event is about initiating dialogue that helps in providing an understanding of mental health. I hope everyone who comes on April 5, chooses to listen a little more in their own community, and in turn create a ripple effect. This event is just a tiny step in the journey towards better policies at the Government level. If the event makes you reflect on your mental health and be sensitized to others, or even makes you pause and think about it, we have taken our first step in the right direction.
Sonali Gupta is a clinical psychologist. Her work extends across NGOs, corporates, colleges and schools where she focuses on preventive mental health advocacy by conducting workshops and interactive sessions. She uses television, podcasts, her writing and social media to promote mental health narratives.