Meet the Meme Team!
TEAM CULTURE LAB
13 May 2020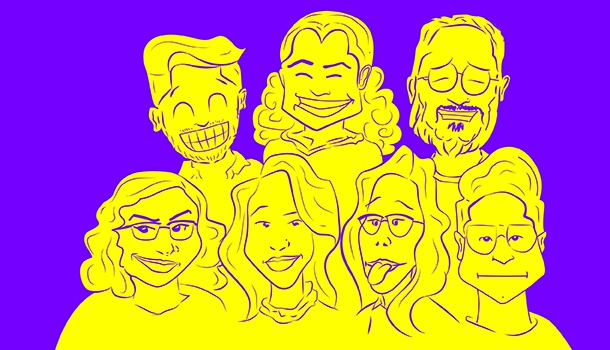 Meet our Leadership Programme batch of 2020 - the Fellows will be working on The Meme Project this year, so check out the aptly themed introduction! 
Ambika
Kamla Raheja Vidyanidhi Institute for Architecture
KNOWN FOR:  
That one Kim Jong-un mask
Nobody pulls off positive pessimism better than Ambika. Always the first to do anything, her hyperactive self abides by the motto - "If you do it first, you will have no time for any pressure" 
Poetically, an advocate for wry humour, she knows how to crack up a tough audience.
BEST WAY TO YOUR HEART?
A knife 
IN A NUTSHELL
Stressed and well dressed 
MEME TYPE
Guess I'll die memes
Isha
Sir J.J. Institute of Applied Art
KNOWN FOR:
Being high all the time without ever touching drugs
Always in blah blah mode, Isha's  infectious enthusiasm always gets you going. Constantly debating her weeb intellect with FP2, her fierce 'to do' attitude keeps things dynamic in the Programme. Always vocal and super frank, she never backs down from letting you know just what she thinks of you, nothing less, nothing more.
BEST WAY TO YOUR HEART?
Trying to figure out
IN A NUTSHELL
( ͡° ͜ʖ ͡°)
MEME TYPE
Maro mujhe maro meme
Kshiti
St. Xavier's College, Autonomous
KNOWN FOR:
All things desi
Always clear in the face of any adversity, Kshiti never backs down from helping a fellow labbie whether it be work or anything more. A moderator, despite her sweet demeanor and love for white roses and multicoloured pens, she can be quite methodical and is able to keep track of a difficult situation quite easily. Don't fear asking her about intersectionality, as much as using  problematic terms loosely. She'll explain without hesitation. 
BEST WAY TO YOUR HEART?
Postcards/lyrics of a ghazal or an old hindi song.
IN A NUTSHELL
Desi Blue power ranger
MEME TYPE
Irrfan Drake parody memes
Laxmi
Department of English, SNDT Women's University
KNOWN FOR:
Her versatile vocabulary
A textbook overachiever who gets along with everyone. Logical and sociable, she will be the responsible adult viciously guarding all her fellow labbies. The perfect person for long drawn out conversations,if you can keep up with her rapidly changing languages mid conversation. Reliable and usually the first person you'd look to to get things done properly
BEST WAY TO YOUR HEART?
Books and a strong cup of tea or a frangipani flower
IN A NUTSHELL
An afternoon of fun conversations
MEME TYPE
Confused math lady memes
Prateek
Media and Cultural Studies, Tata Institute of Social Sciences
KNOWN FOR: 
Talking in fast forward
Your go-to guy for the best dry sarcastic humour you'll ever find. Often finding himself matching wits with Ambika and Laxmi, he is the perfect guy to simply chill with, his witty, on the nose remarks keep everything light hearted and fresh
IN A NUTSHELL
Poetic Fakir
MEME TYPE
Kermit drinking tea memes
Rohan
V.G Vaze College, Autonomous
KNOWN FOR:
All things Camera 
A ditzy man of simple needs and even simpler wants, he's always straight with what he has on his mind, either films or his dogs, ie. when he's not  busy being a geek with FP2. A sort of desi Scott Pilgrim, he is one guy you'll regret not adding to your party.
BEST WAY TO YOUR HEART?
Good food
IN A NUTSHELL-
Desi Dziga Vertov
MEME TYPE
Everyone joins the battle memes
Aditya 
Rachana Sansad College Of Applied Art and Craft
KNOWN FOR:
His uncontrollable hyperactivity.
When not debating his way to the chief otaku-in-charge status with Isha or fanboying over comic books, Aditya insists on being known by his street name FP2. He's the textbook definition of a good boy out of Studio Ghibli Movies. His uber enthusiastic brain comes up with most random but amazing suggestions and trying to work around a solution in the most creative and  fun ways possible because-
"If it isn't fun, its worthless" -Aditya Talpade, 2020
BEST WAY TO YOUR HEART?
Red chocos, or anime, or comics, or memes or cartoons or …
IN A NUTSHELL
Snickers dipped in Monster Energy Drink 
MEME TYPE
To be continued meme (Jojo's bizarre adventure)