#MangroveFunda - Highlights from our World Environment Day talk
Poorvi Bellur
5 June 2017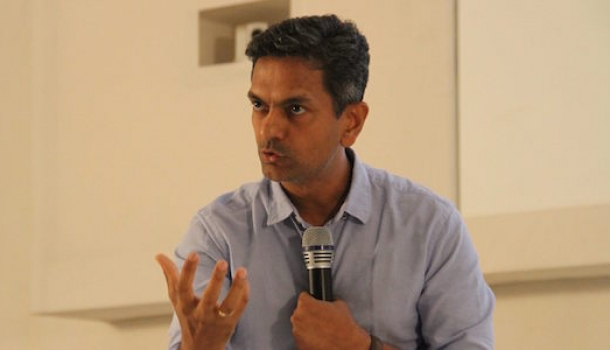 On June 2nd the Godrej India Culture Lab hosted renowned wildlife photographer, passionate conservationist and avid traveller Dr. Anish Andheria. With World Environment Day just around the corner, Dr. Andheria's talk led the audience into the secret world of the mangrove forest. Exploring the various natural mechanisms sustained by these biodiversity hotspots, Dr. Andheria shared his experiences in conservation with the audience.
We hope these takeaways inspire you to go visit the magical mangroves of Mumbai and fight for their protection!Here are a few highlights from Dr. Andheria's inspiring tribute to the green lung of our coastline:
On the science behind mangrove survival
Despite their present vulnerability, mangroves are one of nature's two ways of actually building new land. "The only two organisms on this planet that can build land are corals and mangroves".
Mangrove swamps bring together the best of both worlds as fresh and saline water interact to create one of the most diverse ecosystems on the planet
Mangroves are the only species group that can survive in soil with low oxygen content, thus allowing them to thrive in swampland.
On India's place as a home of the mangroves
India is home to the largest mangrove haven on this planet, the Sunderbans forest, which stretches across Bangaldesh as well.
Good tips to keep in mind when you visit the mangrove forests
If you ever go to explore the magical world of a mangrove forest, be sure to check the tide timings so you don't get stranded! Water levels change drastically on a 6 hr cycle due to tides. A visit to the mangroves during low tide would be incomplete without the dance of the fiddler crabs!
On how mangroves are the green backbone of our coasts
Flood prevention, wildlife refuge, erosion prevention, carbon sequestration, you name it. Mangroves are essential to the balance of the coastline ecosystem and livelihoods of thousands.
On green solutions and hope for the future
Prevention is better than cure: By damaging the mangroves we are tampering with systems we do not know how to rebuild. We need to build successful business models wherein forests, their communities and the country at large are all benefitted.
Parenting is key to raising a generation of conservationists. Let you children explore and love the environment in order for them to protect it in the future.  
Hope for the future lies in sustainable local solutions. Anybody can and should be a conservationist, regardless of their professional background, and the time for action is now. "You don't have to be a tree-hugger to protect the environment".