Leadership Programme: Third Meeting
Harsh Vora
9 April 2018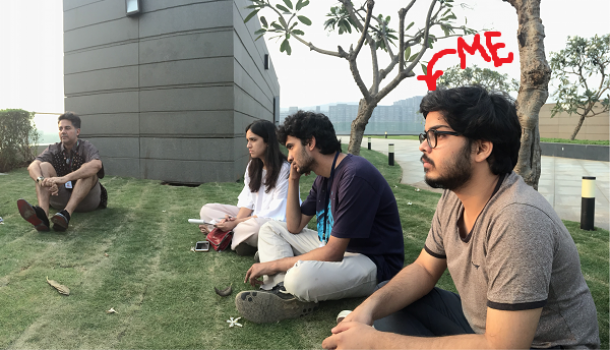 The third meeting of the Leadership Programme came with us attending the book launch of "Dreamers- How Young Indians Are Changing Their World" by Snigdha Poonam. "Dreamers" is a book on how the youth are impacting certain cultures, contexts and environments around them by working on something that they're passionate about, challenging societal norms and going after what they think is worth it. The book launch also brought together a performance by young Emcees from Mumbai who rap in regional languages. The latter part of the event was a discussion between Snigdha and Varun Grover; lyricist, comedian and screenwriter, one where they shared personal anecdotes about the book and their life experiences in similar situations referring to the stories of the dreamers in the book. The idea of the book and the reason behind the Leadership Programme is closely related as the latter is put together to get students like us to think about what change we would like to see in Mumbai's culture and how we would bring about that change. For this, the Leadership Programme team has been having meetings leading up to our internship at the Lab that will eventually culminate into an event at the end of our internship.
After the event, we came together with Sneha and Kevin and went ahead and had a few snacks that were specially prepared for that event and as per regular Culture Lab practice, they were named all funky. We discussed what we were working on in our colleges or on our personal projects which is always an interesting topic to talk about, as it can go anywhere from not sleeping enough, to showing work at exhibitions and even to going on hunger strikes!
Now, it was time to start off our third and probably the most awaited meeting, as by the end of it, we would have selected the final idea for the event that we will be putting up as a team. Before this meeting, we were put into groups of three and had to work on each other's ideas, to get to know them better and make them our own by curating an event on the idea. This involved us starting with making the team understand what exactly we are trying to say with our idea so that they have a base to start working from. A few conference calls (with some disturbance from my end) later, we started our research on the other ideas we were to work on. A few basic things we had to look up were, who we could call as speakers or for a panel discussion on the idea, what artists or performers would be apt to show and maybe talk about their works and what social media campaign we could carry out to generate people's interests on the idea before the event.
Based on this, we got to working on our assigned ideas. In the beginning, I found it difficult as I couldn't connect well to the idea and thus, couldn't see it as Aayush, whose idea I was working on, was looking at it. When this happened, Ansh, my other teammate and I put together a few thoughts we had and put it across to Aayush to see what he thinks about them. He had his inputs and told us what worked and what didn't and then we were good to go to turn it into a presentation for the third meeting. Now for some reason, we didn't put ANY pictures in our presentation and probably ended up being the most boring ones to just explain what we had in mind arghh! But admitting that, what I did see was, we had connected so well with the ideas by now, we could explain it pretty well and this goes for the others too. It was surprisingly a good and fresh feeling that I haven't had before. Because let's admit it, among 7 students, out of whom only one person's idea would get selected, seemed pretty much like a competition to me haha. The feeling was nice and new because now I wanted Aayush's idea to get selected because "Hey, even I have worked on it". It was nice to see that we had taken up the ideas pretty well and were working as a group to get one of them selected.
After every group presented their ideas, Kevin gave his inputs on it and asked all of us to comment on what we thought about it too. I think the other ideas were put together well with pictures of artists and their art; be it performing or visual artists. We got to know people hailing from different fields and saw interesting work that we would like to follow.
After discussing the presentations, it was time to select the final idea that we would work on during our month-long internship at the lab. "Who would get selected? Who should I vote for? I like this idea! Oh but this one would be so apt too!" All these different thoughts came to my head when we were holding onto the small chits in which we had to vote for the idea we thought was the best! Want to know which idea got selected? Stick around till we make official announcements and come for the event to see for yourself!