Leadership Programme: Second meeting
Rohini Kottu
5 March 2018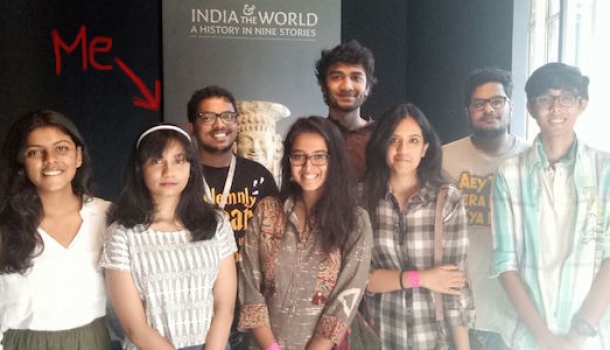 For our second meeting as a build-up towards Culture Lab's Leadership Programme this summer, we went for a special tour of 'India and the World: A History in Nine Stories' at the Chhatrapati Shivaji Maharaj Vastu Sangrahalaya (CSMVS). This was a landmark exhibition which the museum presented in collaboration with The British Museum (London) and the National Museum (New Delhi).
We were granted a special walkthrough of the exhibit by Ajay from the CSMVS team. He was kind enough to tell us some interesting facts about the museum before we started the tour. He spoke about the building's varied architectural influences and also some of the sculptures installed around the entrance. The almost-perfect seeming Discobolus sculpture (pictured above) greeted us in the hallway, and Ajay, let us in on a secret. The head of the statue does not follow the motion of the arm that swings the disc. This was because the head was broken off and later reattached.
The India and the World exhibition was divided into nine sections: Shared Beginnings, First Cities, Empire, State and Faith, Picturing the Divine, Indian Ocean Traders, Court Culture, Quest for Freedom and Time Unbound.
Under the section Shared Beginnings (1,700,000 to 2000 BC), we came across two Hand-axes: One was found in Olduvai Gorge, Tanzania and the other was from Attirampakkam, Tamil Nadu. The Olduvai hand-axe was made from quartz, a rather difficult mineral to work from and was beautifully given the shape of a teardrop. There is a possibility that the art of making hand-axes originated and spread from Africa. Also displayed here, were beautifully shaped pots found in Pakistan, China and other parts of the world. Some were even painted using different colors made of powdered minerals and animal fat. This showed that people were able to cook and expand their diets as well as control fire and prepare clay. It also signifies that people were not only producing food, but perhaps also storing the surplus grains.
The section of First Cities was an engrossing one. And, of course, the Indus Valley was the main feature. We saw the statue of the Dancing Girl, an object that is spoken about a lot but we learnt from Ajay that it could be a victim of the male gaze. Even though the figurine is referred to as the dancing girl, her actual profession is not known. The purpose of this figurine has most likely been misinterpreted by archaeologists! Although the Indus Valley is one of the oldest civilizations, the cities were carefully planned and built around rivers. The people had excellent knowledge of metallurgy, art and craft and therefore, trade was inevitable. Traces of class systems have also been found.
The section of Empire, talked about the various empires that emerged around the world like the Mauryan Empire and the Roman Empire. It also threw light on the tactics Kings used in order to strengthen their authority. For this they focused on religion and military power. Kings associated themselves with certain religions or great historical figures. An edict of Emperor Ashoka was displayed, which comes from Sopara, an ancient port town in Thane, near Mumbai.
State and Faith showed us how Kings associated themselves with particular Gods in order to strengthen their position. And coins were one of the channels used to do this. These coins were made from either silver or gold, indicating the power and wealth of the ruler. Either the coins showed a portrait of the King in power on one side, and on the other side, the portrait of a God/Deity or certain symbols were used, like the coin of Samudragupta's reign shows a horse on one side and the queen on the other. I was fascinated to see how rulers from various empires used almost similar ways to keep their power secure and command faithfulness from their subjects.
Picturing the Divine depicted how objects of worship emerged. This section consisted of various beautifully carved statues like the statue of Bahubali (pictured above) and a Ganesh idol, which was surprisingly not from India, but from a temple in Java. This reveals that religions are not static. Just as people and goods move, so do beliefs. The sculpture of Bahubali represents physical and mental strength. And no, it has no connection to the movie. ಠ_ಠ 
Indian Ocean Traders showed how people were connected by sea and how trade emerged. Ancient dishes with beautiful paintings were displayed. We saw many Roman and Middle Eastern objects which were excavated in India. It was delightful to see Indian textiles (pictured above) excavated from Fustat in Egypt. I was thrilled to find out that they were made in Gujarat. The Gujarati community is known for being business-oriented people, so it's not a shocker that even hundreds of years ago the Gujarati people traded across oceans!
The Court Culture section talked about how Courts worked in those days. We all were surprised to see the painting of Emperor Jahangir, holding a portrait of Maryam (Mother Mary). We learnt that Maryam occupies a prominent place among the women in the Quran and became an epithet for Mughal Queens.
The Quest for Freedom was a rather interesting as well as an important one. This section included objects closely related to India's freedom struggle, like The Charkha and Gandhiji's portrait. Also present were currency from India, Pakistan, Cuba and many more. This section did not only represent India's Quest for freedom, but it also talked about slavery in Africa. It was a very sad moment for all of us to witness the official papers of slave trading from Puerto Rico.
Time Unbound was another interesting section. This section included a Warli painting and also a portrait of Rahu from Indian mythology. In Indian mythology, Rahu is personified as the wrathful devourer of time. The most eye-catching object in this section was Unicode by L. N. Tallur (pictured above), which depicted cyclical time. According to different Indian traditions, the universe is cyclical in nature, just as an individual soul is also reborn, time after time, as personified in Shiva's dance of destruction that ultimately leads to rebirth. Other deities, such as Rahu, give expression to how the forces of time and history can become disturbed or unbound. For people from other regions, time is neither linear nor cyclical. Events and stories from the time of creation are manifest in the present. 
The tour was absolutely amazing.
After the tour, it was time to get down to Leadership Programme business. We headed to AKA Bistro for tea, snacks and brainstorming. There, we discussed our curatorial ideas in detail and gained new perspectives from our Leadership Programme fellows. We at this point were down to four ideas. To distil this down to two, we were split into groups and were encouraged to speak to one another. Only one idea will be selected to be made into an event, and it's been interesting to see how each of our ideas have developed. Our evening ended with each one of us speaking about something important we are currently working on, apart from the lab, of course.