Lab Recommends: Sonali Gupta's mental health resource list
Sonali Gupta
9 April 2018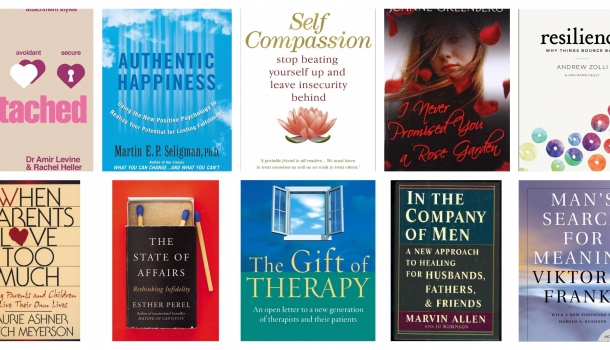 Mental health practitioner and curator of our 'Why We Need To Talk About Mental Health NOW' event, Sonali Gupta has put together a resource list of books that one must read to take care of our mental health. These books tackle a variety of issues from finding meaning in life to finding love. 
1. Resilience: Why Things Bounce Back by Andrew Zolli, Ann Marie Healy
What makes Andrew Zolli and Ann Marie Healy's book a brilliant read is how it talks about resilience in ecosystems - from how human beings thrive to how communities and nations become resilient. This book gives me hope that we can bring about change by building resilience at a micro and macro level.
2. The Gift of Therapy by Irvin D. Yalom, Nicola Ferguson
The Gift of Therapy gives you an insight into a therapist's mind and also tells you about the process of therapy. The book is easy to read and gives the reader a perspective into how therapy can be enabling, and at the same time gives readers a lens to see how the process enriches the therapist too.
3. I Never Promised You a Rose Garden by Hannah Green, Joanne Greenberg
I Never Promised You a Rose Garden is a classic. It has personally shaped me and my decision to become a therapist. It paints a picture of the struggles people go through after being labelled as 'unwell'. The empathy it shows and the authenticity with which it is written in is deeply moving. It is a must-read for those struggling with mental health concerns to develop a realistic narrative of the world that awaits us.
4. Self Compassion: The Proven Power of Being Kind to Yourself by Kristin Neff
After our Mental Health event, a lot of people came up to me and asked me for a book they can read on self-compassion. Kristin Neff does a wonderful job talking about the power of self-compassion by backing it up with solid scientific evidence.
5. Man's search for Meaning by Viktor Frankl
Viktor Frankl's experience in a concentration camp explores how people create their own relationship with meaning and hope. There were many questions during our Mental Health event on existential problems, this included our panellist Nikhil Taneja who launched his podcast Work in Progress at the event. This book helped me shape my existential angst and despair and helped me find deeper meaning in life.
6. Authentic Happiness: Using the New Positive Psychology to Realize Your Potential for Lasting Fulfilment by Martin E.P. Seligman
We touched upon the idea of happiness a few times during the event. This book uses scientific research to understand and redefine happiness. It talks of narratives of inner strengths, values and gratitude. It is also a very easy read, with various examples and research and is very practical.
7. When Parents Love Too Much: Freeing Parents and Children to Live Their Own Lives  by Laurie Asner and Mitch Meyerson:
This is one of my favourites, as it talks about enmeshment, a concern we as a nation deeply struggle with. Parents have unreaslitc expectations, often live the lives they wanted through their children, and children feel an unrealistic weight of responsibility to behave in a certain way. This is a brilliantly written book with examples and narratives about how to unmesh.
8. The State of Affairs: Rethinking Infidelity  by Esther Perel
While we didn't talk about infidelity at the event, this book is so relevant for the times we live. It talks about different aspects of infidelity and also helps us rethink our own relationships, marriage, also our vulnerabilities.
9. Attached: The New Science of Adult Attachment and How It Can Help You Find—and Keep—Love by Amir Levine, Rachel Heller
Wondering how to make sense of modern dating and relationships? Attached comes with researched, scientific evidence about various dating patterns and also how to sustain healthy attachments while in a relationship. One of the best books, particularly if relationships and dating concerns top your list.
10. In the Company of Men – A New Approach to Healing for Husbands, Fathers and Friends by Marvin Allen, Jo Robinson
I read this book about 15 years ago. It explores male vulnerability and challenges dominant narratives around masculinity.