Jeremy Mayer's Typewriter Sculptures
Kevin Lobo
24 August 2015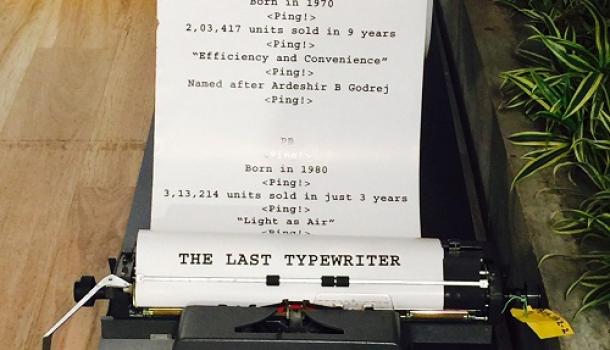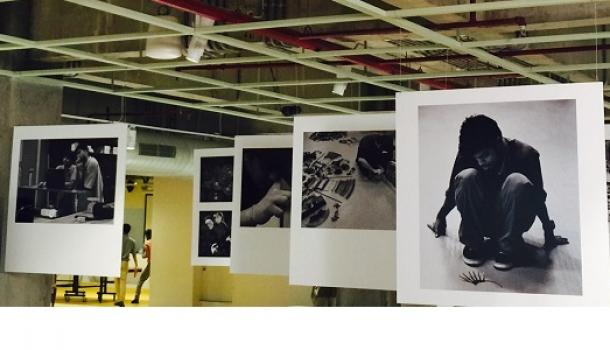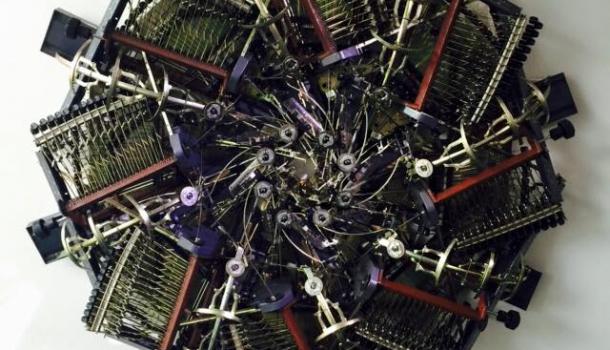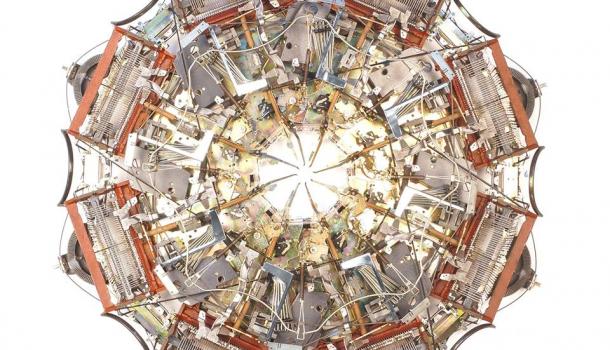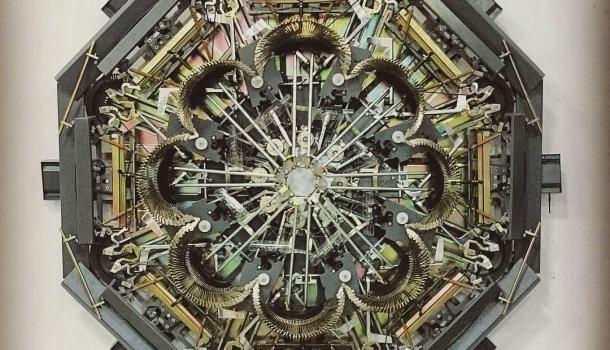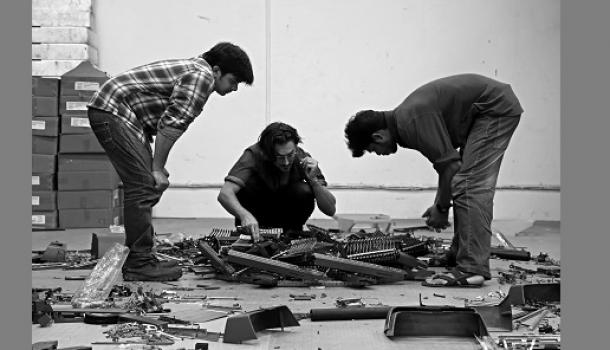 I first heard of Jeremy Mayer when I joined Godrej India Culture Lab in May 2015. I was new at the Lab, and I was meeting interesting people every day. Over lunch one day, head of Godrej Archives Vrunda Pathare told me of how her team has been collecting memorabilia that includes packaging of products, locks, almirahs, and also manuscripts, videos, audio interviews, among other things that date back to 1897!
The idea of corporate archiving though common abroad, but it is still a rarity in India with a handful of companies that are involved in it. It was then that she spoke of how she along with Navroze Godrej had commissioned Godrej's first artist-in-residence, Jeremy Mayer to convert a batch of Arabic typewriters into sculptures. The typewriter is an innovation Godrej is very proud of. It was the first Indian company to venture into the business in 1955 and you can read more about its history here on the Godrej Archives website.
Though Vrunda told me that he was going to create a kinetic lotus and three mandalas, I couldn't imagine what they would look like. A quick browse through Mayer's website left me breathless. If you haven't yet, you must check out the full-scale anatomical human figures he creates out of typewriter parts to know what I mean.
My joy was two-fold. Not only was I going to have cool sculptures in my office campus, but four of them were going to be placed at Hubble, one of Godrej India Culture Lab's favourite collaborators. Our Change Talks-Friday Funda series with Hubble has always drawn a packed house. Whether that was for the Mukhtiyar Ali, Mathais Duplessy and Rakesh Kumar performance or the one that featured Mr Gay India 2014 Sushant Divgikar.
In case you are wondering what Hubble is – it is an innovation by Godrej that disrupts the way offices function. The collaborative workspace offers employees from different teams a chance to come together and come up with new ideas. You must watch our Architecture of Collaboration video which has Archana Prasad Founder-Director of Jaaga Banglore, Navroze Godrej and Rajeev Thakkar from Studio X. The trio talk about why collaborative work spaces are breeding grounds for innovation.
While I had plans of visiting Mayer at his studio, it did not work out. It just added to the excitement for the opening on August 12. Our Lab head Parmesh Shahani co-hosted the event, which had an engaging conversation between Mayer and noted art historian Prajna Desai who we've had speaking at the Lab on two occasions earlier – first at Museum of Memories, and second, to present her Dharavi Biennale food project.
I hadn't seen Mayer's sculptures yet, so it was interesting getting an artist's thoughts on his process and the ideas that went into the sculpture before viewing them. Prajna also took the conversation through how Mayer's journey with the typewriter began.
The typewriter has been the artist's singular obsession. Firstly, this is his medium of choice - he creates work only out of typewriter parts. He spoke about how he is an avid collector of typewriters hitting yard sales, thrift stores, flea markets in search of them. What is even more astonishing is that he does not use any power tools, nor does he meld or use any part that is not in a typewriter to create his pieces! He revealed that the idea behind this is to use as little energy as possible.
Before this obsession with typewriters began, Mayer worked for a while as an apprentice to an idol maker in India. He spoke of how he would create these large sculptures using resin.  
But that is a life he has long left behind.                      
For the sculptures at Godrej, Meyers used 60 typewriters to create his works. He had to break a few rules. For example, he welded a few parts together for his kinetic lotus sculpture because it was mechanical. At 13 and a half feet, the piece is also his largest work to date!
Post the talk the sculptures were unveiled. Watching the lotus sculpture open and close its petals, made me think of all those post-apocalyptic Hollywood movies. There is something so serene about it, though it is so industrial. The Mandala's are entrancing. As you peer at them, you can't help but get lost thinking which part has been used for the each segment of the design.
These sculptures were supported by a photography exhibition by Lab collaborator Chirodeep Chaudhuri (Yes, this entire event was like a Culture Lab family reuinion – with everyone involved having spoken or been at our Lab before!). His pictures documented the entire sculpting process. There is this one picture where he is surrounded by tiny parts of disassembled typewriters, which gives you a sense of how difficult his work is. You must watch a video of his talk at the Lab where he speaks of his series 'The Commuters'.
It's been several days since then but I still don't miss an opportunity to spend some time looking at the sculptures every time I am at Hubble. Don't miss out on it when you come for the next Godrej India Culture Lab event at Hubble.