Humans of Gully Rap
Saniya Shaikh
6 July 2018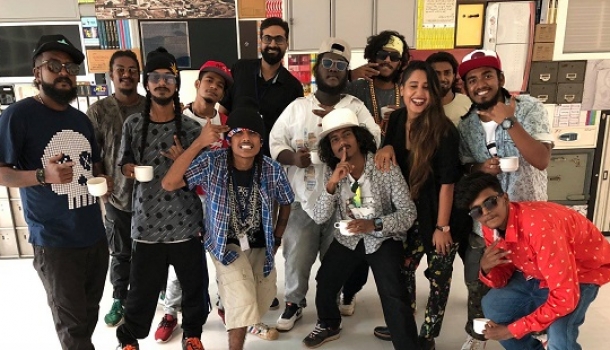 Mr. Scam of 7Bantai'Z
"I was 13 when I first started listening to rap music. I would listen to artists such as Eminem, Tupac, Tony Sebastian and Yogi B, but I had no plans of being a rapper myself.
It was in 2014 that things changed. Our school was planning to publish a magazine that featured student rappers. Yoku (from 7Bantai'Z) came up to me and asked me to write some lyrics in Tamil on corruption. I hadn't ever written lyrics before! After much hesitation and convincing, I wrote 3 bars.
Even though Yoku doesn't understand Tamil, he loved my flow. He in fact took me to Tony anna. At Yoku's insistence, I performed those lines for Tony anna and he liked my performance! That was a really special moment for me. I have been a fan of Tony's music and he said he would help me with my vocabulary. I started attending sessions with him and other rappers from my area. It was then that I realised that this is my culture and rapping is what I want to do.
 I would hide my clothes and shoes in my bag and tell them that I am going out to study with friends, but I would actually be performing 
In my school, Sadhana Vidyalaya, rap is a big deal. My teachers would call us to perform at annual gatherings and send us for inter school competitions too. During parent meetings my teachers would tell my parents that I am not good in studies, but I was a good rapper. They were very supportive of us, and told our parents that they should let us explore rap as a career option.
My parents had a stereotypical image of rap. They were against it and I had to lie to them and sneak out of the house for gigs. I would hide my clothes and shoes in my bag and tell them that I am going out to study with friends, but I would actually be performing. However, once I started earning money, they became comfortable with my profession. Now my mom brags about me when her friends come over to our house."

Ace of Mumbai's Finest
"When I first heard Eminem, I went online to read more about him and learned that he went from nothing to something. I instantly knew that hip hop is my calling.
Rap In India was still alien then but I was destined and determined to be a rap superstar. Around 10 years after starting my career, I was saturated as I had achieved a lot of success in the form of winning multiple awards, Bollywood songs, being on the cover of Rolling Stone, working with my idols like A.R Rahman, Shaan, Salim - Sulaiman etc . Around the same time, I became a father. Since then my hunger for music and doing better has increased. I have become more responsible and I make sure that everything that I do is beneficial for my son and family. I have become more conscious about my lyrics and I make him listen to inspiring artists like Tupac.
Rap in India was still alien when I started, but I was destined and determined to be a rap superstar
My son is just three years old, but he lives and loves hip hop already. I am very glad that I have been able to expose him to hip hop from such a young age. My friends jokingly ask me when we are planning to release his debut track!
We started Mumbai's Finest in 2006 when a bunch of friends and I decided to make a song of our own using only a headphone and a headphone mic. It is amazing to see how far the scene and we have come today. Our struggle has not been easy. It's because of the dedication, patience and loyalty we have reached such heights. I hold my crew responsible for the success and the motivation.
When I heard that a Bollywood movie is being made on gully rap, I naturally thought that I should have been a part of it. However I did not have a manager or a record label that would have pushed my name to the makers of the film. I wanted to be a part of that soundtrack as a movie being made on the Mumbai hip hop scene is incomplete without me and Mumbai's Finest. I went to a lot of different labels, did many demos but nothing did work out. When I had given up on the thought and moved on eventually, out of the blue I got a call from the production company, Excel Entertainment who told me that they loved my song "Har Gham Mein Khushi Hai" and that they wanted to feature it in the movie along with a cameo from me and Mumbai's Finest. I was overwhelmed. Maybe, it is the universe's way of rewarding me for my commitment to hip hop in Mumbai. God Willing, We never gonna stop!"
MC Altaf of Enimiez
Rap music has a lot of influence in Dharavi. In 2012-13, there were many Bboys and Emcees in the area and I would watch them perform when I went to play cricket and during Ganpati visarjan.
One of the popular crews was Dopeadelicz, and I was a huge fan. When I used to see Tony Sebastian anna perform, I felt inspired to become a rapper myself. I started writing lyrics of my own, reacting to everything I saw around me. That's the one rule we have in our crew Enimiez – we do not hesitate to write about injustice, no matter who inflicts it.
 We do not hesitate to write about injustice, no matter who inflicts it
Initially it was difficult to tell my family about my music. I am a Muslim and hip hop is considered haram in Islam. So I tried to explain to my father that hip hop is an art form created by common people who use it to express their struggles, and the public relates to it. I also made him listen to Deen Squad, a crew from Canada who rap about spirituality and youth empowerment. He agreed to have a look at my lyrics and was impressed, and has been supportive ever since.
Poetik Justis
"I started out as a text battle emcee on Orkut. Back then, that was where most of the major artists were honing their skills. A few years into mastering the technique of writing rhymes and lyrics, I transitioned to making songs.
Asif Akber aka "RAGGED SKULL" was a great inspiration to me. Unfortunately, he passed away way before his time. He was one of the people I learned the most from in our rap scene. He was way ahead of his time.
 Hip hop is about giving back
In the Indian hip hop scene today, the sounds are changing. I don't particularly identify as a "Gully" rapper, because I haven't come from the same background as the emcees that rap about what their life in the 'gully' is. My songs are more about my experiences in life and about the culture as a global concept.
I am the only artist in Indian Hip-Hop to complete a global crowdfunding campaign which led to kids learning to Bboy at the Dharavi Hip-Hop School. Hip hop is about giving back. It's about collectively growing and pushing the best artists upwards. I represent all sides of hip hop. Especially Indian hip hop.
My next album is called "Kala Pani" and is scheduled to release by the end of the year. It is a Hindi trap album under my new moniker, TRAP PoJu. This is a completely new sounds in my work, but this is just the beginning."
D'EVIL
"I loved music as a kid. I used to listen to all kinds of music, from Bollywood to Western Pop. Back in the day, we used to have mixtape cassettes of hits from 1996 which included songs by Bryan Adams, Jennifer Lopez, Outcast, Sean Paul, Metallica, Tupac Shakur and Notorious BIG etc. Listening to that tape made me realize that there were few artists on that tape who had a different way of singing, like BIG and Pac. I asked my cousin about it he told me that this is what they call rapping. He also told me about Baba Sehgal and how he was also one of the rappers in the 90 who dominated the Indian rap scene. My cousin then introduced me to Eminem and that's where I was inspired to write my first song as a rapper.
Life gives you many things that you care for, and I draw inspiration from that. I like to talk about things in a funny way. I always have a lighter take on life events. When I write, I speak about situations that have changed me as a person.
It's time we all work hard so we get our worth
I have been a part of the scene for a long time and gully rap has definitely come far. Back then we didn't have anyone who was interested in knowing about us, I could never even imagine that I would be sitting here and writing this story.
It's time we all work hard so we get our worth. No rapper should be underpaid anymore. It's been a long time we been waiting for these opportunities, now it kinda feels complete to be a rapper in India. Possibly we can find ways to make hip hop as a serious profession in this country. We didn't give up. And we never will. This is where it has got us. Hip hop in India will live forever."

MC TOD FOD
"My father and I have always been fond of poetry - he listens to bhajans and I listen to rap. Being Swadesi goes beyond your nationality, it is about finding your roots and sticking to them.
For underground rappers there is plenty of inspiration around. However many of them end up making diss tracks or rapping about how they are hotshots. That kind of music has its place, but I feel your lyrics should deliver a message and reflect where you come from.
Being Swadesi goes beyond your nationality, it is about finding your roots and sticking to them.
 Making money as a rapper is not easy. It mainly comes from gigs, tours and festivals. There are good opportunities in the global scene, there are many booking agencies looking for raw talent. But the situation is not great here. It's very difficult to get your fair share. Big record labels eat up a chunk of your earnings. Not only that, they restrict your creative freedom and force you into collaborations that you don't want to be a part of. You have to make your own way up and trust the right people."