Feminist Histories of Science
TEAM CULTURE LAB
9 July 2020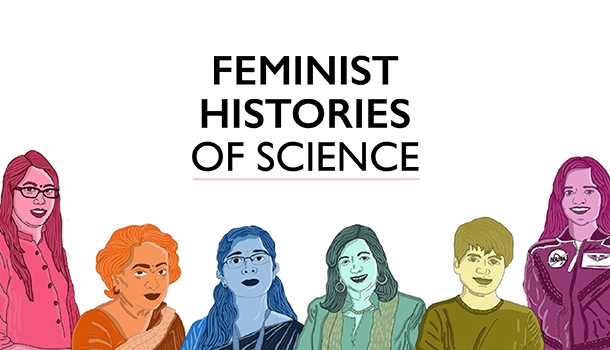 Through the month of July, we will be exploring the breakthroughs led by women in science, and the collective pleasures, possibilities and perils of doing science in India with our event 'Mission Possible: Breakthroughs of Indian Women in Science'. We looked back at the women who changed the world of science and initiated feminist discourse and dialogue but were hardly if ever acknowledged for their contributions to the evolution of our collective human journey.
The illustrations are Google Doodles made to commemorate their path breaking work! Read their stories below. 
Dr. Muthulakshmi Reddy
Dr. Muthulakshmi Reddy was the first woman medical graduate in British India (1912), and went on to become the first woman House Surgeon in the Government Maternity and Ophthalmic Hospital, Madras. She was elected as the Vice-President of the Madras Legislative Council, making her the first Indian woman member of a Legislative Council.


After witnessing the painful & untimely death of her sister due to cancer, Dr. Reddy established the Adyar Cancer Institute. Her dream was to build a space that would be accessible for everyone, irrespective of their socio-economic realities.
Dr. Reddy smashed many stereotypes and was deeply influenced by the personal philosophies of Sarojini Naidu & Annie Besant, who were her close friends. She helped in raising the minimum age for marriage for girls and also advocated against human trafficking. She built the Avvai Home as a safe haven for devadasi girls — today, its doors are open to all women who need shelter & protection.
Shakuntala Devi
Popularly known as a 'human computer', Shakuntala Devi was an acclaimed mathematician & India's most famous mental calculator. By the age of five, Shakuntala Devi could compute cube roots in her mind, and soon, she began delivering public performances.


Her phenomenal ability to perform the most complicated mathematical calculations without any tech aid gained her global fame and earned her a place in the Guinness Book of World Records (1982). She was also a well-known author of children's books as well as works on mathematics & puzzles.
In 1977, she wrote 'The World of Homosexuals', the first study of homosexuality in India. She said that her interest in the topic was because of her marriage to a homosexual man and her desire to look at homosexuality more closely to understand it.
Dr. Asima Chatterjee
Asima Chatterjee was an Indian chemist known for her remarkable work in the fields of organic chemistry & phytomedicine. She made significant contributions in the field of medicinal chemistry with special reference to alkaloids, coumarins and terpenoids, analytical chemistry & mechanistic organic chemistry. 


Chatterjee was also a highly commended writer and published 400 papers on medicinal plants in India.  Her publications have been extensively cited and included in several textbooks.
Chatterjee joined the Lady Brabourne College, of the University of Calcutta in 1940 as the founding head of the Department of Chemistry. In 1944, she became the second woman to be conferred a Doctorate of Science by an Indian University. In 1975, was conferred the prestigious Padma Bhushan. She became the first woman scientist to be elected as the General President of the Indian Science Congress Association.
Chatterjee's research concentrated on the natural products of chemistry which led her to find several working medicinal drugs for peoples use. Her phenomenal contributions were recognised globally and have won her various awards and accolades from all over the world.
Rukhmabai Raut 
Born in 1864, Rukhmabai Raut was one of the first women doctors to practice medicine in British India and worked as the Chief Medical Officer at a state hospital in Rajkot for 35 years. She also staunchly opposed child marriage.


Raut was married off at the age of 11 to Dadaji Bhikaji who was 19 at the time. Her refusal  to stay with Bhikaji and his family at his house led to the Dadaji Bhikaji vs Rukhmabai case, 1885. The final judgement on the case in 1887 asked Raut to live with her husband or face imprisonment for six months. The case was finally settled when Queen Victoria dissolved Raut's marriage by overruling the court order.  
Raut later went to the London School of Medicine to study. She wrote many influencing letters under the pseudonym A Hindu Lady. Meanwhile her legal case was studied by many and influenced the Age of Consent Act, 1891 which abolished child marriages thereafter.