Dalit History Month
TEAM CULTURE LAB
16 April 2020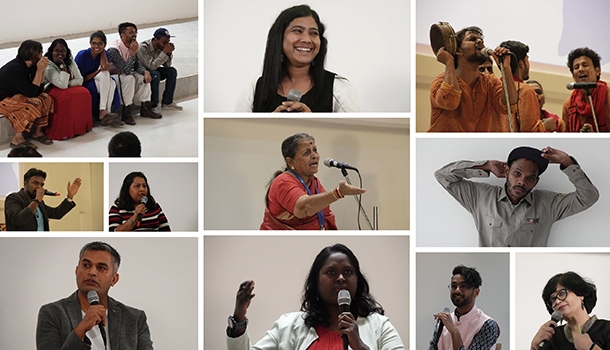 This Dalit History Month, we're revisiting some of our Lab videos. In addition to a wide range of contemporary thought on the intersections of caste, love, mental health, activism, and art, there are also exhilerating performances, from powadas and rap to rock. We're so grateful to our collaborators for their amazing work in resistance, representation and rights. To find the full playlist, you can click here, or you can explore the full list below! 
From Performing Resistance in 2017, we have Keshar Jainoo Shaikh and Nishant Shaikh performing powadas as renditions of the work of famous Lokshahirs. Watch it here. Watch India's first Dalit rock band here - Performing Resistance also featured a power-packed performance by Kabir Shakya of Dhamma Wings. We love Yalgaar Sanskrutik Manch so much they have been to the Lab twice - check out their electrifying performance from Performing Resistance here and their So Many Feminisms! performance here. 


Professor Gopal Guru of the Economic and Political Weekly enthralled Rajnikanth fans with his reading of the caste politics of the film Kaala here, at Civic Entertainment in 2018. So Many Feminisms! featured writer Jyotsna Siddharth speak about why we need to be taking conversations on caste into personal spaces - to our families and our homes. Watch her talk about how the feminist movement needs to learn from Dalit women - it's not something that has just arrived, but it has been here all along. Activist Manjula Pradeep spoke about caste, women's labour and the vicious nexus of the economy and caste politics here on our 'Women at Work' panel. Writer Baby Halder spoke about her experience with domestic work, her book 'A Life Less Ordinary' and the insidiousness of upper-caste suspicion - click here for the video.




Activist and singer Manisha Mashaal delivered a stunning clarion call for empowerment, education and the upliftment of the Maha Dalit community - watch it here!


At Crime and Punishment in Indian Entertainment last year, Neeraj Ghaywan spoke about Dalit representation in Indian cinema and representing the realities that he wants to manifest through film. Watch the panel discussion here. From Mumbai Pride Month 2019, listen to Dhiren Borisa's powerful words on how queer desire is not free from casteist implications - watch the video from Caste and Queerness here. Kiruba Munusamy spoke at Caste and Queerness, the #MeToo Movement and how caste invariably affects the process of accusation and investigation - click here to watch the video. The event was opened by anti-caste rapper Sumeet Samos, and we can't forget his powerful verses - free I live, and free I die. Watch the video here.