Culture cocktail: The cutting edge of Indian design
ISHA SANEKAR AND ROHAN BHIDE
20 May 2020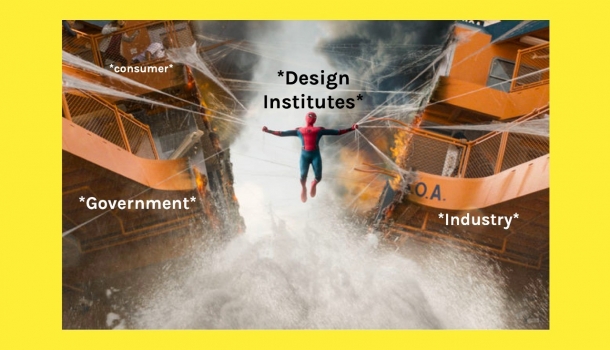 While the Leadership Programme has gone online, the Labbies of the 2020 batch are trying their best to explore the curriculum and get into work-from-home mode. Obviously this includes some shitzengiggles! Us Labbies (Isha and Rohan) took the magnifying glass and explored the history of design, so grab that doorknob because you are going to have a quick tour of design history in India. You may ask 'what is the relevance of a doorknob here?' well…




Source: https://www.hindustantimes.com/india-news/the-masters-of-indian-design/story-wYRMOBh645FbZwAmVslnHI.html
Let's begin to scratch the surface now.
What is 'design' anyway?
A design is a plan or specification for the construction of an object or system, or for the implementation of an activity or process, or the result of that plan or specification in the form of a prototype, product or process. The verb 'to design' expresses the process of developing a design.
Actually design has always been around you. 
Like these objects here. At first sight the collection may seem random but each one of them has their own part in Indian design history. From the old Phillips fan, which has played an important part as the grassroots of Indian product design to the post stamps embodying the legacy of Indian history. Before the term 'designer' became trendy in india, it was this era of 'visualisers' who pioneered design thinking
Dil Design bole Hadippa...
The rich history of design in the South-Asian subcontinent can be traced back to the Indus Valley civilization. It was not only rich in matters of culture but also in design; in the field of fashion, toy design, script, architecture and more. From the excavated remains it is now proven that Harappan civilization possessed a flourishing urban architecture. There were well planned grids with broad main roads and smaller planes intersecting at right angles. There were large networks of hundreds of wells, which supplied water to the residents. Plus don't forget the system of great bathing houses they had!
Genesis of Indian design culture…
With regards to the genesis of contemporary Indian design, the three design institutes which played an important role in the origins of institutionalised design learning in India were the National Institute of Design (NID), Industrial Design Centre (IDC) and Sir J. J. Institute of Applied Art. These design institutions not only provided basic design education to students but they also took up some design assignments, logo designing & branding projects for the government, private industries and non-governmental organizations. For example the DD Doordarshan logo was designed by students of IDC and MMRDA Mumbai Metro logo was designed by Sir J. J. Institute of Applied Art. By providing better visual identity they became the bridge between government and industry as well as industry and consumer, in the post-independence era.
The times of typography…
Sarang Kulkarni, a typographer & the co-founder of Ek Type, an Indian type designing organization,  says, "Designing compatible fonts across all Indian scripts are varied in terms of structure, rhythm and texture. They are comparatively more complex compared to Latin. While it is important to match the weight, height, visual grammar, it is also crucial to give justice to the inherent script grammar of each individual script." Indian typographers and organizations like 'Ek Type' are doing their best to provide well designed fonts for Indian languages and scripts. 'Aksharaya'- a letter conscious organization of veteran professors as well as passouts from Sir J. J. Institute of Applied Art & IDC has released the first ever verified official guide for calligraphy strokes for various Indian languages. Through conferences like 'Typo day', these veterans are taking the legacy of typography & design on an international level.
The era of Indian design with foreign modernism
Everything we see in design has been inspired from somewhere, due to the need for it to mix and fit with the culture of the place. Contemporary Indian architecture shows how we have adapted the foreign concepts by keeping some desi flavour. The concept of bungalows was introduced by the British in India but the big difference is that we built our bungalows with bricks rather than wood. The reason behind using bricks instead of wood was to keep the bungalows cooler in the tropical climate of India, whereas wood was suitable to keep houses warmer in western countries.
Similarly we can see the impact of Western cinematic style and elements in Indian film industries as well. A few good examples in this case are Ra-one, Go Goa Gone, 2.0 , Krrish 3. The concept of H.A.R.T. (heart) for G-one from Ra-one can be compared to the arc reactor of MCU's Iron Man. KRRISH 3 has used the concept of extended universe which has been used by many super hero franchises in the West. We would also specifically like to mention here the series Sacred Games because of its interesting & well designed opening theme. The mandala in sacred games has used elements from Isalmic as well as Hindu architectural design. 
 Silver lining of Indian animation  


We would like to state a few examples to elaborate some out-of-the-box attempts into character & universe design done by the Indian animation industry. Roadside Romeo (2008) was the first ever collaboration between Yash Raj Films and Disney. The film featured modern 3D animation with desi influences and a roadside romeo romance with Bollywood actors dubbing for street dog characters.
Ramayana: The Legend of Prince Rama was a Japanese traditional animation feature film directed by and produced by Yugo Sako based on the Indian epic Ramayana. This film released in 1992 was made as a part of the 40th anniversary of India-Japan diplomatic relations and was worked on by teams from both countries (No one can forget the dreamy eyes of those characters!).
Remember Return of Hanuman from 2007? It was truly ahead of its time in mixing modernism into Indian mythology. And folks, now we also have our first ever Indian-made anime named Karmachakra by Studio Durga.  
With movies & series like Little Krishna, Adventures of Mighty Little Bheem, Bombay Rose, Sanjay's Super Team, Amar Chitra Katha & now Graphic India (with its own superhero universe) Indian artists are definitely bringing that desi glory to us!
The era of beautiful cocktail harmony
We have just scratched the surface of the evolution of Indian design by studying products, but what is the design process and inspiration for today's young designers? How are they creating modern art while sticking to the rich Indian heritage? Well today's era is all about collaboration between artists. The following images feature quotes from some artists who are getting inspired by each other.
Raja Kumari talking about her latest single 'Bindis & Bangles' with Rolling Stone India: 
Swadesi Movement's MC Mawali & Warli style painter Dinesh Barap in conversation with Maharashtra Times about 'The Warli revolt' (a hip-hop piece with traditional Warli music & animation):
 
Also, Today's fashion design is not about fancy clothes, but it has now become a tool of expression for today's youth. This advertisement by Jabong is a great example of Indo-Western fashion, music, cinematography & expressionism.


As the years go by, more and more people have started to understand the importance of design. It is no more an alien fact today that design is relevant in every walk of life. We are beginning to understand that better design can make our life easier. Today's creative young blood is not afraid to express themselves openly. While they move towards the postmodernism era of design, there is hope to find the roots of our Indian culture in their work! Hence the era of cocktail harmony begins...