Civic Entertainment FAQs
Anushka Shah
14 August 2018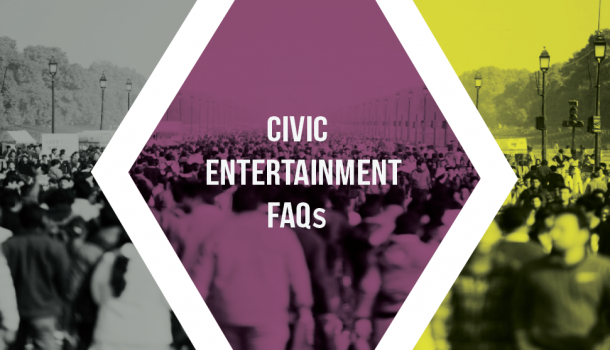 Why is civic participation important?
Civics is the practice of your rights and duties. For democracy to thrive, it is important citizens hold their leaders accountable, campaign for causes, and ensure political promises become policies.
What is the problem with civic participation today?
Most of us have low trust in government and public institutions being able change, and we have little knowledge about how to bring about that change.
How can civic entertainment help?
Civic entertainment aims to tell you how government and public institutions work, strategies and tools to affect change, ways to organize community action efficiently and inclusively, and offer stories that focus on solutions rather than just the problem.
What are examples of civic entertainment?
Movies like Pink, Jolly LLB, and Newton help understand the law and elections, and others like Spotlight and The Post emphasize the value of media as the fourth estate. Lage Raho Munnabhai and Padman present innovative solutions, while Fandry and Kaala mainstream the experiences of minorities. These are examples of content that educate and inspire while also entertain.
Can entertainment really have real-world impact?
The example of Rang De Basanti leading to the re-opening of the Jessica Lall murder case is well-known. Beyond such anecdotal evidence, there is quantitative evidence such as the study done by Betsy Paluck, a psychologist at Princeton University, that showed how a radio show was able to decrease racial prejudice in post-genocide Rwanda. Another example is a Hindi soap opera about sex-education in India that has led to improvements in family planning methods amidst viewers.
What is the aim of this event?
The aim of this event is to bring together media makers, civic activists, and entertainment audiences to start a conversation on the best ways to marry civic change to entertainment in India.
Where can I read more and how can I get involved?
The MIT Media Lab runs a project on Civic Entertainment, while Civic Studios in Mumbai is experimenting with such content creation. You can read more and get involved at www.civicstudios.com