Can the subculture speak?
Isha Sanekar and Laxmi Krishnan
28 May 2020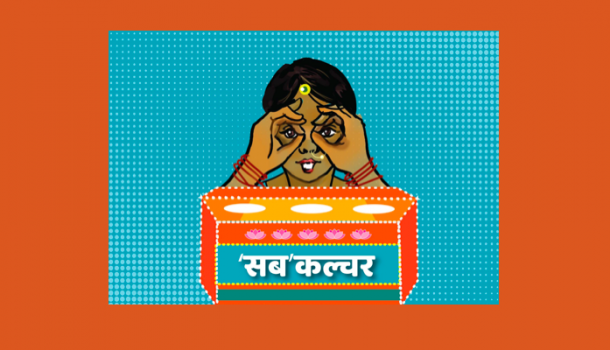 Aaiye, aaiye… Aap ke samne layi hai ek peshkash! Just like a bioscope we will take you on a tour via different windows. So squint your eyes & get ready for some 'Tea'! Let's find out if subculture is 'सबकल्चर' ?
 The Birmingham CCCS looks at subcultures as forms of resistance which pave the way to newer forms of collective identification. Dick Hebdige in his seminal work 'Subculture: The Meaning of Style' (1979) also posited subcultures outside of cultures yet linked to them inexplicably, which was the case with us and our presentation, our selves intertwined with our understanding of subcultures around us. Angela McRobbie in 'Settling Accounts with Subculture: A Feminist Critique' (1980) says that "Writing about subcultures is not the same thing as being in one" and therefore we took up this opportunity to understand these subcultures. Beginning with zines, this conversation traversed into the spaces of gaming, resistance art, anime, and slam poetry in the Indian context. This was followed by looking at how two mass cultures emerging from distinct parts of the world travelled to India and became a thriving subculture which is almost always about to be 'massified' - K-Pop and Hip-Hop. 
Window 1: Words - Spoken, Unspoken, Self-Published.
Spoken word as a form started in the US in the 1980s when Mark Kelly Smith started what we understand today as open mics in bars and clubs in Chicago. The core idea behind it was to decentralize the power American academicians and institutions held over poetry through their MFAs and graduate courses, and to make poetry accessible for everyone. This endeavour went global as individuals attempted to make poetry accessible in their own cultures. When it came to India, spoken word saw its golden era driven by craft from 2013 to 2015. A core difference that posits this tradition apart from Smith's is that Smith believed more in the idea of slam poetry which is competitive in nature whereas the tradition in India leans more towards its own storytelling traditions making spoken word (the poem recited at a slam) and storytelling an essential subculture today. That being said, spoken word as a tradition itself requires an intervention to understand this growing trend of these spaces becoming pockets of privilege, leading to question not only it's subcultural status but also creating tensions amidst the cultures that co-exist around it.
Zines embody resistance. They are independent productions by artists and have been playing their role as an important tool in subcultures for years now. Zines do not depend upon the notions or the aesthetics of the establishment and the creator brings their own opinions and ideas to it. Historically, Zines were made by outgroups or minorities to assert themselves also because they were easier to produce and disseminate. By allowing the author/creator to create a piece of work with no standard set of rules or any censorship makes it a robust space that guarantees creative freedom. These features make zines an attractive medium for resistance, they legitimize the spoken word into written word or art and as much as they are easier to access and distribute, they are equally accessible to read and revel in.  While we have hopped on this train of an art form, we would like to address another art form which is a rising subculture in India i.e. anime.  It is significant how anime and gaming itself are more than mere subcultures today. 
Window 2: Gaming in India: more than PUBG!
 Today India has a wide variety of gamers who are becoming influencers. We have pro gamers like Mortal (Naman Mathur), female gamers like Zerah Gonsalves, Xyaa, Rav3n & noob gamers! We have E-sports championships along with Indian players like Ankit Panth & Team Brutality who are representing us on international level. There was a generation who was cheering for cricket in front of the television and now we wonder if E-sports championships happening on the hologram is no longer a distant dream! While diving into the Indian gaming scene, we realized that female gamers have to fight a lot of real-life demons in addition to those who are on their screen. Girl gamers fall victim to a lot of negative/sexual comments & along with some stereotypes like Candy Crush & E-sports is not their cup of tea. While many players just have to struggle to get a 'karambit knife' in cs: go, female Esports players' struggle with equal pay is never ending! (Just like that Boss level enemy who never really dies.) Top earnings of male E-sports player accounts around 2.5 Million dollars, while top female earnings land around $200,000. The overall scene of opportunities, coverage & sponsorships is unsatisfactory for female Esports teams & gamers. Due to thisZerah Gonsalves known as 'Lara Kroft of India' shifted to become an Esports championship commentator instead of being a player. It is indeed a shame that the world has witnessed the gamergate controversy back in 2014 where women in the gaming industry became the target of sexism, misogyny & overall harassment  on online platforms.
Turning off the mic & comments section and keeping an anonymous identity are some of the first measures by girls to have a safe gaming experience. The solution to this is not a separate environment to have safe gaming experiences - we need to make the mainstream gaming environment a safer place first! Vitamin Stree does have some interesting statistics in this area. 
After a brief foray into these subcultures and sub subcultures, we directed our focus to the location of our primary argument - K-Pop and Hip Hop. Both being mass cultures globally, it was interesting to see what has happened to these forms when they came to India. We looked at the music, visuals, fashion, individuals who have gone on to become the "face" of these cultures, as well as their linguistic culture and the intersections between class, caste, gender, ability, and sexual orientation.
Window 3: Asli Hip-Hop se milaye Hindustan ko!
Various mythologies, like Barthes' definition of them as rules, codes and conventions, guide this subculture. A resistance against what is understood as the mainstream music and culture that thrives on poverty porn, gully rap represented the realities of marginality without fetishizing them from a privileged position but highlighting them through personal experience. The Gully has a nukkad for everything - underground rap cyphers, 'Swadesi' protest music, 'Sony Music' and 'Mass Appeal' produced tracks, people who believe they drive "the scene" and a 'Tadpatri Talkies' satire of itself. It also has people who voyeuristically stand on the fringes of the community and anthropologize people within and some who place themselves into the gully even when they are far more privileged and an obvious misfit - leading one to question who belongs in a subculture even when it is an internally heterogeneous identity? Dashiki-wearing, dreadlocks-sporting individuals attempt to represent the gully on a national and international scale while actively silencing and being obnoxiously ignorant of what gully rappers say the gully stands for. Women are still marginal entities in this space, class plays a huge role in how this subculture functions as the content that constitutes the musical as well as the lyrical elements of the same address rampant classism, class divide and class realities. Sexuality and disability often become slurs used against people in the course of 'satire' through what is understood as a Diss. Caste consciousness in this subculture is on the rise as it is moving from ethnocentrism to a class and caste centrism located in their own polity. This subculture has its own internal mainstream which has individuals saying "untouchable with the Brahmin Flow", romanticise slums, and in response add "Guess I gotta get a tan so I can rep a country" and this needs to be closely observed in an attempt to understand this subculture holistically.
Window 4: Soul to Seoul connection of desi fandom
The latest marketing strategy for your favourite music streaming app Spotify posits Spotify as the home of K-pop! Yes... Korean pop music! Back in the 2010s when everyone was having fun riding with their 'Gangnam style', K-pop was still far from mainstream in India. Hallyu, also known as the Korean Wave, which refers to the global popularity of South Korea's cultural economy exporting pop culture, had reached states like Manipur through Koream dramas and music. It was only a matter of time where K-pop found popularity in cities like Mumbai & Delhi. 
It was the year 2015 when five idols from some of the biggest K-pop groups were sent to India to understand the lack of popularity of K-pop compared to other countries. The show was called 'Fluttering India' and featured TVXQ's Changmin, Super Junior's Kyuhyun, SHINee's Minho, Infinite's Sunggyu, CNBLUE's Jonghyun, and EXO's Suho. Watching the show and going through Riddhi Chakraborty's Rolling Stone article on the future of K-pop might have left us with a question 'Is India truly ready for K-pop?' Although the Bermuda Triangle of strict parents, curfews & broken pockets of teens (because adopting concert and merchandise culture is a significant part of K-pop fan culture) makes it tough in India, we can't deny the fact that Korean entertainment is becoming increasingly popular through streaming platforms like Spotify and Netflix.. The first Koren wave entered our homes with brands like Samsung, Hyundai & LG selling technology, and now the second wave of K-pop is upping its game in India through entertainment and culture. 
It's not just digital platforms. With K-Pop groups like VAV,  IN2IT and KARD performing in Mumbai and Delhi, Korean Festival 2019 organised by the Korean Tourism Organisation India taking place in Mumbai, and a number of events arranged by the Korean Cultural Centre India - from K-pop dance competitions to collaborating with the Cherry Blossom Festival in Meghalaya, it's been a year for Indian K-fandom with subculture making steady headway towards the mainstream. 
And the cultural flow is not unidirectional!Z-Boys & Z-girls is a collaborative Asian K-pop inspired dream project which consists of idols from Taiwan, Japan, Philippines, Vietnam, Thailand, Indonesia along with India!  The 'Z' from Z-pop dream project refers to generation Z which are their target audience. It has two Indian Idols as members i.e. Sid & Priyanka. 
Through South Korea's efforts of becoming a global exporter of culture, online streaming platforms, cultural exchanges like festivals and concerts organised by consulates, entertainment agencies as well as unofficial fan groups, Korean entertainment has turned out to be a rapidly flourishing subculture in India. Proof of the pudding? My mother & I casually vibing to Mic Drop at home.
Window 4: Golmaal hai bhai Golmaal hai?!
While exploring these subcultures we also came across headlines such as 'an obsessive fan spent thousands of dollars to look like his favourite idol', weeaboo/koreaboo wars, some music groups & idols getting accused of cultural appropriation, transphobia, queerphobia, mistreatment of idols, Sasaengs (obsessive stalker culture),  mental health, eating disorder & suicidal issues and the list goes on, unfortunately. Subculture is an escape from what your culture doesn't provide. Today idol worship is reaching the point where so-called 'fans' are forgetting that idols are humans too, then that might fail the 'love yourself'' movement!  These are some of the scenarios which are happening in our day to day life… which makes us relate to 'Kill all normies' a book, where author Angela Nagle unfolds such dark secrets of internet subcultures.
Conclusion: Picture abhi baaki hai mere dost!
Looking at these salient subcultures also brought us to the crossroads at which we ended our presentation and now this blog. Some might perceive these questions to be too rhetorical whereas, for some, this is food for thought - are subcultures gated communities? Who belongs? What does it mean to belong? How does one transition through the various circles here - from outsider to consumer to influencer? Is the subculture then exclusionary? In a time when cultural appropriation under the garb of a unified global identity is the new norm, where do we draw the line between belonging and becoming? Or is there a line or a need to draw a line, to begin with?
So many subcultures, so little time!