Best moments of 2018 in pics
Team Culture Lab
20 December 2018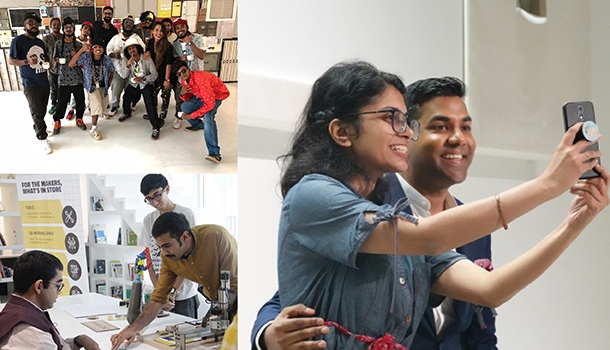 In 2018, we had several picture perfect, Instagram-worthy moments. We spent time looking through our archives to find the best photos to sum up a very exciting year. Take a look and we hope you enjoy them. 
January: We kicked off 2018 celebrating Pride Month in style with our event, Queer Aesthetics Now!. Pictured here is Ritesh Aswal from Dancing Queens, India's first transgender dance troupe. The event explored how LGBTQ youth are embracing and interacting with the aesthetics of queerness and how they navigate the politics of it.  
February: Here we are with our friend from the Sanatkada Festival at Le Martieniere College in Lucknow. Our annual retreat was in the land of the nawabs this year, and it saw us visiting beautiful architectural sites across the city and feasting on incredible Lucknowi cuisine. 
March: We had Mumbai rap crew Swadesi perform at the India launch of Snigdha Poonam's book, Dreamers – How Young Indians Are Changing Their World. From Snigdha's stories of youth resistance and ambition to Swadesi's bars on their vision for India, the evening was one to remember. 
April:  Mental Health NOW explored our country's complicated relationship with depression, anxiety and self-care. Panelists Sonali Gupta, Ratnaboli Ray, Meera Damji, and Nikhil Taneja spoke about the need to create a culture of sensitivity and to make mental health care a priority for ourselves. 
May: We headed for our annual visit to the Kashish Mumbai International Film Festival. This time, we were accompanied by our Leadership Fellows, who experienced queer narratives in film at South Asia's biggest and India's first mainstream LGBTQ film festival.
Also in May, Barrier Break brought games to the Culture Lab to help us understand disability better.
June: Pictured here is our first batch of Leadership Programme Fellows at their graduation event, Urdu Culture Now. Urdu Culture Now celebrated Urdu in all its forms, both traditional and new-age. From rock to Dastaangoi, we learned a lot about Urdu and its relationship with literature, film and music. We're so proud of our Fellows for curating this event!
July: VICE India's screening of 'Kya Bolta Bantai' had our audiences experience rap from the gullies of Mumbai at our very own Culture Lab. We also hosted the 7Bantaiz at the Lab and the evening ended in a cypher with some of the biggest names in Mumbai's rap scene. 
August: We had star Professor Ethan Zuckerman, director of the MIT Center for Civic Media and Associate Professor of the Practice in Media Arts and Sciences at MIT. Ethan held a masterclass on how to bring about change in society.
September: Section 377 is out! We are so thrilled to step into a more equal and inclusive India!
September: We had the Mumbai launch of Ravi Agrawal's book India Connected, where he spoke to comic Prashasti Singh about mobility and smartphone penetration in India.
October: We invited cultural leaders for a Digital Thinkathon where we shared the results of a study we did on social media usage in Mumbai's cultural landscape. We also had speakers from Google Arts and Culture, Twitter India and Sparkt conduct masterclasses on how cultural institutions can optimise their social media strategy.
November: As part of our event Remembering/Forgetting, we had a screening of filmmaker Teenaa Kaur Pasricha's film 1984, When the Sun Didn't Rise which follows a group of women from the Sikh Widows Colony tracing their journey of loss and bravery through the 1984 Sikh massacre. Pictured here is Teenaa reflecting on the film's journey and the universality of its message.
December: We held the fifth edition of the Urban Lens Film Festival at the Lab, and we exhibited works by photojournalist Sudharak Olwe. This exhibit is 'In Search of Dignity and Justice' and it documents the lives of Mumbai's conservancy workers.
December: We launched our Manifesto for Trans Inclusion in the India Workplace which details strategies that Indian companies can adopt to be more diverse and inclusive.