Best moments of 2017 in pictures!
Team Culture Lab
22 December 2017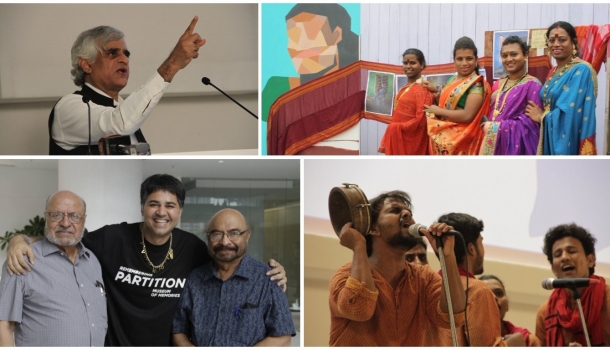 In this Instagram-led generation, pictures tell the best stories, so we took out some of the best moments from our archives. These have both on and off stage moments and they have been chronologically ordered. Hope you enjoy them.
1.
Oh My Goat! The Culture Lab team at the Kochi Biennale
2.
The Culture Lab got together alternative cultural institutions to meet with each other for a day-long brainstorming session at the first ever Thinkathon
3.
Our Pride 2017 event collaborators and speakers came together for a quick photo op with the launch of Gaysi's fifth zine
4.
Jay Ramrakhiani walking the ramp with Mohammed Ismail Ansari and Sheikh Alam, artisans from Dharavi who developed a unique ensemble just for our collaboration with Lakme Fashion Week and SNEHA
5.
Harvard Business School Prof. Bharat Anand shares a light moment with Nisaba Godrej
6.
Some of the brightest brains from Avasara Academy visited us for our Women's Day celebration with the screening of Minnie Vaid's Field of Dreams
7.
Author Akshay Manwani and RJ Rohini Ramnathan had a hilarious conversation after his talk about Nasir Husain
8.
Leading feminists from the country came by the Lab to meet the founder of Make Love Not Porn, Cindy Gallop for a star-studded salon!
9.
Our fabulous feministas were all smiles at our second public adda – 'What's Sex Got To Do With It?'
10.
Journalist Abhay Sardesai playing with words like only he can during his conversation with the professor-author-documentary filmmaking duo Anjali Monteiro and KP Jayasankar at our Fly in the Curry event
11.
We are so proud that Godrej was one of the principal partners for KASHISH Film Festival 2017!
12.
Chilling after an incredible walk through our Vikhroli mangroves
13.
Dr. Anish Andheria stressing on the ecological importance of the mangroves
14.
Lab head Parmesh is now a senior TED fellow! So proud!
15.
Veteran journalist-author P Sainath spoke about India's agrarian crisis at 'We the Nation: Micro-narratives of change'
16.
What a powerhouse of an act! Yalgaar Sanskrutik Manch bringing the house down at our Performing Resistance event
17.
We launched our novel Leadership Programme earlier this year, the fruits of which you will see in 2018. More details on this initiative for the arts in India soon... Here, are some of the kids who attended the programme
18.
The women who are keeping Partition narratives alive – Mallika Ahluwalia of The Partition Museum, Amritsar, Guneeta Bhalla of 1947 Partition Archives, and authors Aanchal Malhotra and Kavita Daiya
19.
Kabir Cafe's gig had everyone on their feet at Museum of Memories: Remembering Partition.
20.
Survivors of the Partition - Joginder Singh Sethi, Jaspal Singh Bakshi, Pranpal Singh Kochhar and Zubeida Mustafa shared with us their memories of loss and triumph
21.
Legendary filmmakers Shyam Benegal and Govind Nihalani joined us for our conversation on Post-Partition cinema
22.
The Well of Remembrance was a tribute to the women who lost their lives in the tragedy of Partition
23.
Our Stitching History collaboration with Harper's Bazaar for Museum of Memories: Remembering Partition made its way to Lakme Fashion Week! 
24.
Lab curator Kevin in conversation with Nupur Basu after her fantastic film Velvet Revolution
25.
Such a fantastic event. We got together various corporates and hosted the launch of global business standards for tackling discrimination against the LGBTI community by the United Nations
26.
Sofia Ashraf delivering a power-packed performance at our Performing Protest event
27.
For the first time ever the kids left the adults at home for our Children's Media Festival
28.
Post-event selfie with our awesome collaborators from IIHS
29.
Lab head Parmesh and Barkha Dutt after a successful collaboration at We the Women
30.
All draped and decked up: the women of Aravani Art Project at We the Women
31.
Celebrating the spirit of love and Christmas with an Indo-French choir