Art Night Thursday in pictures
Aayush Chaturvedi
14 June 2018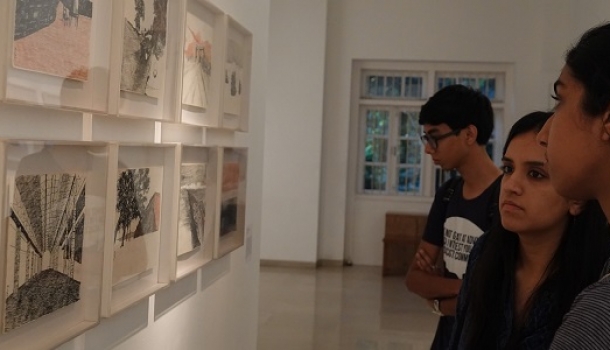 First stop: Sakshi Art Gallery. We go up a staircase made of beautifully aged dark wood to a wonderfully curated exhibition on the nature of memories by Anushka Rajendra.
 The first art piece that welcomed us was by Neerja Kothari and consisted of the same words repeating again and again on an x-ray paper. For me it was very interesting to see how the artist tried to show the process of muscle memory and her experience with physiotherapy which seemed staggeringly similar to my experience of life: "stand-fall-stand-fall-stand..."
The artwork we saw was deeply personal and one could not help but step into the shoes of the artist and ponder over the process of art as not just a way of expression but also as a way of healing. 
Caught on Camera: A 'private' moment between Leadership Fellow Ansh and the artwork: Tales from my Grandmother by Subrat Kumar Behera.
Next Stop: Chatterjee and Lal Art Gallery where we met Mortimer Chatterjee who opened our eyes to the working of art galleries.
Art is a lot of science apparently. Mort explains the dynamics of the art market with complex flow charts.
Third Stop: We head off with Mort for Akara Art Gallery. 
The first piece that welcomed us was 'Gossips of the Common' by Kaushik Saha. Here, the exhibition curator explains the medium to us; the work was made over flattened rubber tubes, nails and thread were used to create a pattern over the painting.
There were many interesting artworks here as well. There were 3 landscape paintings that were done by Prasad over. They accurately captured the smallness experienced in the mountains, humans painted on these were so small that we had to use a magnifying glass to properly see them.. Another interesting one was a series of 10 artworks done by Anupama. They were done in layers and I liked the way she expressed her anxiety using anatomy of the human figure. After an illuminating session with the curator, we headed over to Tarq Art Gallery. 
Tarq had a solo exhibition of flowerpots digitally created by Bas Meeuws called 'Spring in the Wintertime'. The vibrant assortment of flowers which were blown up to larger than their usual size were reminiscent of the colorful psychedelic world of Alice in Wonderland. Beautiful and surreal. 
Standing at 6'6, we automatically looked up to Bas. Here he explains to us his method. He took photos of flowers that don't bloom in the same season and arranged them digitally in flower pots inspired by both Mughal and Dutch styles.  
Mind blown with colors and ideas, we headed for our last art gallery for the night, Clark House Art Gallery.
There was something very different about Clark House Art Gallery. Whereas other Art Galleries were in clean, well-plastered spaces and with an apolitical atmosphere, here, the first room itself (which we were led into through an unadorned small, white door) had a little worship space adorned with Gods of multiple faiths. There was something very political about this. Later we learnt that Clark House was run by a group of Dalit artists, and the model which this gallery ran by, was very different and complex from the other galleries.
In the outer room the exhibition was 'Thano Drom' and was curated by Shiva Gor. Shiva briefed us about the exhibition and how it was based on Manipuri people. The focus of the artworks was on the nomadic architecture and I liked how it gave a feeling of fragile, portable homes.
 On the inside, there was an exhibition of landscapes done by 31 artists. These paintings seemed like personal memories of the artists, they had painted/photographed their homes. These were traditional South Indian houses, and the way they were painted showed the timeless attachment of the artist to the space. I could tell that inside these houses were thousands of memories, of growing up, getting married and of loving and losing loved ones. They haunted these houses like friendly ghosts.
This ended our Art Night Thursday. We went home feeling a little heady from all the deeply impressionable artwork we had experienced.