Amar Akbar Anthony
Chitranshu Mathur
4 October 2013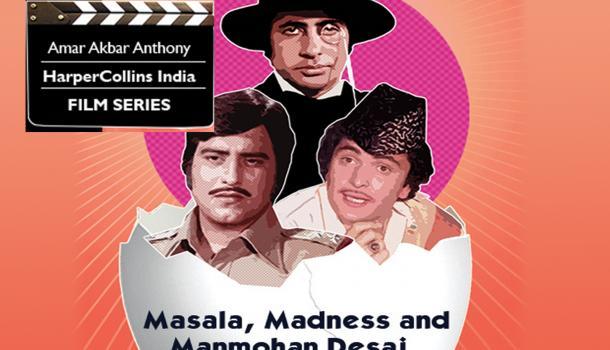 On Friday,  13th  September,  Godrej India Culture Lab invited Sidharth Bhatia, renowned journalist and author to discuss his new book Amar Akbar Anthony with Supriya Nair from Caravan magazine.
Amar Akbar Anthony is a film which needs no introduction, as it is the 'mother of all masala films' and remains as enjoyable as when it was first made nearly four decades ago. While he was writing the book, everyone who Sidharth Bhatia spoke to echoed the same sentiments, besides sharing their experience of what it was like to work with Manmohan Desai and how some of the most memorable scenes in the film were actually created.
One key point that Mr. Bhatia reiterated was about the 'madness' of how Manmohan Desai made films, so much so that he didn't even know when the entire shooting had been completed, as he was busy with 3 other films at the same time. While it may seem disorganized and unplanned, it also shows that he had an intuitive grasp over his work. He also drew extensively from his personal experience of living in Bombay to make the quintessential 'Bombay film', and was clear that he was making a masala film and not, as he put it, a 'Satyajit Ray film'. At the same time, he did not hesitate to go against conventional wisdom where required, as can be seen in his somewhat unusual casting decisions, such as choosing the suave Rishi Kapoor to play a street-smart singer, and the 'angry young man' Amitabh Bachchan to play a likeable bootlegger.
As it turned out, the entire cast (all of whom happened to be the first choices for their respective roles) was loved and is still remembered for their roles in this film. For Amitabh Bachchan in particular, this turned out to be a turning point in his career, as until then, he was known mainly for his 'angry young man' roles (e.g.Zanjeer, Deewaar and Sholay, and to some extent Anand, Abhimaan, Namak Haraam and Mili). Though he had done the occasional comedy such as Chupke Chupke or Hera Pheri, it was Amar Akbar Anthony which firmly established that he could do a wider range of roles. It can also be said that it was a landmark film for the Hindi film industry in general, as the general trend of intense films with a brooding protagonist almost breaking the law to exact revenge (once again, e.g. Zanjeer, Deewaar, Sholay) was replaced with more caricaturized, happy-go-lucky mass entertainers which followed Amar Akbar Anthony, somewhat reflecting the changing political scenario in the country as the Emergency ended in 1977. Though Mr. Bhatia was quick to point out that such correlations are easier to establish in hindsight, and that Manmohan Desai had always been known for his mass entertainers, it can also be said that this film probably succeeded in touching the right chord with its viewers at the right time. Moreover, Manmohan Desai was never able to replicate this success in his future films and ended up parodying himself.
Though Amar Akbar Anthony did have a few 'serious' themes such as secular nationalism, religious tolerance, and glimpses of Bombay's criminal underbelly, it presented them in a very safe, stereotypical manner, relying instead on sheer coincidences, superstitions or slapstick humour to move the story forward and reassure its viewers that there will be a happy ending after all. For example, each of the three brothers finds love within their adopted religions, and the possibility of an inter-religious romance is averted. Even when the family is re-united, the question of whether the brothers revert to the religion they were born in or whether their spouses convert or not is quietly ignored, as it is, after all, beyond the timeline of the film's plot. The brothers' professions also pre-empt any serious questions, e.g. what if the brother who is a 'likeable goon' was not so likeable after all, what if he was Muslim instead of Christian, or what if the Muslim brother was a cop and were to ask the kind of uncomfortable questions that were raised by Mukesh Rishi more than two decades later in Sarfarosh? Moreover, unlike the Muslim and Christian brothers whose religious identities are clearly reflected in their words and mannerisms, the Hindu brother is not overtly religious, but is instead cast in the secular, Nehruvian mould like most strait-laced protagonists of Hindi films until then. The devout, superstitious version of Hinduism is relegated to the older characters (e.g. Nirupa Roy as the mother, almost entirely reprising her role in Deewaar), while the fanatic version is completely ignored, even though its stupendous rise in the Indian socio-political arena was less than a decade away. Lastly, the police is cast as a clean, sincere force out to get the goons, something which the goons are actually afraid of, and not hand-in-glove with instead. However, in the climactic scene, the cop chooses to fight alongside his brothers instead of just bringing in the sheer weight of the police force, as if hand-to-hand combat is the only real way to redeem all the wrongs that have been inflicted on his family.
In all these ways, Amar Akbar Anthony offers an escape from all the serious issues instead of presenting those issues in their unglamorously real forms. It is, in other words, the archetypal Bollywood film which can be watched again and again by 'keeping one's brains aside', even four decades after it was originally released, and in this paradoxical way, ensures that its charm endures.
 Watch the video of Sidharth Bhatia's Culture Lab talk here:http://indiaculturelab.org/events/book-and-film-club/amar-akbar-anthony/
Chitranshu Mathur used to work at Godrej Industries and was a part of the Good and Green, the Corporate Social Responsibility team.