Alternative Andheri: Arts, Accessibility and Jugaad
Aayush Chaturvedi
14 June 2018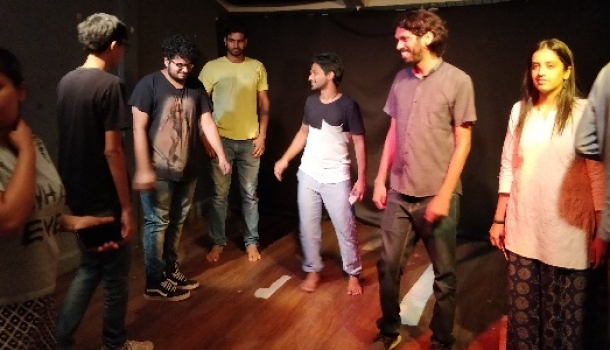 On the 22nd of May, the Leadership Fellows from the Godrej India Culture Lab went to different performance spaces in Andheri to get a flavour of the alternative scene in the city and also learn about how these spaces operated. What makes an alternative space 'alternative' is their ability to provide the space to performers at nominal rates. Thus they become spaces where performers can experiment with different concepts without having to worry so much about breaking even. Affordability also makes sure that performers from the margins can find an opportunity to express themselves here. The truth is, however, never so idealistic and uncomplicated.
We started on a sunny afternoon, caught a cab to the Ghatkopar Metro and then a Metro to Andheri. The Metro glided through an endless landscape of corporate glass buildings, slums, old Mumbai buildings and chawls. I was reminded of the Victor Hugo quote: "all great cities are schizophrenic". If Mumbai is a schizophrenic city, is its culture too? We got off at D N Nagar Metro station and took an auto to Aram Nagar, the melting pot of Andheri's alternative culture. The first alternative space we went to was Overact.
Overact, like all the other performance spaces we would later go to, was a residential place (a bungalow in this case) make-shifted to hold performances. Their philosophy was to allow anyone who had the money to rent the space to perform there. They did not discriminate based on the content. Divya (one of the Fellows), pointed out that this philosophy of inclusion lets the audience have an unfiltered and autonomous opinion. As Sheetal and Anurag spoke more, I realised that us Fellows came from a different school of thought. To them pure culture was more grounded in the villages where people lived uncorrupted by the influence of globalisation and technology. The cities had lost their culture in that sense, the buildings all looked the same and people had lost their way and forgotten their roots. I, however, believed that diversity and culture could be found in the city and that culture is constantly evolving and amalgamating with newer cultures.
The next space we went to was Junoon. On the way to Junoon, we joked about how this space was so alternative that we couldn't even find it on Google Maps. Junoon's office was a house in a residential colony improvised into an office space. We were led up the stairs of an ordinary apartment complex to a room which was vibrant with energy. Its walls were graffitied and autographed, every nook and corner of this residence was being utilised to some purpose. One of the bedrooms had been turned into the accounting department, the other into a boardroom cum work space. We sat here for an hour with Sameera, co-founder of Junoon. Junoon's aim is to enable people to experience the richness of art and culture. They do this by enabling an interaction between artists, their art and the audience. Apart from this they have various workshops that they conduct in schools. They ingeniously cross fund their educational programs by funds from their premium artist salon programs, which are paid. I personally liked this endeavour a lot, especially their school workshops because I always felt that I wasn't exposed to enough art and literature in my school days which, I now realise, is essential to cope with life. But these workshops, as Sameera mentioned, cannot be afforded by all schools, government schools in particular. This is a very unfortunate deadlock between Junoon's good intentions and the public school system. In that moment, I thought how it's been so long since I left school and something so important is still lacking in the public school system.
Tamasha Studios was another rented bungalow improvised into a performance space. When we entered the gate, there were cats in the yard sleeping, playing and licking their faces in the slanting rays of the evening sun. There was a theatre residency going on inside. We sat outside in the yard and a cat passed between our legs and softly entered the studio. From what I heard during the talk, Tamasha seemed to be a very experimental theatre place.  I liked the fact that they put up play/dramatic reading rehearsals as free and open to everyone. This ensures a kind of accessibility to their plays, which would not be possible had the events been ticketed. At this point I also started wondering about the accessibility of their content. Language is an obvious barrier, but apart from this the level of abstraction or the grounded-ness to local reality might also limit accessibility to a theatrically uneducated audience. Later that evening, we attended a reading of a German play at the studio. The play was difficult to understand, it had pithy dialogues and was read unemotionally- but that was part of the German inflection, they said.
Harkat Studios was right next to Tamasha. We were greeted by another gang of cats, and for a moment I thought they would get on their two feet and do the West side Story finger snapping segue. Harkat Studios had an interesting business model- it was creative and reminiscent of the kind of jugaad Mumbai is known for. On normal days it functioned as a workspace where people can rent desk space to work in, on event days it is transformed into a performance space. Apart from this they also did production work.
The Castiko Space was a more professional looking space. It was not a bungalow but a web of rooms that were built to be rented. The vibes that I felt while talking to Shiv Tandan were very different from the ones I got from my interactions at other spaces. Shiv had come from a completely entrepreneurial background unlike the others, who were based more in the arts. I loved that The Castiko Space offered the cheapest rent on a first come-first-serve basis, and that the performers had complete independence and did not face any kind of curatorial intervention.
I realised that all these performance spaces, despite their sincere attempts to make themselves more accessible and experimental, were caught up in a sort of economic gridlock and were restricted to the domain of the privileged culturally literate crowd. The spaces in Andheri according to me are in a Catch-22 situation where the audience needs to be shaped by these spaces and the spaces need to be shaped by a more diverse audience — but money is needed for these spaces to run. I wonder what I could do to change this system…