Your Story Matters: The Leadership Fellows visit Yuvaa
Culture Lab Fellow 2019, Kiran Kulkarni
19 August 2019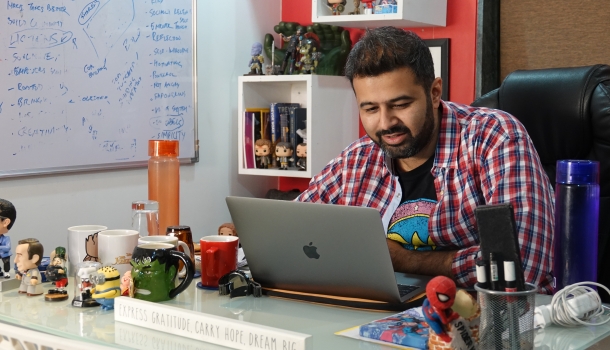 Nikhil Taneja, co-owner and CEO of Yuvaa, started his talk with an introduction to 'pop culture'. His room was vibrantly decorated with lots of small-sized figures from the DC and Marvel universe as well as many other classic Indian characters. We had a quick, fun session identifying them.  
Nikhil is an engineering graduate, who came to Mumbai with the dream of becoming a writer-producer. He worked with the Hindustan Times as an entertainment journalist for about two years. He was always excited to know the process - why someone does what they do, what makes or builds those actions and responses, so on and so forth. He then worked for MTV for approximately 3 and a half years, where he started as a digital editor and became the producer of the first-of-its-kind fiction show. He then produced 6 more films where he got the opportunity to work with directors- Anurag Kashyap, Anurag Basu, Rohan Sippy and more. Then he worked with YRF, where he made web series and short films- Band Baaja Baaraat, Women's Room, Man's World etc. Back then, discussions on gender equality and trans rights were not happening, and weren't even addressed. YRF made an attempt to trigger these conversations among the youth and that was possible only by bringing the content online.
Meanwhile, Nikhil was a professor at Jai Hind college, Mumbai and had a beautiful bond with his students. He started listening to them, their problems and their stories. It was then that he realised that the youth constantly stayed glued to their phones because they feared that when they would look up, no one would be there to listen to them.
Man's World was a series launched in 2015, which aimed to bring out conversations that were not boring, but interesting. Its first trailer bought about million views and people were talking about it. Nikhil realised that the youth was able to connect simply because their content talked about things the youth wanted to but did not have the right words or did not know the right way of doing so. Right after it, they released Band Baaja Baaraat in November 2015, which bridged the gaps between children and parents. Nikhil says Ladies Room was a crazy experiment they did. It was written, directed, executive produced and acted, all by women and it was a big hit too!
Through these years, Nikhil also spoke to us abouthis struggle with anxiety and how therapy helped him. Here he discusses that while we talk about patriarchy being bad for women, we neglect the harm it has done on men. We are all assigned stories, we don't write one for our own, so – stereotypically - if she raises a family, he feeds the family. And so he talked to us about how important it is for men to explore themselves emotionally and have more difficult conversations with themselves. Working through his anxiety, he realised it is important for us to have conversations, to share our stories and to empathise.
That's how Yuvaa comes in place.
If one can listen and empathise, one can create better content. They went on a roadshow in over 70 colleges across 25+ cities and had organized inter-college open micks where students could come up and tell their story. They then analysed and created infographics with the stories they collected from the roadshow.
Nikhil says,
'Make sure the stories you tell are true to who you are. They should be authentic to your lived experiences. Don't tell stories you don't understand.'
He gives examples from Shakespeare to Game of Thrones which are fiction-based but revolve around human conditions, feelings, insecurities and so on at its best. From thinking about making 'cool' shows to aiming for creating content that has resonance with people, Nikhil says he has grown as a writer and a thinker. He is passionate about the youth, though he says he doesn't understand them completely.
He says when we share stories, first, we get the sense that we are not alone and second, we feel grateful in our own way that we have so much to achieve and that we could create a community to achieve it together.
The content creation at Yuvaa focuses mainly on good and strong research. They do a lot of research before and after ideating which facilitates them to work more as per the actual facts which enhances their insight and sensitivity towards the topics they come across. They work collectively, they discuss and come up with solutions.
They believe in stories. They believe that each one of our stories matter. The roadshow was an attempt to reach out to the youth and connect to their stories.
#DearAunty
The recent 'aunty' incident in Delhi created a huge debate on the internet. Everybody wants to talk about it but maybe they don't have the right words to do so. The young team of Yuvaa has written a 2-minute spoken word as a response to the whole scene. The video highlights what a girl in today's world faces and how it has become aunty v/s us. 'Dear Aunty' was Yuvaa's first viral video that got many eyes on Instagram and YouTube, and created a sense of empathy and understanding towards the woman in question as well – watch it here. Nikhil strongly believes that one must not react immediately to an issue and that one should look for all the possibilities and understand what each side has to say. This becomes possible only when one listens carefully and is empathetic towards it.