Writhing Queerness; Writing Queerness: Brian Horton on Nightlife, Pride, and the Queer Commons
Team Culture Lab
9 July 2020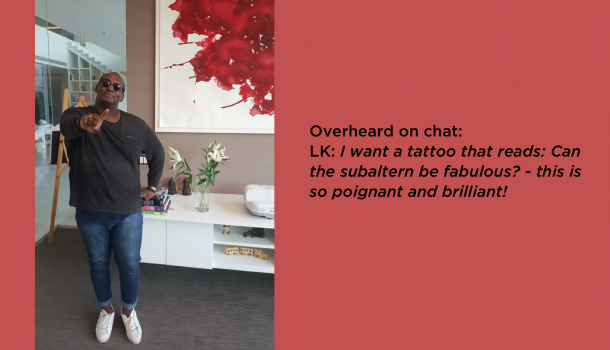 One of the core components of our Culture Lab Leadership Programme ever since its inception has been the masterclasses that we host. We invite a faculty consisting of experts to speak to the Fellows on a range of topics dealing with culture - what it is, how it is lived, produced and funded. In the past, we've had classes on writing comedy, self-publishing photography, understanding the web of algorithms, using art for community upliftment, and so much more. The classes would be part of the Fellows' day at the Lab during the time they spent with us, however this year because of COVID-19, we had to shift them online, and were privileged to host cultural anthropologist and Brandeis professor Dr. Brian A. Horton for our first masterclasses with the Fellows as well as some of our Lab alums.
As pre-reads for Brian's class, we studied two gorgeous pieces of work - Snakes on the Dance Floor: Bollywood, Gesture, and Gender by Dr. Kareem Khubchandani which was Brian's inspiration piece, and Fashioning Fabulation: Dress, Gesture and the Queer Aesthetics of Mumbai Pride authored by Brian himself. Both Brian and Kareem have been part of our Lab Family since a fairly long time. We hosted Brian back in 2016 for an adda on the disruption of mainstreaming subcultures - the possibilities, the violence, the vulnerability and the newness alike. With Kareem, our rendezvous has been digital, through a Twitter chat on fan studies and on Instagram Live on Aunty Memes. 
The focus of the conversation was queer work and how one might approach and understand the politics, ethics, methods and its critiques. Queerness, like any other lens and way of life, concerns itself with multiple frameworks through which it can be embodied. In India, one might trace queer history by tracing its legal journey through the unjust Trans Act of 2019, the historic Section 377 verdict, and landmark recognitions such as the NALSA judgement of 2014 or various High Court rulings. Queerness is also often understood through its history of epidemiology, of looking at the HIV/AIDS crisis and the stigmatic associations made between queer people and the pandemic, and the community led-efforts to tackle that kind of discrimination. While the validity of these trajectories of theorising queer work remains undisputably important, what Brian argues by citing Kareem's piece is that the politics of self, community, world-making can be understood through registers outside of these frameworks, in the "shimmers" of fabulosity found on dance floors. By studying the value of the work done by Bollywood divas like Madhuri Dixit and Sridevi, and interviewing gay men who, through their performance, tap into the question of gesture and how that can open the window to the politics of aesthetic. In doing so, Brian quotes the queerness of non-normative non-white bodies of gay men on a dance floor, almost as an act of reclaiming a childhood governed by the discipline of gender. This of course comes with its own violence inflicted through prohibiting trans people and crossdressers in spaces such as gay nightclubs.
Brian segues from this argument to talk about his own work, and how a focus on the language aesthetics can open up the possibility of understanding the politics of desirability. By asking how one envisions a queer future, he argues that responses that evoke desires of a good life which might include settling down, marriage etc are not only political goals, but also aesthetic goals. They enquire into ideas of what a beautiful future might look like. Brian also talks about how Kareem's writing on nightlife, dancing and parties might help us shift the registers of geography when we think of queer India. 
"To make joy thinkable", Brian says as he names his third takeaway from Kareem's piece is what he picks up in his own work. Fashioning Fabulation was one of the offshoots of Brian's work in India mid 2010s and it was featured in the South Asia: Journal of South Asian Studies' edition on mazaa curated by Ulka Anjaria and Jonathan Anjaria. By citing the 2013 judgement that reinstated the validity of Section 377 in India, Brian emphasised on the language of the judges who demanded evidence for queer people's pain and trauma, which surely existed, but was deemed as the experiences of a miniscule minority and therefore not qualifying to be regarded as a legally recognisable demographic. This idea, Brian argues, had become a sort of trope in which queer people are expected to identify themselves. Brian challenges this narrative that solely looks towards feeding stories of abuse and suffering to validate queer livelihoods, with the proposal to think of queer joy as a political project. Brian says while Gayatri Spivak framed her famous work as Can the Subaltern Speak?, he frames his work through the question "Can the Subaltern be Fabulous?"
By evoking the literature produced through queer of color critique, Brian's work is an attempt of thinking about the questions of aesthetics, beauty, value, judgement and survival in the backdrop of crises in doing queer work. ""What do queer people do as aesthetic renegades?" asked the book Fabulous: The Rise of the Beautiful Eccentric by Madison Moore", says Brian. He juxtaposes it with his own ethnographic evidence from India to find that the fabulossness of queer gestures like taali on the streets or the outfits people put together for pride. These gestures don't reach the discourse that one selects to understand queer life in India especially through representations in media and entertainment. 
The second genealogy of critique that Brian refers to came from the work of Henri Bergson, Gilles Deleuze, Black feminists and critical race theorists and is encapsuated by the word fabulation which comes from the writings of Black anthropologist Saidiya Hartman. Hartman wrote about the idea of archives, particularly the archives of slavery in America which miss the story of women, leading her to ask about knowledge beyond what the archives offer. Brian examined his work in India to see what was there to know beyond what was being talked already. This is what inspired him to write about the aesthetic risks taken by queer people every day, beyond the frameworks of media representation, activism and state-recognition. It is through these questions of gesture, dress - questions of fabulation that one might be able to understand the inventive work done by queer people, often understood as frivolous. Brian argued that by doing this kind of queer work, and following the narratives that are being voiced by collectives like the Queer Muslim Project and the Dalit Queer Project, we might be able to understand the layers of abuse both inflicted on queer people and also by queer people within communities. 
Brian concluded his presentation on this note, and it is no surprise that a theorisation so rich would elicit deeply engaging questions. Our Fellows and alums had a gamut of subjects that they enquired about. The conversation started with a comment on how some of the major pride and party spaces in India are run by predominantly upper caste and upper class men which creates the insidious condition of respectability for queerness to thrive, and obfuscates its own fabulousity through sayings such as "love is love". Stemming from the same line of thought, Brian elaborated on the question of pride as a protest versus a celebration. He spoke about his frustration with this sort of positing of binary outlooks towards pride because he believes that both these conversations about pride happen in elite registers that do not account for people who just show up to be themselves, publicly, for a day. That kind of politics, he argued, is also important to keep alive. To this end, Brian spoke about the idea of Queer Commons, a space in which both protest and celebration are supposed to happen together. He hoped for a generational shift which could challenge the justification of carceral and exclusionary politics of those who have been doing the work of organising over the years.
A question about Brian's thoughts on RuPaul's Drag Race led him to highlight the tension between the performance of Bollywood divas or traditional art forms like Lavani or local icons like Lola Kutty, and the generation of drag queens who are expected to replicate the RuPaul aesthetic. By recognising this not only as a question of generational aesthetic but also that of class and language, he talked about the pressure that drag queens are put under to adhere to certain styles, quoting interviews conducted by Arti Sandhu of drag queens performing in popular nightclubs in India. He also emphasised on the importance of saying no to doing exploitative work that feeds stereotypes of queerness and acts of appropriation of queer fabulousity without citation or any kind of sustainability. 
In learning about the transformational impact of masti, the masterclass pointed us to understand politics and world-making beyond the canon of queer India and reminded us of its anti-normative foundations. And with it, we concluded our first masterclass.