Viva Vikram Seth, Viva Vikhroli!
Team Culture Lab
7 December 2015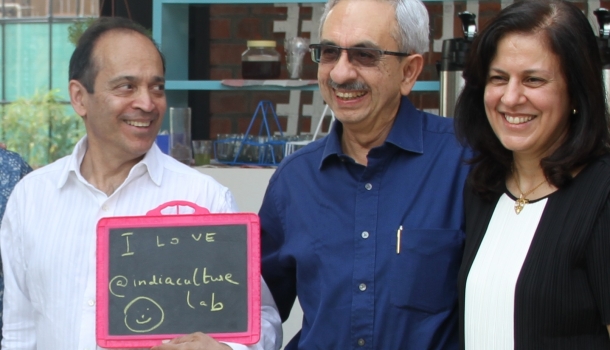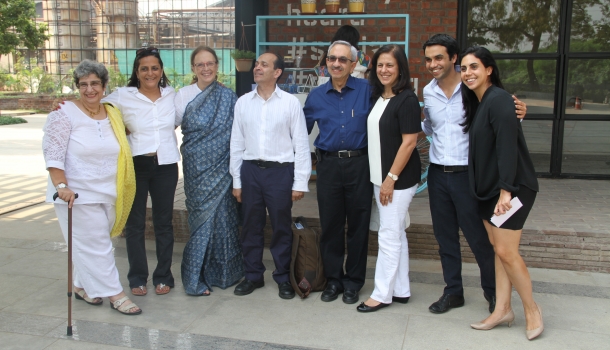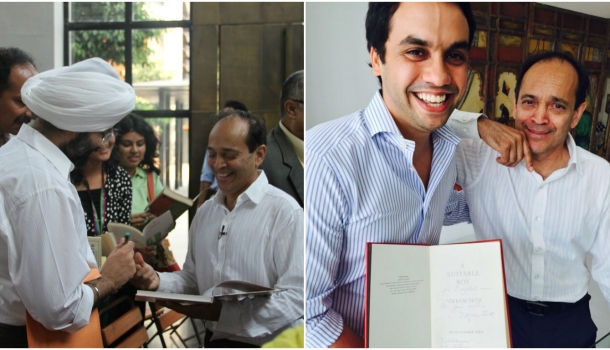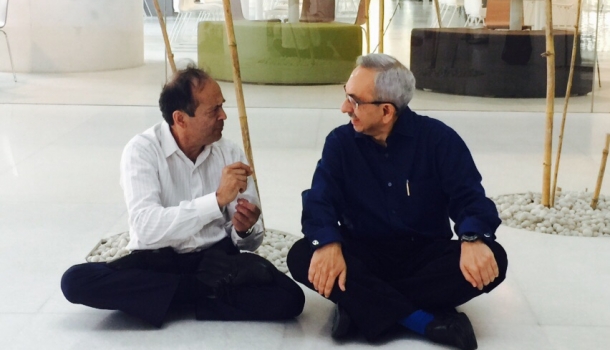 Over the past weekend it was our honour to host the celebrated author and poet Vikram Seth at our Culture Lab and show him the magic of our Viva Vikhroli along with our friends at Godrej Archives and the GPL Design Studio! A special thank you to Mr. Nadir Godrej for making this happen, and to our dear friend Aradhana, for coming back to us in what is now her Vikhroli home, with her brother Vikram.
A big congratulations to Vikram for the Times LitFest Award for Lifetime Achievement that was bestowed upon him - just one of the many feathers in his hat. Here are some images of Vikram's Vikhroli visit (above) and here's the poem that Mr. Nadir Godrej wrote, to welcome Vikram to our campus (below). Enjoy!  
Vikhroli Welcome to Vikram Seth by Nadir Godrej
This audience is most delighted
That Vikram Seth is here today.
This migrating bird's not been sighted
Here before but stumbled in this way.
Of course we mustn't fail to men-tion
That this event's not by intention.
We'll spare him any inflicted pain
If Bachi happened to complain.
When invited to a LitFest dinner,
By Pheroza, I traipsed downstairs
We stood in the heat, there were few chairs.
The evening proved to be a win-ner
As Sudha, Vikram and I con-versed
But in literature we weren't im-mersed.
Sudha of course was so inclined
But Vikram's interests are so wide
That though for literature she pined
A theorem's proof was supplied.
Now Maths makes Vikram quite excited
And hearing this I swiftly cited
"Maths for Poets", so apropos!
Now little did dear Sudha know
That Platonic Solids would be discussed.
But Vikram mentioned there were just five.
That's when I challenged him to strive
For proof. Sudha must have cussed!
But I of course just thanked Fate
That I had met a true soulmate.
Vikram desired another meeting.
He wished to get to know Bom-bay.
He had all his friends competing,
Each one on a different day,
Exposing some unusual facet.
So what could be my special as-set?
Now trudging in the heat was spurned
And so my mind busily churned.
And in a stroke of easy brilliance
It struck me that my Bombay's nub
Could be a trip to every club.
That wouldn't stress my frail re-silience!
And Vikram quickly scooped the ball
And dubbed the trip, what else, "Club Crawl!"
Now Rati joined the expedition
But found the Club Crawl rather tame
And so we modified the mission.
For minor changes, I was game.
Bombay was still a steamy oven.
I nixed Dhobi Ghat but not Mani Bhuvan
Which Vikram thought was very cool.
While walking past Breach Can-dy's pool,
Our poetic star was recognised
By a fascinated fan.
Her Master's was about our man.
All three of us were so surprised!
We watched the sunset with a drink
The Club speciality, rather pink,
Bacardi splashed in Pomegranate
A fruit resembling a grenade.
These days, who knows, some-one might ban it.
Explosive cocktails can be an aid
To creative thought and thus in-spired,
At Willingdon Club he enquired
If they could claim a special drink.
None was proffered but I do think,
When Narial Pani got a mention,
Vikram rocketed up and away.
Bacardi again was brought in play
And that dear friends was the in-vention
Of Dabardi, Vikram's portman-teau name.
We both enjoyed this cocktail game.
While on the lawn we had Bhel-puri
What food could be more Bom-bay?
We topped it up with Akuri.
Then toured the club and on the way
The portraits of the Willingdons stared
Condescendingly and so we shared
An incident from long ago,
That all of us appeared to know,
Of Lady Willingdon and Jinnah's Ruttie:
Lady Willingdon offered a wrap
But Jinnah wouldn't accept such crap.
Deep décolleté doesn't make one slutty.
And so the response was very bold
"My wife will decide if she is cold."
I donned an imaginary bonnet
To discover my feminine side.
And ensure a Pushkin sonnet
Although I'm known to occasion-ally slide
Into a sonn, Vikram's appellation
For my strange masculine devia-tion.
And I'm delighted that we could grab
Vikram for Godrej Culture Lab.
Let's call him for a Friday Funda
Where the audience is open and large
With impresario Parmesh in charge.
Before Vikram begins to wonder
Whether this will go on much more,
I'll graciously concede the floor.