Thank you Godrej One!
Saniya Shaikh + Team India Culture Lab
17 December 2019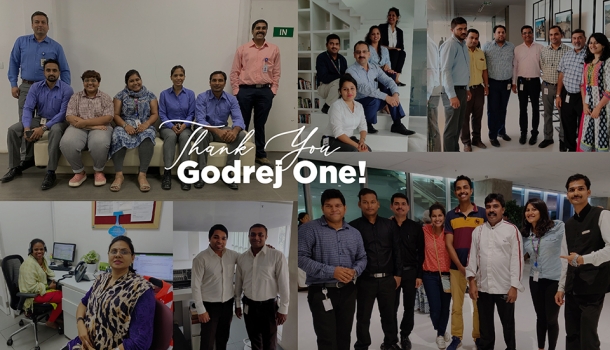 Our Lab started in 2011, hosting Friday Fundas in our modest auditorium at the old Godrej campus which we called Space Office. Sitting here in a completely revamped office, looking back at the last 9 years of our journey- from a 100-seater auditorium for lectures to larger-than-life ephemeral museum, a Culture Map, our student fellowships and more- not only do we feel a deep sense of nostalgia, but also a sense of immense gratitude. Through this blog, we want you, dear reader, to meet our friends at Godrej One who have been our support system #1. We also want to thank each of them for helping us make our Lab successful in every way! So here's a big THANK YOU to-
The facilities team who ensure that whoever comes to our Lab has a top notch experience in our building- visiting our beautiful green outdoors, our bright and spacious atrium, the auditorium, the cafeteria and the washrooms.
Chef Raja, Anil and the catering team for making sure that along with food for thought, there's yummy food for the tummies of our team and our guests. 
Narendra, Kishore and the AV team for taking charge of our console and perfectly coordinating the audio, video, light and tech arrangements so that all our events are seamless and spectacular.
Mr. Kulkarni and the electrical team for making our events so lit (literally!) and for entertaining our incessant requests for our DIY exhibit set ups!
Supriya Sohoni for helping us out with all our accommodation requests in our lovely Godrej Guest House so that all our speakers have a pleasant stay in #VivaVikhroli!
Pradeep and the security team for giving us an immovable sense of safety and helping us execute our events so smoothly. Also an extra thank you for making a safety measures video for all our event attendees!
Dr. Balaji and the healthcare team for enduring patience with all of our googled symptoms! We're so grateful to have you ensuring the well-being of our team and our guests!
Nakul and the whole of IT and Network team for helping us achieve our tech savvy aspirations and coming up with simple solutions for our unending questions!
Our accounts team, Deepanjan, Satish, Kalindi and Pooja, for doing the incredible job of explaining the most basic of accounts concepts to us - how to process a bill, what a vendor code is, how an invoice should look. Thank you so much for poring through excel sheets and doing the impressive number-crunching that we wouldn't be able to function without!
Mr. Iyer and Mr. Teli for letting us make use of their car fleet so that our speakers and performers can move around swiftly and comfortably.
Operator Annie and Juliana for connecting and managing all our calls, and helping us out with dial codes all the time!
Shahira and Shruti for helping us bring together incredible speakers from across the world by making efficient travel arrangements, as well as helping us plan our outbounds with ease.
And finally, you dear readers, for making us believe in what we do! Thank you for being a part of our big Culture Lab family, we're so excited to enter the next decade with your love and support :-)