Searching for love, sex, desire in India
Vishnupriya Das
2 August 2016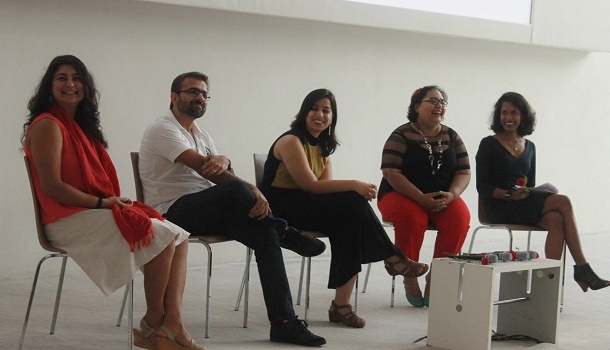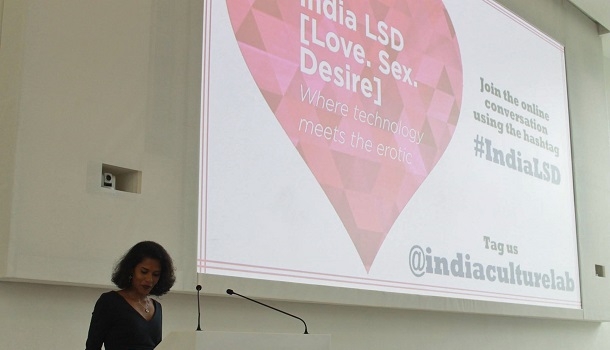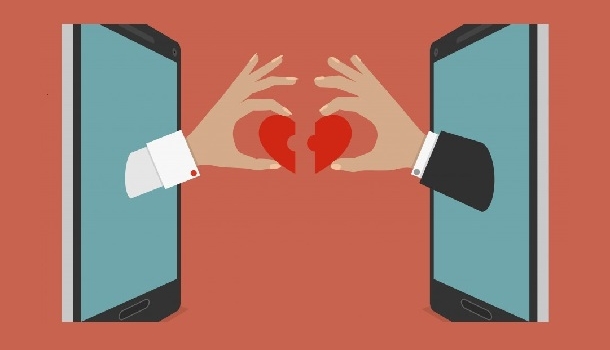 I spent a better part of this summer between the cities of Mumbai, Delhi and Bangalore mapping the dating app ecosystem in India. During this period, I collaborated with the Godrej India Culture Lab to co-curate an event – India LSD [Love. Sex. Desire] Where Technology Meets the Erotic.
We had a packed house, four talented panelists, a moderator equal parts hilarious and insightful, and food to match the theme. Overall, a wonderfully appropriate way to culminate a year trying to understand the intersection of intimacy and the Internet in India.
How it began
In Autumn 2015, I had just started my PhD in Communication Studies at the University of Michigan. Sitting in Ann Arbor, a quaint university town in Midwest America where winter temperatures drop to minus 20 degrees centigrade, I found much needed warmth through my handy portable electric heater and modern communication technology that allowed me to maintain friendships across oceans.
A month into my degree, I realized that I wanted to study dating apps but didn't know what this involved – I was familiar with the development and policy terrain of emerging technologies but relatively clueless about how to study the ways in which mobile phones influence our erotic experiences. So I decided to crowd-source my questions, asking everyone who had a moment to spare what they thought about love, sex and tech. I quickly found that peoples' relationships with their mobile devices were deeply personal – the use of dating apps had become so routinized, mundane and closely integrated with the wider app environment that it was difficult for people to remember specifics of how they used these services. Plus, there was an ethical quagmire of privacy and legal considerations surrounding studying the world of online dating.Therefore, I decided to study the industries working at the intersection of love, sex and technology and trace the evolution of dating app companies who set up shop in India. I wanted to get their take on what it means to sell "dating" and "desire" in India 2016 when you can swipe to find love on the move and buy a sex toy sitting at home.
While the first image that comes to mind when picturing dating apps is something very personal to an individual. An app is the end product of a long chain of events and individuals including, but not limited to Product developers + Company Founders/Heads + Ad Agencies + Start up Groups + Early Investors + Public Relation officials + Independent industries associated with the Internet and the erotic (like online sex portals like love treats or start-ups that offer pay by hour safe hotel bookings for couples such as Stay Uncle). The structures that govern our everyday lives (State – Society – Religion – Culture – Economy) not only influence our interactions with communication technology at an individual level but also the possible forms that technology and desire can take at an institutional level and dating apps have to navigate a maze of political, social and economic realities before they become part of our phones.
Looking back
Looking at the industrial media and technology ecosystem in India over time repeated patterns began to emerge. In the 1990s there was a sudden burst of images, texts and commodities in post-liberalization India that were erotic in nature. Scholar, Purnima Mankekar notes how this sudden spread of erotic material came partially from imported T.V. shows such as 'Bold and the Beautiful' and partially from locally produced media content made specifically for an Indian audience.
Today, we again see a proliferation of the erotic in India. But this time it is not just through television, magazines and radio, but also through the rapid rise of global and local dating apps.
Apart from being an interesting assortment of names, these apps illustrate that the tension between national/transnational and global/local in the sphere of intimacy is historical.  We continually grapple with finding human connection as the boundaries between the digital and the physical, both real in their own ways, become increasingly blurred.
For example, studying the Indian lesbian movement in India Naisargi Dave writes about how in the early 90's when Giti Thadani, the 'godmother' of the Indian lesbian activist movement founded an NGO in Delhi called Sakhi, the organization put up advertisements in Bombay's popular gay magazine Bombay Dost. These ads asked "women seeking other women" to write in to find others like "themselves". Women who did would
1. Receive a polite reply from Sakhi
2. Then the identity of the writer would be scrutinized by members of the NGO
3. If the writer appeared to genuinely be a woman, a networking list of other such women would be shared with them
4. The writer could now begin corresponding with others on the list
Moreover, people mailing Sakhi often specifically looked towards the organization for information on how to be lesbian. One particular letter goes like this –
I hope Sakhi will take the lead and guide us. What about lesbian marriage and lesbian sex…[illegible] girls in Delhi? Are their numbers increasing? I am eager to know. Do foreign ladies come there and mingle with our ladies? Can you please send a educational note about 'lesbianism' and female bisexuality. Dave (2009: 51)
While thinking about what it means to be erotic in India 2016, I find it strangely comforting to know that a networking list for Indian lesbians operated through the country's postal service two and a half decades ago, shares the same features as most dating apps of today.  From account authentication to tips about appropriate sexual and romantic behavior, the similarities are striking.
In search of answers
I began my [ongoing] journey exploring the question of what it mean to love, to be sexual and to desire another in a world of continuous digital connectionby creating an archive of information related to dating apps and their historical counterparts (matrimonial columns, lonely hearts columns, single meet-up groups and matchmaking services) – mostly focussed on apps popular in India (TrulyMadly, Grindr, OkCupid, Planet Romeo, Woo, Happn). Putting together this database was a bit of scavenger hunt where I foraged for perspectives on the tech and intimacy space from
- Company descriptions on Angel List websites
- Tech magazines
- Talks and conference proceedings where company heads and backers had participated
- Company Web Sites, Blogs, Facebook Pages and Twitter Feeds (everything Social Media!)
- Advertisements (Televised, Online or on Paper)
- Magazine and Newspaper Articles about online dating
- Google Play Descriptions
- Notes on the language and layout of the apps
All of these were saved in folders on my computer and each post marked with a unique identifying number on an Excel spreadsheet.
While categorizing these pieces I discovered a world of paratextual material, particularly artistic and creative endeavors...
1. There is a web TV-serious in Australia where hand puppets enact crowd sourced "Tales from Tinder".
2. Indu Harikumar in India who illustrates dating app enabled sexual escapades by Indians and curates them over Instagram (#100IndianTinderTales).
3. And Mahmoud Khaled, an Egyptian artist who uses conceptual art to capture the fire of sexual forbidden sexual desire and political upheaval in Egypt through 32 staged screen shots of a fictional conversation over Grindr
These examples are just few of the many ways in which artists, thinkers and creatives trying to put their finger on the pulse of this moment of possibility for "love, sex, and desire" enabled by mobile mediated world. Together they capture how dating apps apps are seeping into our cultural fabric and becoming part of imagination of erotic desires.
Now my artistic talents are limited to scribbles on sides of textbooks, therefore my attempt to contribute to the conversation on where technology meets the erotic took a far more academic (long, winding, and scenic) route. After several months of desk based work I spent two months in India talking to talk to people shaping the dating app ecosystem in the country.
A tale of three cities
I visited three cities over the summer; Delhi (government capital), Mumbai (finance capital) and Bangalore (technology capital) where I met the heads of established dating app companies (Tinder, TrulyMadly, Aisle), founders of newer dating app startups (Cogxio, Twango), founders of dating apps targeted at niche audiences (Inclov), online erotic portals with a feminist bent (Love Treats), design firms creating dating app interfaces and journalists writing about the use of these apps.
Of all the locations, Delhi was clearly the dating app capital, housing the head offices of three of biggest players in the heterosexual dating apps space in India – Tinder, TrulyMadly and Woo. Alongside these big players there were smaller startups like Twango and Myolo burgeoning up alongside the tree lined streets of South Delhi and the suburbs towards the west of the city.
Bangalore, despite its stature as the tech innovation hub of the country appeared to have less of a dating app start-up scene. Two notable exceptions were Floh and Aisle. The former a single meetup group with an online portal the latter a clear cut dating app.
[Despite their different interfaces, these two organizations share a several similarities in the service they provide and the audience they target. Both pitch themselves as services for long term "serious" dating. Both target on the quintessential urban cosmopolitan Indian: a self described global citizen with a lifestyle rich in cool consumerism.]
Finally, Mumbai is where the support services for different dating apps are based; the early investors who provide the initial capital required to fund the apps, the PR companies responsible for maintaining brand image, and the media houses responsible for creating and sustaining public interest in these brands within an increasingly competitive market.
Four themes repeated themselves in conversations I had in these cities
1. The power of words
"Dating" is a term whose definition is being actively negotiated in India today. Currently the term "dating" is used to allude to everything from meeting a partner before an arranged marriage to casual sex, and everything in between. Companies working in the domain of enabling online connection and matchmaking seek to present a version of what dating means and in doing so-carve out a market for their product by identifying an audience seeking a similar version of desire.
2. Simultaneity of digital and physical desire
Adding to the ambiguity surrounding "dating" is the ambiguity of how to measure the "success" of dating apps where desires are acted out in both in the real and the digital. You can present your new found love to the public on Instagram, while messaging them on Tinder, even as you simultaneously share the details of your Tinder conversation with your best friend over Whatsapp. The polymedia environment where a single act of communication can take place over multiple mediums further complicates our understanding of technology mediated desire.
3. The LGBTQ question
While there are a dozen apps focussed on providing a uniquely 'Indian' alternative to "Tinder" there are none that attempt to provide an alternative to Grindr, Scruff or Planet Romeo (gay dating apps).
4. The rise of the Desi Desire Entrepreneur
Finally, the phenomenon of dating apps, partially fuelled by intense media interest has pushed a new generation of entrepreneurs to enter the space and try and pin down what Indians are looking for in love.
Final thoughts
The last couple of months have been a whirlwind; I am still sifting through the many conversations I had with industry experts about how they imagine their products and services shaping the idea of dating in India.
While the specifics of technologies that define a generation certainly change. Snail mail networks are nearly non-existent, SMS's are no longer cutting edge, instant messaging and dating apps have entered the scene. But mapping the modern dating app ecosystem while thinking what it means to love, to be sexual to desire another in a world of continuous digital connectionleaves me wondering if history is simply repeating itself through different devices?