Museum of Memories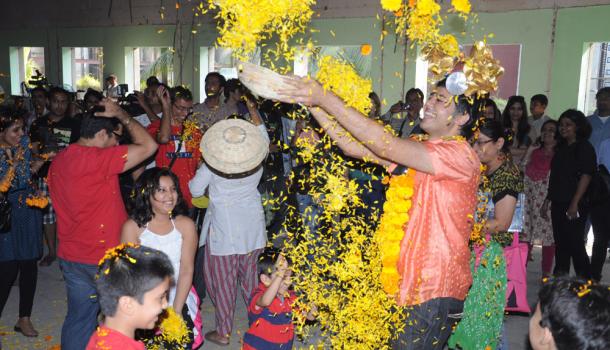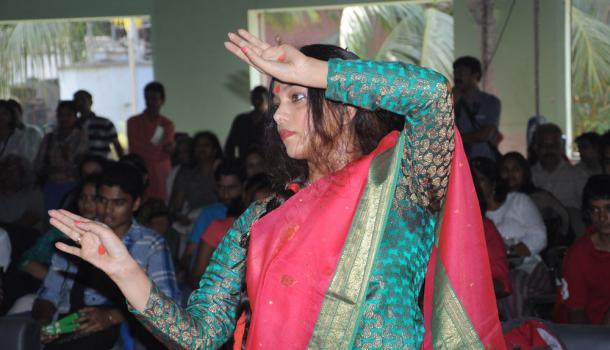 In this blog post, I want to revisit our Museum of Memories that we organized in December 2012. This was a one-day only event with live art, videos, dance, music, theater, fashion, technology, alternate reality games and more, all located within a 60,000 square feet empty Godrej warehouse that was scheduled to berazed the very next day. When I first stumbled across the warehouse in early November, I felt a strange connect. Appearances often conceal the true nature of things. What seemed like an ugly godown tostore agricultural feed from the outside, called out to me, telling me: look at me properly, see the beauty in my broken glass panes, my high ceiling dripping with shards of metal, my gnarled trees, my pocked walls, my soaring pillars. Recognize me for who I am. I am more than the sum of my parts. I am beauty.
When I learnt that it was going to be demolished, I was incredibly saddened at first. Then I had a fanciful idea – perhaps we could listen to the warehouse's silent plea and organize a grand farewell to it on the day before its demolition? An event at the warehouse that would bring life to it, and fill it with a new set of memories just before it died. The warehouse shell or body would then go, but at least the memories or its spirit would remain.
This is how the Museum of Memories idea began. The idea of a pop is now catching on in India – as in the rest of the world. I'd heard of many pop up shops, but I hadn't heard of a pop up museum and so wondered what it would be to create one. A museum that opened in the morning and shut in the evening, a museum that was build and destroyed within the cycle of one day. As darkness set in, bye-bye, tata, khattam-shud…the end.
I was also interested in playing with the idea of what museums do. Must museums only store old objects and catalogue the past? What if the Museum of Memories could store new objects, and catalogue the present? Orhan Pahmuk curated a Museum of Innocence based on his book in Istanbul. I wondered if it might it be possible to create a museum based on the collaborative spirit of Mumbai, placing objects in it, and also bringing it alive by mixing these up with artists, photographers, performers, scientists and historians.
I bounced the idea off some of our Godrej India Culture Lab friends, they loved it, and before you could say Viva Vikhroli, our Museum was being built, collaboratively between the Lab and other city based organizations like Junoon Theatre, the Visual Disobedience artists collective and the Brown Paper Bag blog. Two weeks of planning, and then the appointed day came and whizzed by, in a blur.
Note for a Memory in a Museum - a poem by Aditi Singh
the sharpened tip of a thorn, always precise, marking contours, lines, limits.
shadow and truth of appearances and disappearances across distances, symmetry, forgetfulness, incarnations into other beings: A map, a landscape, a sea, that doesn't still.
Memory, we cross and cross again. Past. Present. Ever.
Now as I look back, I wonder; was it a dream? All the tweets, posts, photographs and subsequent conversations seem to suggest that the Museum of Memories really did happen. Meera Devidayal really did spend two weeks making her site-specific video, which played in its own room at the entrance, in conversation with the other videos located throughout the museum. Rahul Inamdar did spend two days standing on a desk, painting an entire museum wall, as did several other artists, who took over every inch of the building and converted it into a live art tableau. Tyler's trademark graffiti, Sharmistha's abstract pillar, Aditi's window installation, Vaibhav's Mother Teresa mural, Niyati's bones pasted on glass…they grew magically and pervaded the museum through the day. Many artists simply trooped in on M-Day and started covering every corner or window theycould find, with images and calligraphy.
Yes, our golaawala did serve hundreds of golas to excited children and adults through the day. Yes, Payal Khandwalla did conduct a pop up fashion show, which had the models walk all through and outside the warehouse, in clothes inspired by the art she showcased at our Museum. Yes, Himanshu Verma did fly in from Delhi to conduct a joyous gendaholi intervention in the afternoon. Yes, Little Shilpa, Felix Bendish, Hardik Gandhi and Adhuna Akhtar did create magnificent installations from materials as varied as hair, military uniforms, steel and velvet.
Over the course of the day, three thousand people walked through our museum, treating themselves to free spa massages by our Saloni girls, eating cupcakes baked by cake whisperer Abhik, riding in the Formula racing car and making musical steps with the innovative students from RIIDL – KJ Somaiya. They witnessed a live Verve fashion shoot, an alternate reality game, and many other surprising interventions.
And what can I say about the performances? Thumri and rock, Urdu poetry and dance, beatboxing and yoga, tea and jazz, urban nostalgia and future-gazing. We had an all day stage at the museum that throbbed with activity. I still can't get Jahnvi Shrimankar's voice out of my head, or forget how innovatively Purva Naresh and her troupe used the stage and audience area for their dance drama, or stop smiling as I think of Yuki Elias and her outrageously dressed troupe. (I'm one to talk about outrageously dressed, right, given the Little Shilpa head piece that I wore throughout the day!!) As the day wound down, Frazan Kotwal's incredible voice boomed out Tosca opera, a prancing horse sculpture turned surreal pink in the multi-coloured spotlight that was on it, and the dance trio of Amrita Bagchi, Soumya Lakshmynarayan and Sayani Gupta mime-danced a tale of dolls who were coming to terms with their owner growing up and not needing them any more.
Our museum of memory had no money – everything was based on sharing and on love. For those who lament the death of the city, I really wish you had been there that day. The city lives, it loves, it gives and it gets infinity in return. The Wetheppl collective in Bandra hosted an incredible We Heart Bandra Pop up Festival all through December 2012. Spread over five weekends, and exploring the themes of move, occupy, eat, trip and love, the festival had dance parties, film screenings, music and more, it was full of positive energy and comrade–ship.
I found the same sense of bonhomie at artist Julius Macwan's Last Ship also in Bandra, which I first visited in January 2013. Suman Sridhar, one half of the music duo Sridhar/Thayil was belting away songs in her caramel voice. I had previously seen her at INK in short hair – the longer hair is more glamourous, as is her Madonna-ish corset. Suman travels the world with her music, from the stages of New York to the studios of Bollywood, recording numbers like HawaHawai and Khoya Khoya Chand for films like Shaitan.
I chatted with Natasha Mendonca the award winning artist-filmmaker who was making her first feature film, Ajeeb Aashiq on labor, gender and our city of Mumbai, and Nellie Kluz, a Boston based film-maker. Both Natasha and Nellie were artists in residence at The Last Ship. They followed the same film-making process – of slow discovery of their subjects, and became friends and accomplices through the residency. Hats of to Julius for creating this labour of love – a space for artists to live and work in, in the middle of bustling Chuim Village, around a hundred metres from Olive restaurant. (If you visit, do check out the Amrish Puri – Mogambo mural by artists from Visual Disobedience that's right opposite. It's kick-ass.) Given how crazy real estate costs are in Bandra, Julius could have minted money off the property. Instead, he's chosen to share it with the city and since its beginning in March 2011, the Ship has become a community of kindred souls – artists who are breaking free from the shackles of commercial galleries, connecting to each other through their work and the magic of the Ship's location.
The Kochi Biennale had a similar collaborative bonhomie, with phenomenal spaces andart created purely out of passion. Whether pop up or permanent, it is exciting to be part of this new electric buzz taking place in our country. Collaboration, love, questioning, remaking, it is absolutely thrilling.