Love in the Times of a Metro —Six Date Ideas across the City
Maitreyee Mhatre
6 March 2020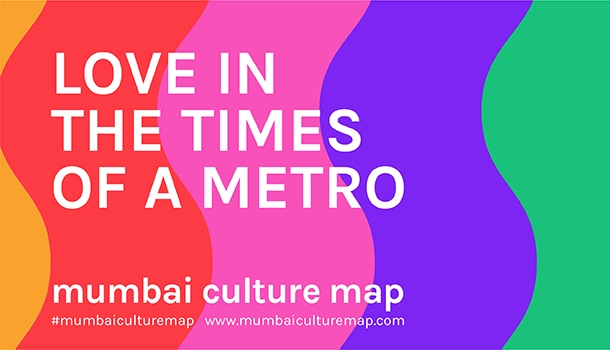 What if Harry had never met Sally? What if Jack and Joy had never ended up in Vegas? What if Anna Scott had never entered Will Thacker's bookstore in Notting Hill? And what if "Shopgirl" and "NY152" wouldn't have had a mutual love for bookstores- both chains and independent? What if Sameer and Pooja hadn't fallen in love against the peppy Bollywood tribute 'Woh Ladki Hai Kahan?' playing on a huge movie screen? What if Akash hadn't realised his love for Shalini during an opera performance of 'Troilus and Cressida'?
What would romance look like if it wasn't set against the backdrop of a cultural space?
Whether it is for a first date or the hundredth, deciding upon the perfect place becomes the subject of a long, winded discussion. After all, there is always the possibility of the butterflies losing their way into your stomach if the place for your date isn't just right. And when it comes to Mumbai, there are so many options that the confusion just keeps on increasing.
Never fear, we are here with our list of date ideas across curated spaces on the Mumbai Culture Map!
1. Papkrikash and Peacan Pie at Dr. Bhau Daji Lad Museum
It is said that Harry first fell in love with Sally in front of 'The Temple of Dendur' at The Met. Well, The Met might be far away but Mumbai's very own Dr. Bhau Daji Lad Museum is no less picturesque. The perfect place to fall in love with your date, if we may say so.
 2. Not Netflix and Chill at QTube Cafe
Who says romance can only be found in profundity? Who says just spending time in each other's company, doing your own thing is not the definition of romantic? Sometimes, a sense of comfort is enough and QTube Cafe in Bandra can help you get just that.
3. Make a Little Shor at The Little Door
Or rather listen to it. The thrill of live music and the thrill of a fun date go hand in hand. With a cute ambience and a cool vibe, The Little Door in Andheri curates an interesting line-up of music performances ranging from rock to rap to soul and more! With such eclectic and diverse music genres being hosted at The Little Door, it seems just the space to have a fun evening out!
 4. Pyaar-Vyaar Drama-Shama at Prithvi Theatre
Love drama but don't want your relationship to have any? Go for a play at Juhu's favourite Prithvi Theatre with your date! While you are at it, you can check out the cool Prithvi Bookstore and enjoy a scrumptious dinner at Prithvi Cafe (the parathas are nearly as legendary as the theatre).
5. 10 Things I Hate...Urm Love About You: A Performance Poem at The Habitat
When Julia Stiles's Kat Stratford reads out a Shakespearen sonnet dedicated to Heath Ledger's "bad-boy" Patrick Verona in this unforgettable rom-com, our hearts collectively screamed in romance. Why not try to serenade your date with a poetry performance or a music rendition at The Habitat? It might just work ;)
 6. Art feat. Art at TARQ
There's something so attractive about people who make art. And there's also something so attractive about people who know how to appreciate art. If you are an art aficionado, why not use your knowledge to impress your date? Now, that'd be a dream date.
So, where do you want to go for your next date? Tell us about your favourite spots from Mumbai Culture Map!