Looking back at 2019: Our favourite Culture Lab memories
Team India Culture Lab
17 December 2019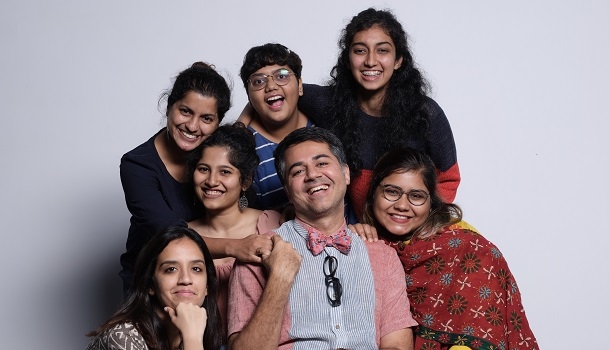 2019 at the Lab was a year of having conversations that are close to our hearts through our events and projects, building solidarities with all those who graciously shared their knowledge and experience at our Lab, and nurturing the young generation of cultural changemakers through our youth fellowships. As the year draws to a close, here's a recap through some of our fondest memories, in the words of our very own Culture Lab team!
Parmesh Shahani
My favourite memory of 2019 is the phone calls I made to inform the selected leadership class that they have been accepted into the program. As you know the Culture Lab leadership program is an intense year long process – it begins every summer – with the graduation of the previous year's batch and right after that, we hit the Mumbai college circuit with our road show. Pitching the lab to students at different humanities colleges in the city getting to listen to them and hanging out with them – understanding their hopes, dreams and aspirations is rewarding by itself. We also get to see the amazing creativity in their applications and interview about 20 of the best applications we have liked. Then comes the final selection process. It is hard. We try and assemble the best class of students who we feel can learn from each other as well as from us. It was a joy this year to make the call to each of them. The squeals, the excitement, the silence – each student reacted so differently but the impact was the same. They really valued this summer internship so much and couldn't wait to come and spend the next year with us at our lab. Their response made me feel once again, that what we do at the lab is so important for the city's and even our country's future. It is such a privilege and a responsibility to help create the next generation of culture leaders!
Dianne Tauro
Trilogy books has been carefully curating a book table to go along with the Lab events for over a year now. I remember the first time, I interacted with Meethil, the owner of Trilogy books, he was so patient with all the security protocols for entry and was so meticulous about everything from the book table size to the list of the books. It was a match made in heaven for the production junkie in me!
Whether it is trying to get copies of rare academic book or whether it involves tracking down publishers that are spread across the length and breadth of this country, Trilogy does it all with such grace and attention to detail to ensure that we have a perfectly curated book table that adds to the conversation being discussed at the lab. 
Disclaimer...you will fall in love with them when you work with them! 
Meethil runs Trilogy along with Ahalya, his wife and "BOSS" as he so lovingly refers to her with this wide smile on his face! 
Meethil usually is the one that is handling the curated books corner at our events in Vikhroli, while Ahalya stays back and handles their book store in Bandra. Hence having them together in one building is a rare phenomenon.
However, earlier this year, that rare moment did occur and all of us at the Lab were thrilled to have them over together! Meethil was with the books table throughout the event but Ahalya joined us later for a for a special dinner that took place after the event.
I have been at the Lab for over 6 years now and through the years I have had the pleasure of meeting and interacting so many amazing people, whether it's the speakers that come through or the collaborators we work with. We often refer to them as the Culture Lab family and there are so many small beautiful memories that I will hold on to dearly. Because though it may have been as small as a simple joke or a coincidence of finding out you went to the same school together, it's these tiny moments that I treasure the most.
So when I think about one of my favourite moments this year, it was just that sweet simple one when we had these two amazing folks that I absolutely love working with, over for dinner!
Koninika Roy
My favourite moment after I started working at India Culture Lab in July 2019 was when I got the opportunity to have a fun workshop on LGBTQ inclusion for the Socio Department of St. Xavier's college, Mumbai. It was full-circle for me on many fronts- firstly being at St. Xavier's, my goal-college where I never got to attend (because of some freak-accident with my HSC exam score), secondly it was the chance for me to do what I love: talk about sexuality and gender with young people. Culture Lab Leadership Programme 2018 alum Sanchi set this session up and it is part of a series of sessions we are doing with the goal to set up a LGBTQ support space with St. Xavier's.  I think this is a great case study on the impact of the Lab and the Leadership Programme: to train young thought leaders in becoming advocates for change in their spheres of influence. 
Mukta Pai

I knew I wanted to be a part of the Lab ever since I first attended one of their events last year. It was love at first sight! :) I was completely blown over by the kind of people that the Lab managed to get on board, the performances, the incredible discussions and the art.
As a part of the Lab now, I have had the opportunity to work with so many brilliant people. Being in charge of the exhibits and the design, I found myself interacting with artists and photographers that I really admired. One of my first projects was to set up an exhibit displaying the work of Padma Shri Sudharak Olwe. I still remember being really nervous, eating poha at his home as we discussed the inspiring work he had been doing. It was surreal! We worked on the setup till 1 am the day before the event. The engineering team really helped us through the entire process from redesigning our existing stands to the nitty-gritties of putting up the frames. On the day of the event, it was so heartening to see his reaction to the display. He and his daughters now often visit us at our events and there could be no better compliment. :)
Another such experience was a few months after this. We were working on our So Many Feminisms conference and as a part of that, I worked with Alyen Foning for her exhibit 'Story of the Muun'. Alyen walked into the Lab with a large suitcase filled with her artworks and gifts for us from Tibet. Through the day, we set up the exhibit while bonding over stories from Kalimpong and her life as a Shaman. It was an experience unlike any other. The exhibit turned out to be one of our best ones so far and I'm so glad I could be of help in presenting it to our audiences. The friendship we now share is even more dear to me. We check up on each other regularly, talking about mushy romantic movies and my impending trip to Kalimpong.
I'm so grateful to be working in such a space. Everyday - a new adventure! :)
Pallavi Khare
Through my time at college I became particularly interested in exploring the impacts of developmental projects and rapid urbanisation and the ways in which these displaced communities and caused irrevocable environmental destruction. My two film projects 'Ghutan' and 'Aamchi BEST' delved into these themes too. Thus it was incredible when I started my first curation at the Lab with absolute freedom to work towards an event that I was passionate about and so was born, 'Whose Land is it Anyway?'. The curation and execution was a pretty turbulent ride, to the point that for a moment I wondered if the event will fall into place at all. But the team's perseverance fuelled my own and 'Whose Land is it Anyway?' came together on the 12th of October.
Aarey Warli Chieftain, Prakash Bhoir's stirring performance with the members of the Adivasi Haq Samwardhan Samiti at the end of the event was rife with pain but incredulously, hope too. It was a hair rising experience for me and inspired me to persist in the face of disappointment, one of my biggest take aways from this year.
Nayanika Nambiar
Our Leadership Programme college visits run through June to September. We lovingly call it the Culture Lab roadshow - because that's what it is! Parmesh is his usual charming self, Pallavi's wry pragmatism balances him out - better than any odd couple sitcom you've seen. 
I love being spectator through it all - handing out Godrej goodies (mosquito repellents, mini shampoos and more) to wide eyed college students while they watch the show. The best part of these sessions is - hands down - meeting our Leadership Programme alums in all their colleges. I love seeing them talk about all the things I love about the Lab, telling their juniors about what the Programme could mean for them, and riffing off of our jokes (or good-naturedly tolerating them, which is the true Culture Lab way).
In particular, I like to think of this one moment during our visit to the JJ College of Applied Arts. Our 2019 Fellow, Shamik, was seeing us off - we were a tired bunch struggling with standees and cartons. Ajit, a student from JJ who we had interviewed for the Programme last year, then called out to Parmesh from across the grounds - he hadn't seen us in a while, and he wanted to take a picture.
The picture above is of Ajit dedicatedly art directing a picture of Parmesh and Shamik.
It was a really sweet gesture and made me think about all the students we've interviewed or interacted with in colleges or at the Lab for the Programme - and whether or not they've become Fellows, I still see them at events, they come say hi, or we chat for a while about difficult professors or cool things they're doing this semester. I love how every time we finish our roadshow, we have a new batch of students that become a part of the Culture Lab family. During the roadshow however, it's really nice to spot some familiar faces in airless classrooms, noisy canteens or wooded and leafy walkways (this is only Mumbai University).
Saniya Shaikh
When I joined the Lab a little less than four years ago, I desperately wanted to be cool, and my metric for coolness was conversations had over snacks in the evening with ex-Labbie Kevin. One such evening, Kevin brought up the time when Henry Jenkins spoke at the Lab, asking me if I am into any fandom. Trust me, I haven't stopped talking about it to this day. 
Fandom to me is about community, yet something so deeply personal. So when I took charge of curating a first-of-its-kind fandom conference in India, saying that I was nervous might just be an understatement. Surely I love being a fan and I often look at fandom academically, yet the task of translating what I thought made me cool, in a way that others would also find it cool? That seemed daunting.
But now that I look back at The Great Indian Fandom Conference, what fills my heart is how it resonated with all those who participated in it. So when my friend Vahishtai attended the event and ended up watching SRK films after going home; or when another friend who I met at work, Prathyush, wrote to me saying "Your fandom event made me look out for fan clubs in Mumbai, and made me rethink how I want to write about cinema" while penning this beautiful piece on an RD Burman fan club, when my colleague Mukta translated the idea behind the event into a gorgeous design language, full of cute, colourful blooming hearts, or when we ran a campaign asking people to tell us their favorite fan moment and were flooded with BTS fans from across the world talking about how the boy band motivates them through their music- it didn't seem like a task anymore. It was the joy of sharing what you love and finding love in return.