The Lab was 'Re-Imagining Other Indias' at Serendipity Arts Festival 2019
Pallavi Khare
18 December 2019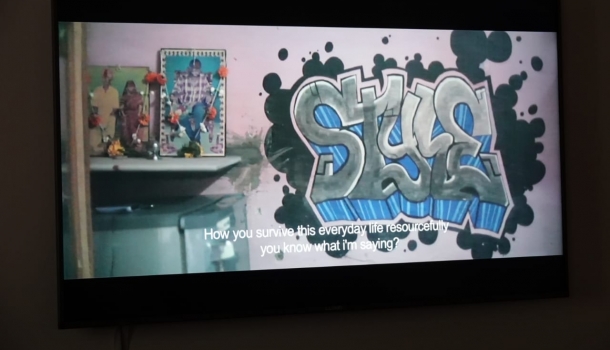 Flying out of Bombay on the 15th December as the city below us pulsed with rage about the just passed Citizenship Amendment Act seemed surreal. We were heading to the Serendipity Arts Festival for our session on place making. The skies outside seemed dull and it would have been appropriate, almost a relief if the pilot announced that we were facing turbulence, that's how all our minds felt anyway.

We were headed to Goa for the Serendipity Arts festival for a session on creative place making called 'Re-Imagining Other Indias'. A session that had been in curation and planning for almost six months however suddenly took on a newer, far more panicked connotation than we first imagined it ever would. Re-imagining other Indias, re-imagining a more inclusive and diverse India, re-imagining a just India, re-imagining an India where the humanity of its citizens could not be written off with the stroke of a pen and the hope to realise this imagination with our work became all the more pertinent.

The session was devoted to exploring the evolution and shifts in how the 'urban' is defined, perceived, and experienced in India. Amidst the rapidly changing social and political fabric of Indian cities, creative place-making presents new ways of constructing identities and fostering a sense of community. By engaging with distinct projects, ranging from a travelling biennale to a film festival that seeks to craft the idea of the city, the session interrogated the 'other' Indias which fall beyond the mainstream. 

In the two days leading up to our session, the question of the changing face of the nation plagued us all, especially since attending an 'arts festival' at the moment seemed absurd. However, it was precisely at the festival, surrounded by some of the most spectacular arts ever produced across the world, where we found the perfect opportunity to introspect about our collective rage and angst.


Mayco Naing's series of portraits, 'Freedom From Fear' exhibited at the Festival made me reflect on the transnational nature of the concerns we face as young citizens today. The portraits show young people from Myanmar submerged in water – it was a portrayal of the fears and insecurities of the youth, emerging in the face of the violent regime of the national government of Myanmar. While the portraits focused on the youth of Myanmar, the exhibit was a metaphor for youth across the world, united in their perseverance to stand up to the brutalities of unaccountable power and their indignance to create an equal and just world. Through the history of time, it has always been the idealism of the young and their strength to resist worldly cynicism that has ever enabled change in the world and the photographs, while grim, simultaneously provided a sense of solidarity, a sense of 'you will persevere just like they did'.


In a country that is currently bent on cultural invisibilities and homogenisation, our friend, Sudheer Rajbhar's exhibit of Chamar Studio's work was radical. Chamar Studio seeks to mobilise the Chamar community which has been historically marginalised for their association with leather work, to now utilise their traditional skills to produce fashion accessories in eco-friendly materials. He is thus re-appropriating the word Chamar that is often used derogatorily and reimaging and fashioning a world where your cultural and social identity cannot be used to dehumanise you.
It was these and several other similar projects at the Festival that revealed to us diverse kinds of dissent frameworks which are being used to resist the current dominant political and social forces, in fact four of such projects were being represented at our own session.
Before we delve deeper in to place-making and our session it is interesting to take note of the academic representations of it. The writings of economist Ann Markusen and urban planner and researcher Anne Gadwa Nicodemus account for a lot of the creative placemaking literature and it is their definition of placemaking that really stuck with us-"partnerships with the public, private, non-profit, and community sectors to strategically shape the economic, physical and social characteristics of a place around arts and cultural activities. Creative placemaking animates public and private spaces, rejuvenates structures and streetscapes, improves local business viability and public safety, and brings diverse people together to celebrate, inspire, and be inspired".   
The Lab itself engages in place making in diverse ways. We are a fluid experimental space which catalyses dialogue and experimentation through its programming. We are situated at the confluence of academia, the creative class and corporate India.
Lab head, Parmesh started the India Culture Lab nine years ago with the aim of transforming Vikhroli into a cultural and innovation cluster in the same way as Tech Square in Cambridge MA or Palo Alto is considered to be. It seemed absurd to him that the tip of a city, which is South Bombay is considered the centre of the city's culture, art and innovation because it sidelines creative production in other parts of the city. And so at Vikhroli we seek to challenge the idea of centre-periphery as producers of culture.
Jane Jacobs talks about how diversity leads to dynamism and over the years with our programming we have tried to bring diverse people like artists, scientists, entrepreneurs together and foster diverse audiences.. It is thus through this programming that we engage with ideas that define the cultural moment. Our recent events included our one day only pop up 'Migration Museum' that spoke about the experiences of migrants in the city and changing imaginations of belonging, identity and citizenship in the country. Our event, 'Whose Land is it Anyway?' spoke about land rights, displacement of communities and the privilege accorded to a certain vision of development. We constantly strive to be as intersectional in our resistance and through our event 'So Many Feminisms!' in collaboration with Zubaan Books for instance we interrogated the many intersections of caste, class and other hierarchies when it came to the future of the feminist movement. Thus we continue to engage with notions of dignity and equality for all, access to public space for all, ways of dissent for the marginalised, the intersectionality of social justice movements such as those for gender, caste and class equality using diverse forms including film, lectures and performances.
Similarly thus, through the course of our session on place making we charted a journey across placemaking projects in India through a panel discussion, films and a presentation. For our panel discussion, our panellists were Veer Munshi of the Srinagar Biennale, Nisha Nair who is the founder of the People Place Project and Subasri Krishnan from the Urban Lens Film Festival, all of whom are place makers in their own way.


Talking about dissent frame works, Veer Munshi spoke of how he considers it a  rhizomatic composition and said, "Srinagar (city) is anywhere, everywhere, nowhere. Nothing happens in Srinagar, Something always keeps happening in Srinagar. In Srinagar Ideas are tasted and encountered differently. Hospitality and hostility play out an even game". Veer spoke to us about the perils and possibilities of using art as a form of dissent in a conflict torn region such as Kashmir and how the spirit of dissent through art continues in the face of trials such as the abrogation of Article 370.
In the same vein, Subasri Krishnan, an alum of the Jamia Millia Islamia University and curator of the Urban Lens Film Festival said - "Films offer the chance of expansive storytelling that is uniquely spatial, transporting audiences to constructed realities and experiences of different places." Subasri spoke to us about curating films such as Please Mind the Gap which was about a transman navigating the Delhi metro and Bin Savlyancha Gavat which talks about the invisible Dalit histories of Pune and how her choices as curator enables her to platform notions of spatial justice in the city for various marginalised communities.
Extending Urban Lens' diverse interpretations of a single place, Nisha Nair spoke to us about how she views the glaring lack of empathy and understanding between the people of the country today and how the People Place Project, through its books seeks to bridge that gap. As she said, "It is only via contact and engagement that we can call anything our own, because only then it becomes a part of our lived experience, moreover our memory. And this space of the lived, experience and memory, are few definitions that can be intervened- in the pursuit of 'place making', meaning making and eventually, perhaps, a collective community making exercise."
Thus they further perpetuate the idea that places are not just natural and built environments, but the sum total of the experiences of the people and communities that inhabit them.
It is this collective experience and perception that the Dharavi Art Room is trying to harness to re-imagine Dharavi.
From being considered a neighbourhood made out of cardboard and corrugated sheet metal, the most poverty stricken part of the country to the birth place of street rap, Dharavi is many places in one. We think it provided a particularly interesting case to look at the different perspectives and conflicts when it comes to examining placemaking and we had Himanshu S from the Dharavi Art Room about the place making strategies they use to empower the communities that live there. Himanshu spoke to us about the politics of representation and cautioned against accepting the portrayal of marginalised communities in films and media that often create an overarching narrative that lacks nuance and understanding. He spoke to us about how in a system that is operating to polarise communities, it is important to understand the motives of those who represent marginalised communities. He summed up Dharavi Art Room's work and the endeavour of place making at large when he said,
 
"Ours is a safe space, a place of leisure, where we practice self-government made up of friends and neighbours capable and willing to listen, to debate, and to think for ourselves. We want children who pass our way to have the opportunity, at least during their time with us, to practice what it means to be equal and free. We have also tried to share this with more people from similar neighbourhoods as well as other from the rest of the city and from around the world, with a hope to further enhance all our collective experiences."
Through the course of the Serendipity Arts Festival, it was an absolute pleasure to interact with amazing artists such as Pramod Mukherjee who spoke of the weaving histories of Jamdani fabrics, the colonial legacy of the indigo colour that often defines the fabrics and the labour histories attached to it; Diya Bhupal who talks of our complacency in the face of mundane everyday realities and presents ways to look at our surroundings more critically; Dr. Jyotindra Jain who spoke about popular Indian imagery and its role in the construction of social and national identities who in all their unique ways helped us look at diverse ambits and frameworks of resistance. We were all fortunate enough to get curated walkthroughs of the art by each of these incredible artists which helped us further understand the perspectives with which they approached the cultural and social environment around them.
On our last day at the festival, I was in the company of the incredible feminist authors Amruta Patil and Sharanya Mannivanan as well as the producer and artist Aradhana Seth. We reflected on how social movements around the country today are being front lined by women and the power of feminist solidarities that can catapult movements into revolutions.
On the flight back, while the turbulence in our minds still remained heavy, the festival presented an opportunity to look forward to consolidated ways of re-imaging a truly better and inclusive India through art.