Countdown to Queeristan | Parmesh's Queer Reading List
!
TEAM CULTURE LAB
11 August 2020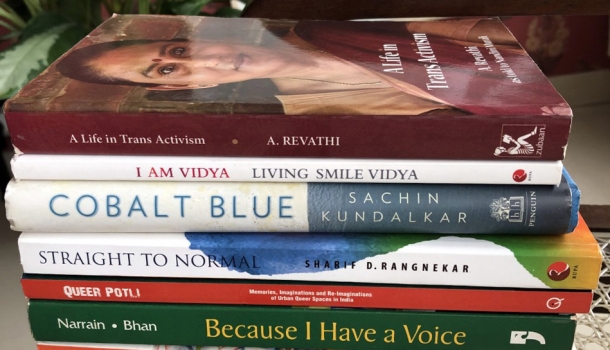 We've put together a reading list of books that speak about the many queer Indias that we inhabit. Leading up to the launch of Queeristan, check out Parmesh's queer literature reading list! 


A Life in Trans Activism by A. Revathi 

An incredible account by Revathi about her journey in activism, and personal narratives from Mookan, Charu, Kiran, Sonu, Christy, Satya and Gee, seven transmen that she had invited to be a part of this book. 


Cobalt Blue by Sachin Kundalkar 

Cobalt Blue is a queer Marathi novel about a brother and sister who fall in love with the same man - it's a beautifully written story of family and lost love. 


I Am Vidya by Living Smile Vidya 

Living Smile Vidya is a trans actor, director and Dalit rights activist. I Am Vidya is her autobiography, detailing her journey to herself.

My Father's Garden by Hansda Sowvendra Shekhar

This novel is written in three parts, and explores toxic masculinity, queer desire and Adivasi politics through a young doctor who falls in love while studying medicine in Jamshedpur. 


Queer Potli: Memories, Imaginations and Re-imaginations of Urban Queer Spaces in India, edited by Pawan Dhall

This book contains academic pieces, essays and poems that explore different Indian 'urban queer spaces' - from NGOs and bars to stations and gyms. 


Because I Have a Voice: Queer Politics in India, edited by Arvind Narrain and Gautam Bhan

This anthology explores queer politics in India - it challenges heteronormativity in law, culture and history. It also has extensive writing on different articulations of queerness across the country. 


Same-Sex Love in India by Ruth Vanita and Saleem Kidwai 

This pathbreaking book historicises queerness in Indian writing - it spans various languages, regions and literary forms. 


Loving Women: Being Lesbian in Unprivileged India by Maya Sharma
This book documents the stories of ten working-class queer women living in North India, and in doing so, dispels the myth that all lesbians in India are urban, or that they belong to the upper and middle classes.

Mohanaswamy by Vasudhendra 

Mohanaswamy is a semi-autobiographical tale about the relationships, heartbreak and childhood of the protagonist Mohanaswamy - a gay man from rural Karnataka. 


Out! Stories from the New Queer India by Minal Hajratwala

Minal's book takes you through different queer lives in India - grappling with identity and love against the backdrop of a changing legal landscape. 

Happy reading!