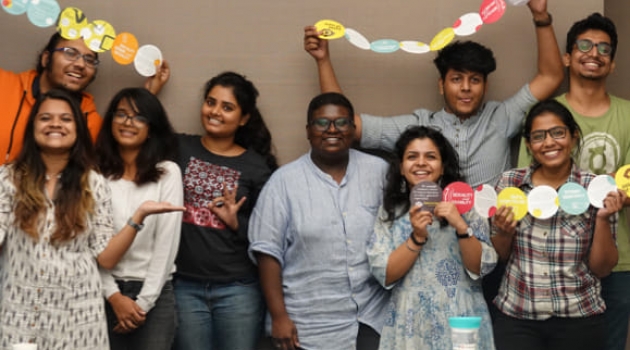 Godrej India Culture Lab Leadership Programme
Each year, we visit some of the most prestigious humanities colleges across disciplines, ranging from architecture to design to media studies and introduce the students to the Lab and the programme and ask them to apply for the internship with an idea for change. The applicants then go through a rigorous selection process after which we select 5-7 Fellows who form our Leadership Programme batch for the year.

Applications to the 2020 Programme are now closed.
When
It's a full-time internship programme that will be held between May-June 2020.
Where
At the Godrej India Culture Lab in Vikhroli, Mumbai.
About the Programme
This intensive internship for humanities students gives our selected Culture Lab Fellows a deep-dive into the city's cultural industry and introduces them to the various aspects of culture. Our programme is structured around three pillars:
Classroom experience
Selected Fellows get masterclasses from industry experts, learn from the Lab team and each other, and also discuss their experiences and readings from an intensive curriculum.
Exploration
Selected Fellows benefit from exclusive guided walkthroughs to some of the city's most prestigious cultural spaces and have private interactions with the heads of these cultural spaces.
Workshop
Together, the selected Fellows conceptualise and execute a world class event with the help of the Lab team. This will serve as their capstone project through the internship.
Eligibility
To apply for the programme you must be a student enrolled in a Bachelors/Masters degree programme in the humanities. For example, B.A., M.A., B.Arch., BDes, BMM, BFA.
How to apply
Here are the three simple steps you need to follow to be part of our programme.
STEP 1
Your application should be the answer to this question below:
'WHAT IS YOUR IDEA FOR ORGANIZING ONE CULTURAL EVENT IN MUMBAI? Tell us the idea, why it is needed and how you think the event will be.'
There is no preferred medium for your entries – the more creative the better. You can make films or documentaries, you can write, you can make models, or devise a social media campaign. Our aim is to get a sense of you, your idea and your creativity.
A small note about what culture means to us:
We believe in culture with a small 'c', in the everydayness of it, of culture that is lived, and that there is no standard definition of culture. Culture is what you make of it. Put your best foot forward and send in your amazing ideas. Best of luck!
STEP 2
Mail your entries to indiaculturelab@godrejinds.com
*Kindly state your full name, contact number, college name, course, and year of study in your e-mail.
*Save our WhatsApp number (91670 77830) for regular updates through the application process.
Entries that we like will be invited for an interview. After a rigorous selection process, some of you will become our Culture Lab Leadership Fellows.