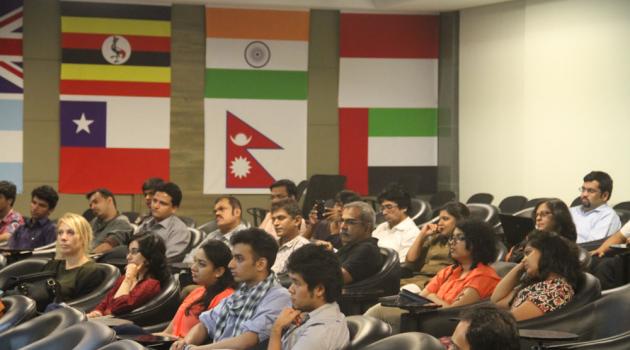 About Us
The Godrej India Culture Lab is a fluid experimental space that cross-pollinates ideas and people to explore what it means to be modern and Indian. We are based in Vikhroli, Mumbai, at the Godrej headquarters. The Lab was launched in January 2011 as an attempt to create an alternative intellectual hub in Mumbai city that would serve as a catalyst for conversations about contemporary India, by brokering interactions between academia, the creative industries, the corporate world and the not-for-profit sector. Parmesh Shahani, the founder of the Lab says, "India is an important world power. Its contemporary culture needs to be chronicled, amplified and debated across interdisciplinary silos. Hopefully the conversations that we enable will lead to insights, connections and serendipitous collaborations among its participants."
The Lab's interactions take the shape of curated events of different sizes, most of which are held within the Godrej campus in Vikhroli and are free and open to attend for all – Godrej employees as well as members of the general public (RSVP is required for non-Godrej attendees). These include regular monthly events like the Friday Fundas speaker and performer series, and Film and Book Clubs, with filmmakers and authors in attendance respectively.
The Lab also organizes larger events within Mumbai including full day conferences like Urban (Re)Imagination (January 2011), or events like the Kenya Hara (February 2012) and Tadao Ando lectures (May 2012). Many of our events like the Museum of Memories (December 2012) are hard to categorize. (This was a pop-up one-day only event with performances, music, theatre, tea, yoga, live art, graffiti, videos, dance, robots, alternate reality games, and much more set in a 60,000 square foot warehouse that was destroyed the following day). In addition to the above, we periodically host invitee-only closed-door salons where we assemble multiple stakeholders around a particular theme (such as Indian design, or technologies of change) to engage with each other. 
The Lab has a small operational team, but our work is inherently collaborative. We work together with a wide range of individuals and institutions in our attempt to create a vibrant ideas scene in Mumbai. These have included the Taj group of hotels, the Center for Internet and Society, the American School of Bombay, the UK based Editorial Intelligence (the Lab served as curatorial partner for the inaugural the Names Not Numbers Mumbai Conference held in 2011), the art galleries Volte and Chemould, the concept store Obataimu, KJ Somaiya College of Engineering, Junoon Theatre, Visual Disobedience, Brown Paper Bag, Dasra, and many others. We also work intimately with different departments and teams within the Godrej group (Godrej Archives, for instance) in this endeavor.
We measure our success by the connections we empower and by the quality of conversations we facilitate; to us, success is a process of discovery and not some endpoint. We also see ourselves contributing to the larger design thinking process around innovation at the Godrej group. Through the Lab, we are creating a certain kind of atmosphere that encourages new ideas and opportunities. Agendas for innovation need not just be procedures and methodologies but also an underlying philosophy of creating a work environment conducive to a culture of thinking. The Lab's insights and inputs have resulted in and shaped several Godrej group efforts, including the Godrej LOUD campus challenge.
A note on how we think of 'culture' at the Lab. To us, 'culture' is a term that extends beyond the visual, performing or fine arts, but rather addresses broader questions related to aspects of living, demographics, gender relations, urbanism, and communication technologies, to list just a few. As Raymond Williams wrote so simply, "culture is ordinary." Most of the Lab's talks and performances are available as videos on this website, which we hope will become an important resource on contemporary India in the near future.
About the Godrej Group
One of India's most respected industrial houses worldwide, the Godrej group was established in 1897 and has over the decades grown into a diversified conglomerate with interests across FMCG, real estate, agriculture, office and consumer durables and home appliances. Our founder, Ardeshir Godrej, lawyer-turned-locksmith, was a persistent inventor and a strong visionary who could see the spark in the future. His inventions, manufactured by his brother Pirojsha Godrej, were the foundation of today's consolidated Godrej group. One of India's most trusted brands, Godrej now enjoys the patronage and trust of 500 million Indians every single day. Godrej is thought of as such an integral part of India – like the bhangara or the kurta – that people are surprised to know that more than a quarter of our business is done overseas, through our presence in more than 60 countries. Our group's promise is ideas that make life brighter and today, we are at a point in Godrej's history when our amazing past is meeting up with its spectacular future head on. Please visit www.godrej.com to know more about us.